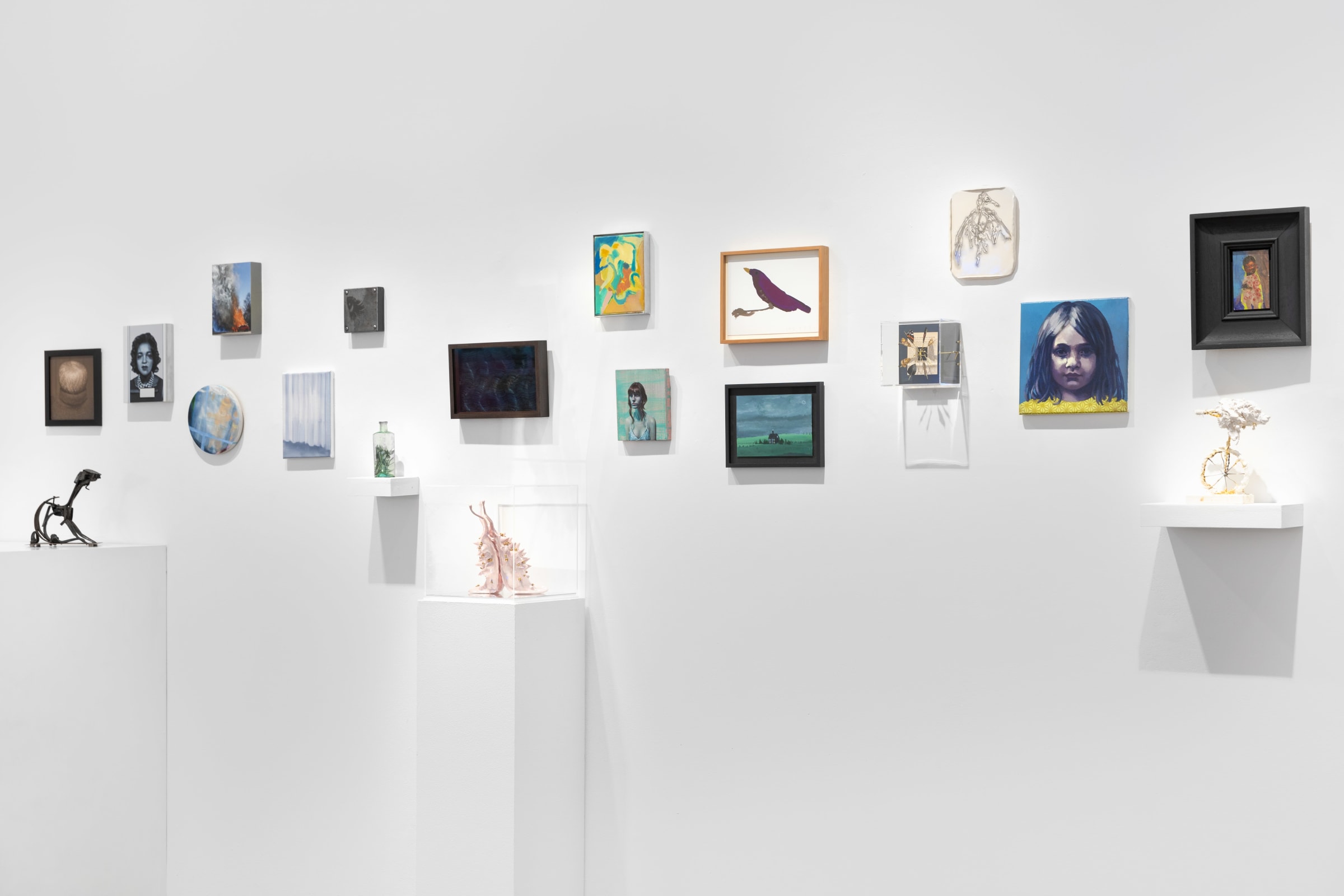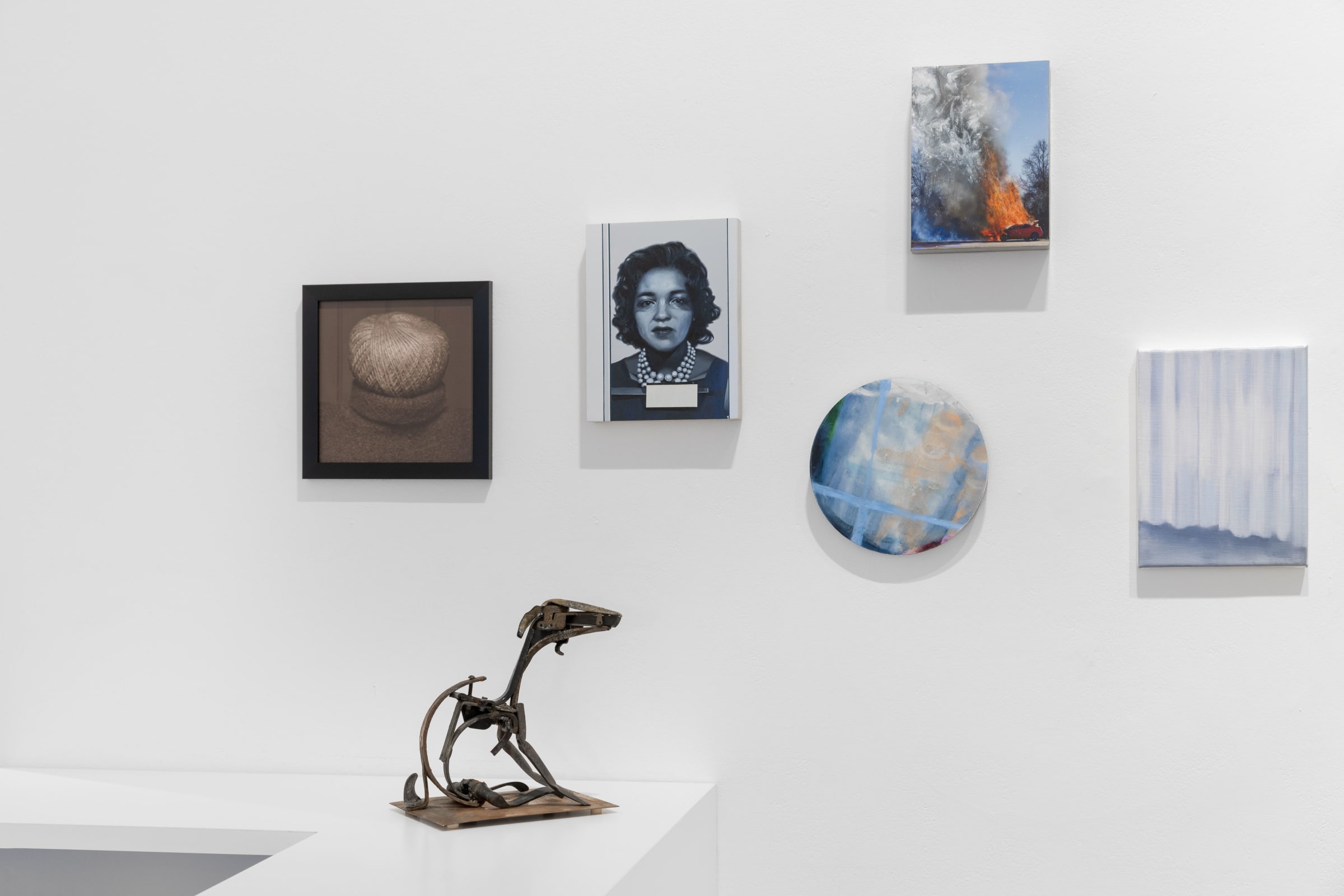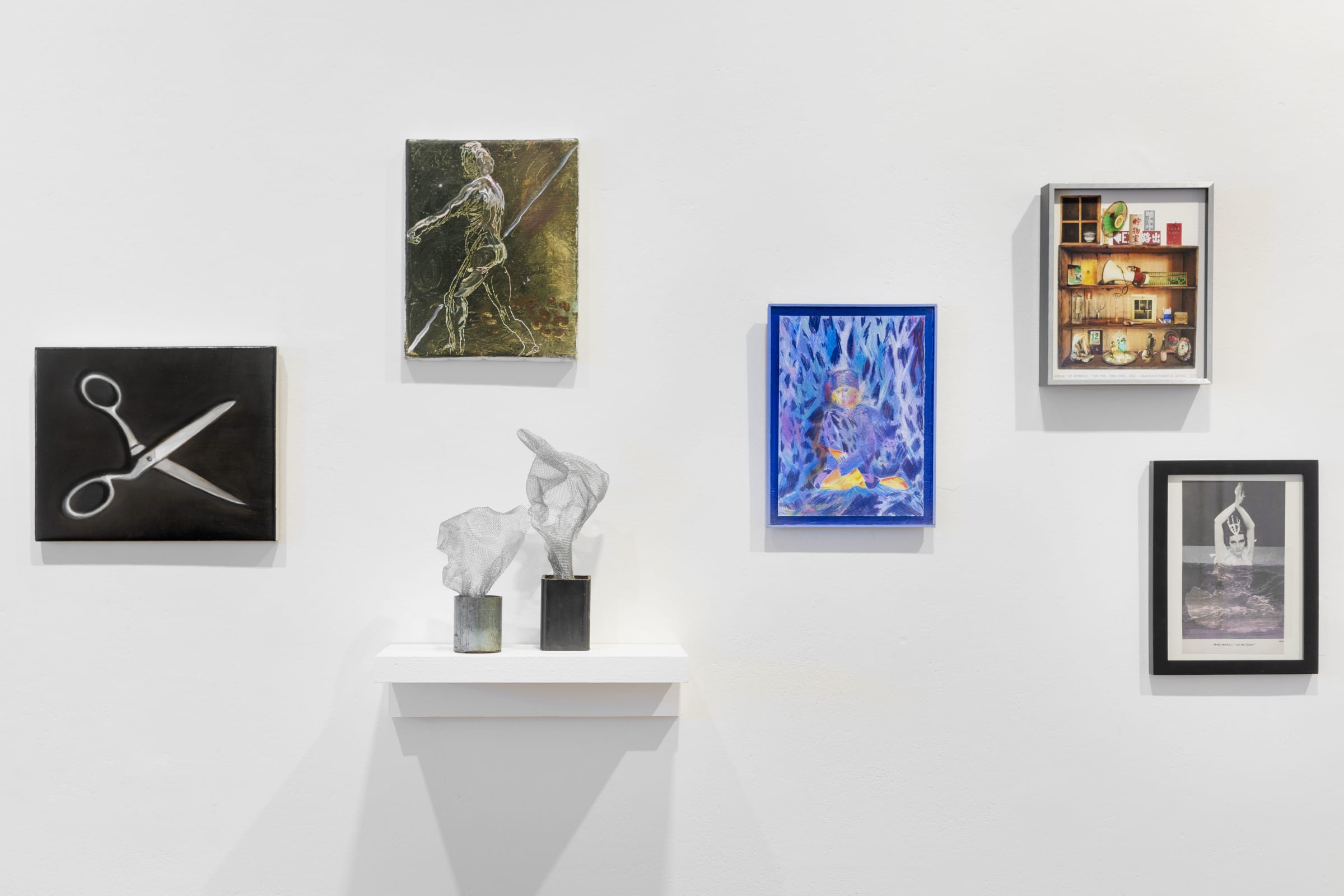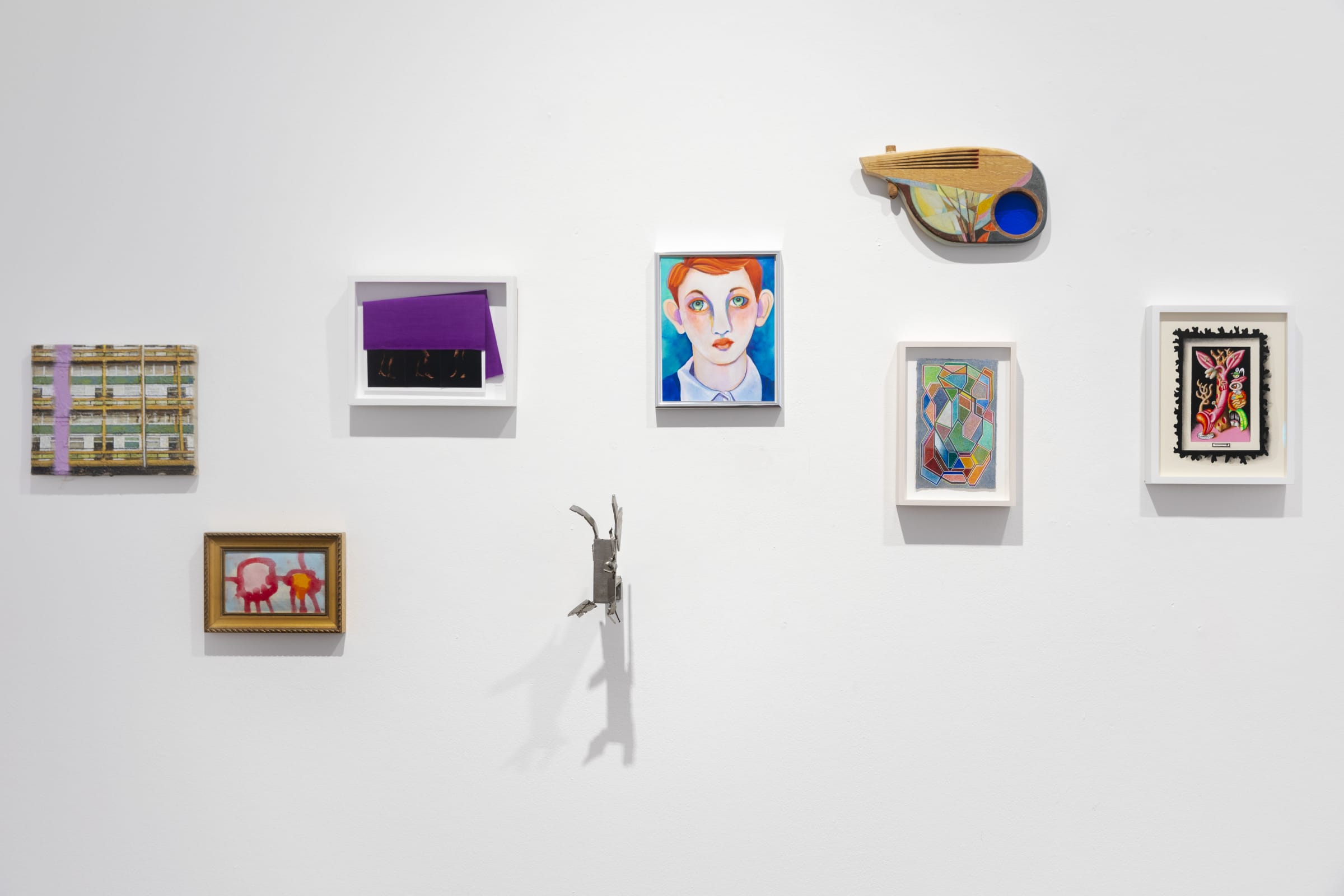 London, Cork Street + Online
Small is Beautiful
XXXIX
25 November 2021 - 9 January 2022
Overview
Flowers Gallery is pleased to present the 39th edition of the annual Small is Beautiful exhibition, which will take place at the Cork Street gallery and online.
Small is Beautiful was first established at Flowers Gallery in 1974, inviting selected contemporary artists working in any media to present works with a fixed economy of scale, each piece measuring no more than 7 x 9 inches. Continuing in the same spirit to the present day, Small is Beautiful XXXIX presents a rare opportunity to purchase smaller pieces by internationally recognised names and discover new talents.
Exhibiting for the first time in Small is Beautiful are two newly represented artists, Australian painter Aida Tomescu, and Scottish painter Victoria Crowe. Taking part for the 39th time, having exhibited in every edition since 1974, is John Loker who credits the exhibition with often opening up new directions in his work. He says, "I would normally work on a much larger scale, but I have always regarded this show as a way of standing back from familiar methods. An interesting move to come directly from Small is Beautiful is the use of the glass layering. It would not have happened on a larger scale and yet these 7x9 inch pieces have become as important to me as my canvases of 7x9 feet."
Also having participated since the inaugural exhibition are artist duo Boyd & Evans, who recall: "Making a painting about space on a tiny canvas makes you apply paint in a different way. Stepping aside from our other work is a breath of fresh air and has often suggested future routes for what we might do next."
EMMA TURPIN
(b. 1964)
"As an artist I spend a lot of time alone in my studio, I'm used to it. All of us over the past 18 months have all been forced to isolate, to stay away from other people, to see nobody but those closest to us. My recent work is a response to the paradox of at the same time being forced together with some but forced apart from most. The paintings show collections of buildings isolated in a landscape, always seen from a distance but illuminated by their closeness to one another."


HENRY KONDRACKI
(b. 1953)
"I think of London as a place that has been essential to me, going to the Slade School and meeting many wonderful artists including Jeffery Camp. I think of the many kind and helpful things he did and said, I know he loved London and would draw by the Thames. This small painting [The Thames, 2021], is me remembering him, and what London meant to me. I think of the ebb and flow of time, the many worlds that London is. I think of Hogarth's line of beauty, and of Dickens walking by the river, of Shakespeare standing looking at the Thames, so much poetry inspired by this old man."


STUART PEARSON WRIGHT
(b. 1975)
Best known for his irreverent and detailed figurative portraits, rich with personality, London-born artist Stuart Pearson Wright drew from an early age and after considering becoming an actor, finally opted for art school. While studying at the Slade School of Fine Art in London, he won a travel award from the National Portrait Gallery as part of its 1998 BP Portrait Awards. He drove around Britain in a van, producing sketches and paintings as he went, which resulted in an exhibition at the National Portrait Gallery. In their reviews of this exhibition, Godfrey Barker labelled Wright as "A Hogarth for our Times" in the Evening Standard, and Brian Sewell described the works as "images of such eccentricity and even madness that they fit perfectly the English tradition of the odd man out: the Blake, Spencer, Cecil Collins line." In 2001, he went on to win the National Portrait Gallery's BP Portrait Prize and now has over twenty-five works in their collection.


CLAIRE OXLEY
"The Flower Moon appears in May; it is a time of lush growth and abundance. This year's Flower Moon was also a supermoon, reflecting the maximum amount of sunlight onto the Earth.
The full Snow Moon rises in February. It is also known as the Hunger Moon, during this arguably most difficult of months for wildlife (and humans.) Moons are a reminder to us of the pulses and patterns of the universe, whether or not we choose to acknowledge them."
Claire Oxley uses environment, music and seasonal rhythms as a starting point for her paintings. Soundscapes, landscapes and mindscapes are instruments for expressing composition, emotion, and understanding. Her work is centred on East Anglia - its skies, sounds, fields, coastline and seasonal cycles are a constant inspiration. She is, above all, a composer of colour.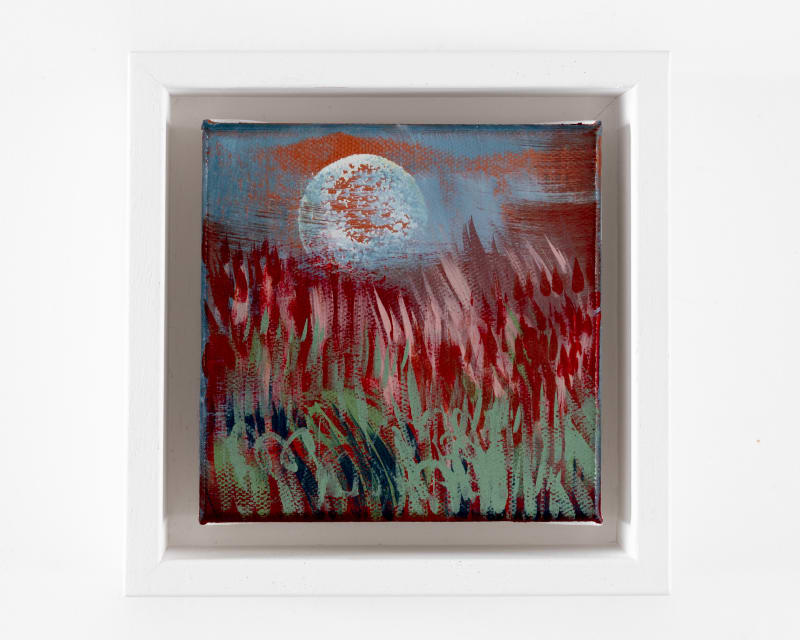 BERNARD COHEN
(b. 1933)
Bernard Cohen's work came to prominence during the 1960s and has since been exhibited extensively. Born in London in the 1930, Cohen was educated in the post-war climate of change and cultural upheaval. The 1960s, for Cohen, "followed the 40s and 50s as years of light following years of darkness." This metaphor of light is central to Cohen's understanding of his practice over this period: "during the 60s," he reveals, "I became consciously concerned with clarity and obscurity in painting, and what I call 'almost order' and 'almost chaos'." The works in this exhibition demontrate early examples of the artist's exploration of the borderland between order and chaos, featuring a suspended tangle of interwoven lines.


ASHLEY CLUER
"I am a London based sculptor, currently in my final year at the Ruskin School of Drawing and Fine Art at the University of Oxford.
My work is centred within materiality, as the texture, form and appearance of my sculptures become an integral resource that enables a viewer to connect with the piece using all of their senses. In particular the cement sculptures are moulded and carved by me with only a chisel and mallet, likewise, the wooden bases that support the cement works are personally selected, sawed and sanded having been recycled from older sculptures of mine.
Growing up in London I have been surrounded by rudimentary industrial materials whose banality enabled my imagination to play. The life and stories I have prescribed to these substances is the reason that I love nothing more than creating in sculptural form the beauty I see in something otherwise ignored."


UNSKILLED WORKER
Helen Downie is a London-based artist, best known for her idiosyncratic and expressive style of painting. Working under the moniker of UnskilledWorker, her work is intimate and evocative, mixing characters and nature with the ephemeral and fantastical. Downie is a strong voice for women, and through her exploration of gender enjoys testing new frontiers with her art. She is passionate about inclusion and through her work hopes to develop a narrative on the importance of diversity and freedom of expression, that speaks to everyone.
"Throughout my practice I have always returned to painting imaginary boys. Sometimes I've known them; memories of an earlier life."


TIM LEWIS
(b. 1961)

Tim Lewis is renowned for his sculptural works in which inert materials such as steel, wood and wire appear to take on a life of their own through mechanical interventions. At times these autonomously whirring into existence, or responding to the operation of the viewer.
As an extension of the body, Lewis's drawing machines automate the expressive process of mark-making, building an image over time through the recurrent path of the mechanised arm. One of two machines in this exhibition perpetually writes the word 'love', before crossing it out, while the other, a small red cat, draws a self-portrait.


VIRGINIA VERRAN
(b. 1961)
Verran's painting is both cool and personal, intuitive and determined; and profoundly original. It emerges out of a process in which certainties and precisions are subtly transformed into indeterminacies, and object and space are in a constantly ambiguous relation. The image is as much the consequence of a movement away from its definition as tgowards it, as if we were witnessing its unpainting, its disappearance, even as it approaches visible modality: it is marvellously held in a state of imprecision, poised between reolution and irresolution. In this Verran's proceedures imitate those of language in its seeking for the illusive definition or description of that condition for which we have no name but whose reality is a constant of our existence.
- Mel Gooding, 1995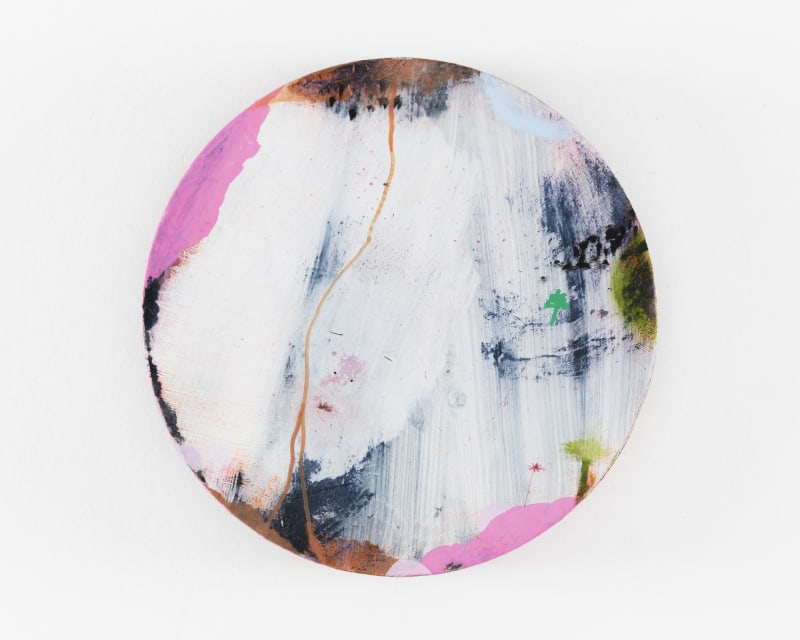 JULIE COCKBURN
(b. 1966)
Since lockdown, Julie Cockburn has embarked on making ceramics using traditional methods and processes. In recent works, ceramics have been incorporated into her wider practice, exploring these new materials in various forms of collage and assemblage.
The new works in Small is Beautiful incorporate hand-thrown glazed stoneware vases, which have been paired with found postcards of floral arrangements. Following the traditions of Trompe L'oeil, where illusion is used to create the effect of three-dimensions, these works continue Cockburn's playful approach to image-making, in which she follows the "irresistible, rebellious urge to discover whatever the imagination has to offer."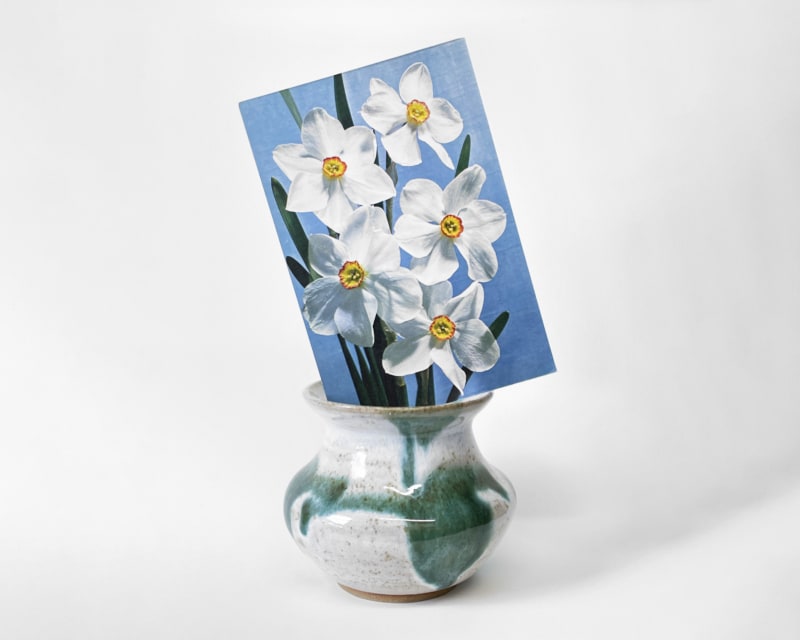 ELGER ESSER
(b. 1967)
Photographer Elger Esser studied in the 1990s under the tutorship of Bernd Becher and his wife Hilla Becher at the Academy of Arts in Dusseldorf, Germany. Esser sees himself as a craftsman in the traditional sense, employing manual postproduction work to his photographs is an important part of his creative process. Esser utilises traditional photographic techniques, such as the photogravure printing process, which allow for terrific sharpness and depth. Taking inspiration from late-18th and 19th century travel literature, Esser is sensitive and precise in his observation, seeking in his surroundings those moments which reveal the essential character and mood of a landscape.


YUMI KATAYAMA
Yumi Katayama first exhibited at Flowers Gallery in 1995, in the exhibition Artist of the Day, selected by Waldemar Januszczak.
Describing the paintings included in this exhibition, Katayama says: "I thought I would make some round pictures that have something of the plate about them. But the challenge here is to create a lyrical abstraction that steps into the world of decorative art - and then steps out again! I want my art to make you think of plates, but then realise it's not platey at all!"
SOPHIE SMALLHORN
(b. 1971)
London-based artist Sophie Smallhorn started working sculpturally by creating wall-mounted compositions in coloured off-cuts, which were the remnants of materials she used for making furniture. In her work Smallhorn explores colour, volume and proportion. The forms of her wall works are small, simple, clean and geometric. Geometry and saturated colour are centre stage in her compositions, combined and contrasted depending on her intuitive sense of play.


KEN CURRIE
(b. 1960)
Scottish artist Ken Currie's rich, luminous paintings address the tragic themes of modernity, balancing the opposing imagery of mechanised destruction and degradation with the generative potential of the human body.
In Scissors, 2020, Currie imbues an everyday object with a sense of mystery, rendering them against a dense black background, their impression suggests an unspoken narrative. Skull of a Crow continues Currie's depiction of animals from folklore and art history, often used as a portentous symbol.


SEAN HENRY
(b. 1965)
Sean Henry is a sculptor originally from Surrey, England. The theme of Henry's sculpture is the tension between the making and staging of figures that seem to belong to the real world, and the degree to which they echo our experiences and sympathies.
The sculptures included in this exhibition have been created using a 3d printer and then hand-painted, infusing each work with personality and character. Often working on a much larger scale, Henry explains: "The surprising thing about using technology to reduce the scale of my sculptures is how much of the energy of the original work is retained. Seen in isolation, it's not immediately clear if they are 3ft high, or 3in high. I am interested in how scale impacts on the psychology of the figure, and how we relate to it."


AIDA TOMESCU
(b. 1955)
Recognised as one of Australia's leading contemporary artists, Aida Tomescu's distinctive and powerful paintings are the result of what she describes as a poetic process of repeated layering, erasure, and a relentless questioning of the image to discover and locate new content within each series.
Structure and content are critical components of Tomescu's paintings, which often have long gestation periods, taking months and occasionally years to complete. Informed by an in-depth knowledge and intimate study of art history, Tomescu's work draws from the way Pre, Early and Renaissance Italian painters (in particular, Giotto, Fra Angelico, Piero della Francesca and Titian) constructed their paintings, and the rich content of their work.