Biography
SIMON ROBERTS (b 1974)
Simon Roberts is one of the most acclaimed contemporary photographic artists working in the UK today. He is renowned for his nuanced enquiries into diverse conceptualisations of personal and collective identity, and in particular, how our human relationship to landscape informs our sense of belonging and selfhood.


His practice is principally photography based, but increasingly encompasses video, text and installation work, which together, interrogate our notions of what landscape is and how it is depicted, utilised, commodified and interpreted. Landscape, for Roberts, is contested, ambiguous space, shaped not only by material and environmental factors, but by fantasy and politics, economics and history. His work reflects contemporary debates in art and cultural geography that understand landscape as an active process of incremental change, whose representation must be subject to scrutiny.


Roberts has had solo exhibitions at the National Science and Media Museum (UK), the Museo d'Arte Contemporanea di Roma (Italy), and the Multimedia Art Museum in Moscow (Russia). Recent group exhibitions include 'Civilization: The Way We Live Now' at the National Museum of Modern and Contemporary Art (South Korea), 'Unfamiliar Familiarities' at Musée de l'Elysée (Switzerland) and 'Modern Nature' at Hepworth Wakefield (UK). His photographs reside in major public and private collections, including the George Eastman House, Art Collection Deutsche Börse, Museum of Contemporary Photography Chicago and most recently were acquired by the V&A in London.

He is the author of several critically acclaimed monographs including Motherland (2007), We English (2009), Pierdom (2013) and Merrie Albion - Landscape Studies of a Small Island (2017), whilst his work has been profiled and published widely including in the New Yorker, Granta, National Geographic, ArtForum, Wallpaper, amongst others.

In 2010 he was appointed the official British Election Artist by the House of Commons Works of Art Committee to produce a record of the general election on behalf of the UK Parliamentary Art Collection, and, in 2014, represented Britain during the UK-Russia Year of Culture. He has been commissioned to make several large-scale public artworks and recognised with numerous awards including an Honorary Fellowship to the Royal Photographic Society, the Vic Odden Award and grants from Arts Council England and John Kobal Foundation.
Roberts holds a BA Hons in Cultural Geography from The University of Sheffield and has been a visiting lecturer at the Royal Academy of Fine Arts Antwerp and an Honorary Associate Professor in the School of Geography at the University of Nottingham.
Beneath The Pilgrim Moon
Beneath the Pilgrim Moon is a collection of photographs taken during the second Covid-19 lockdown whilst London's Victoria and Albert Museum was closed to the public. These veiled statues, located in the Museum's Dorothy and Michael Hintze Galleries, were covered for their protection during refurbishment and Roberts conceives of them as a metaphor for our wider experience of the pandemic.

The images speak of the extraordinary events that took place during this period, of us as a nation shrouded by PPE and covered up behind our masks, suspended in time, restricted of movement and freedoms. We were forced to separate from one another, or if we were to meet, to hug through thick plastic sheeting, or wave through windows. The beauty of our world felt elusive, hidden beneath an entanglement of political mixed messages and misleading rhetoric.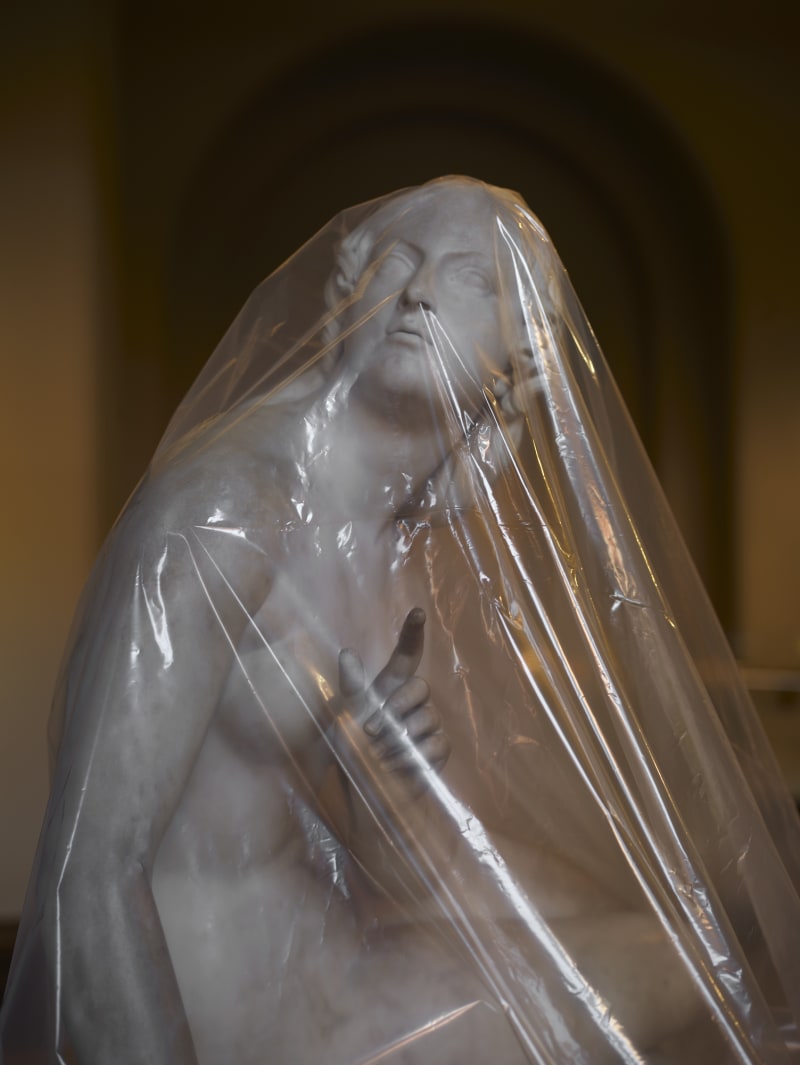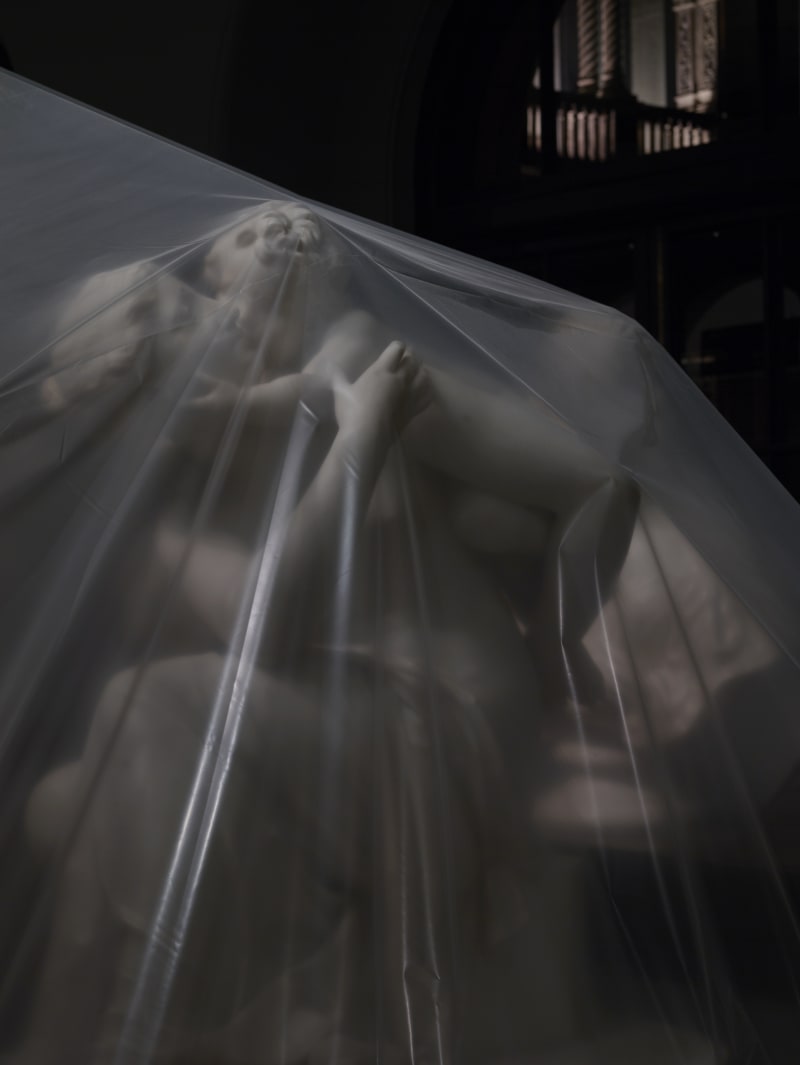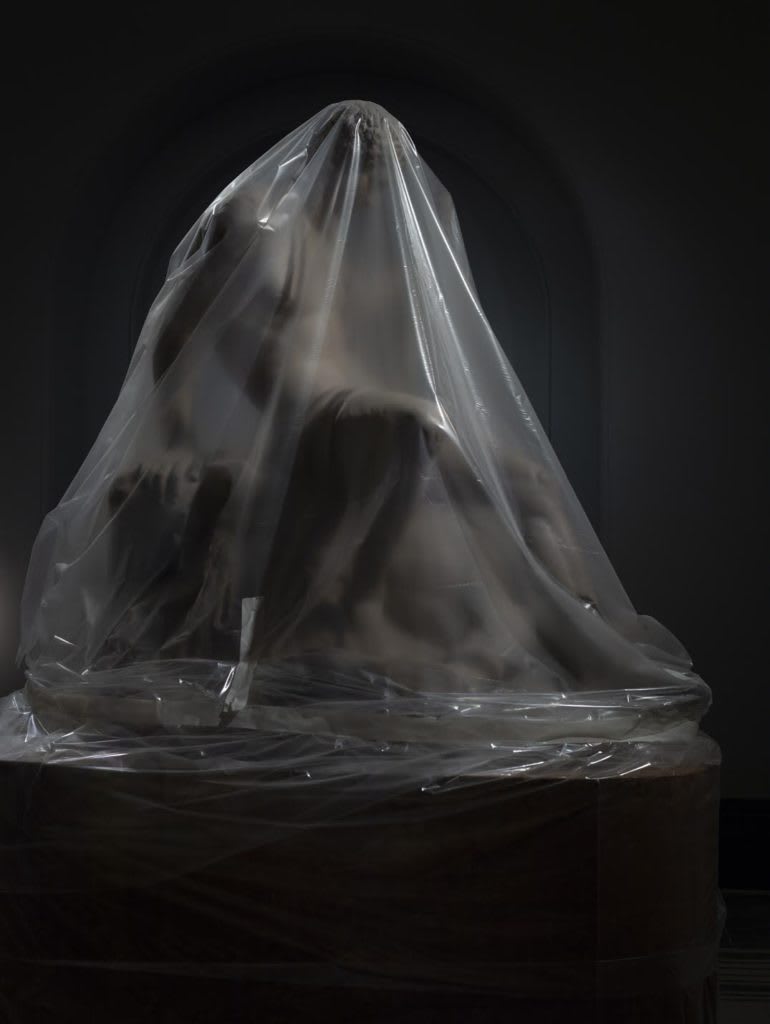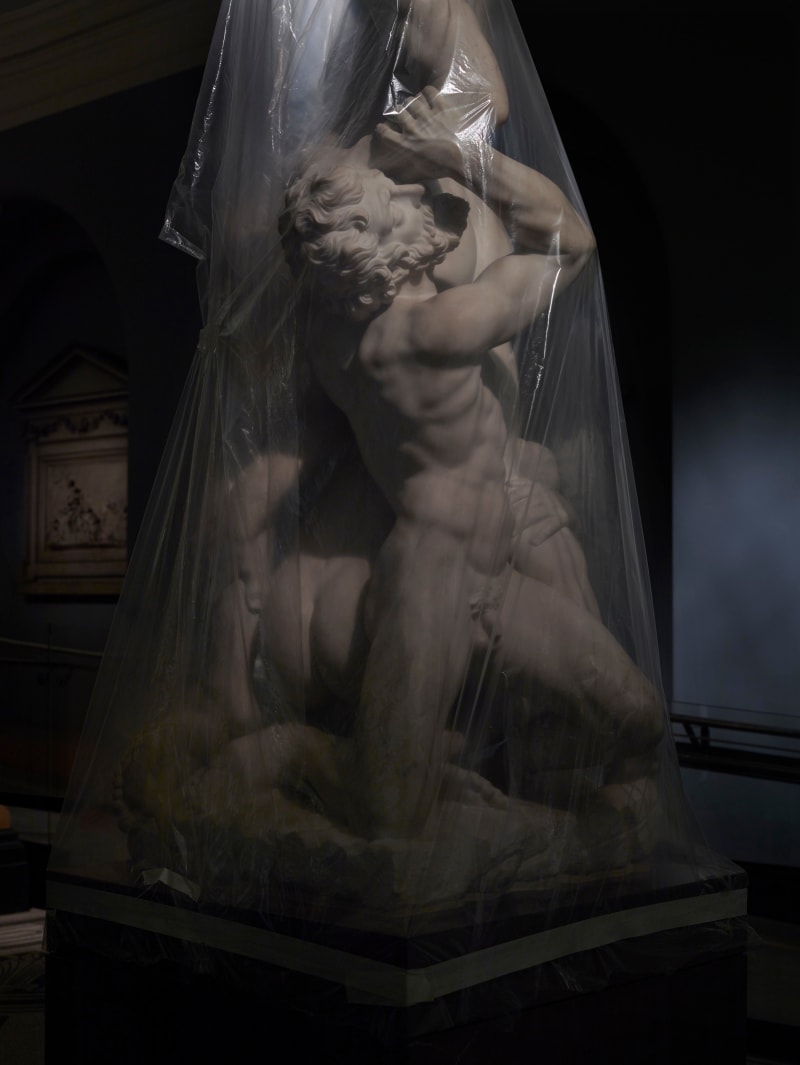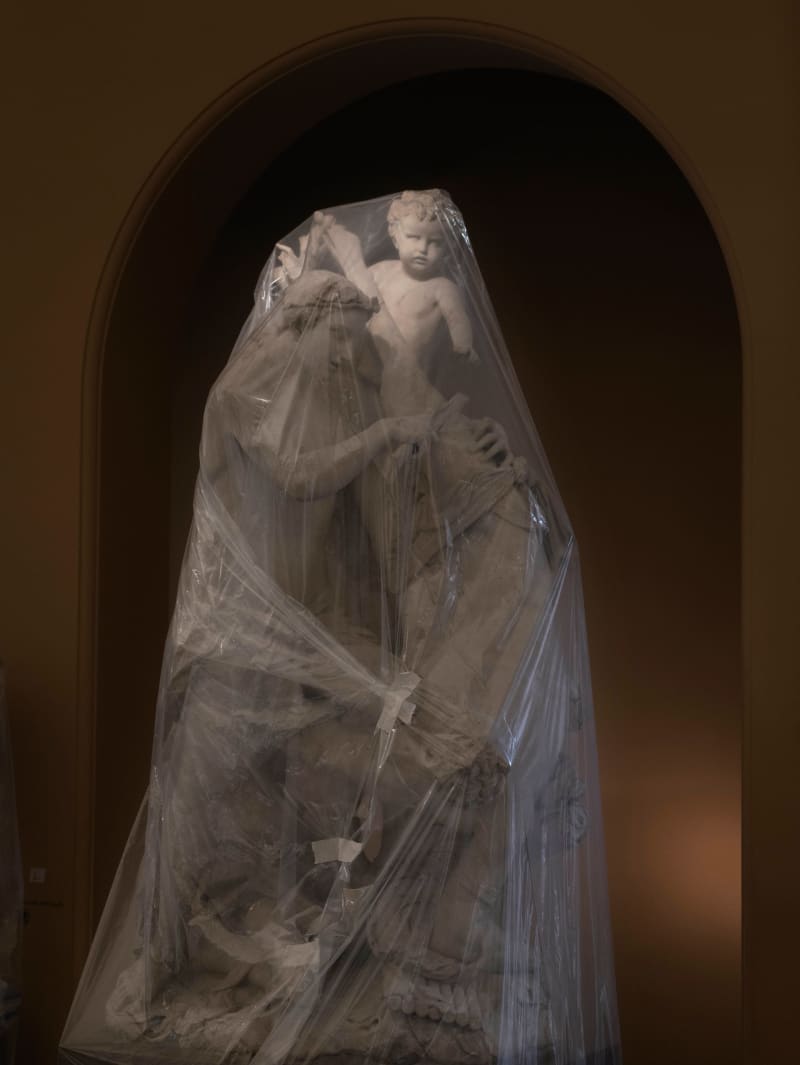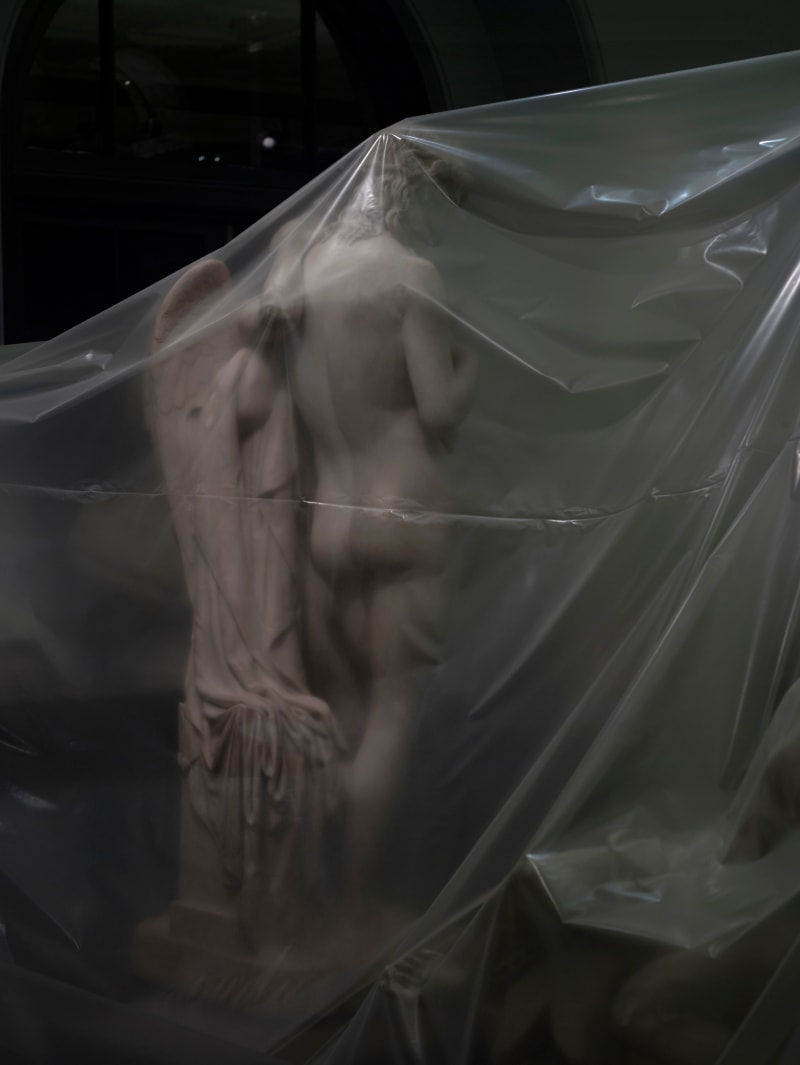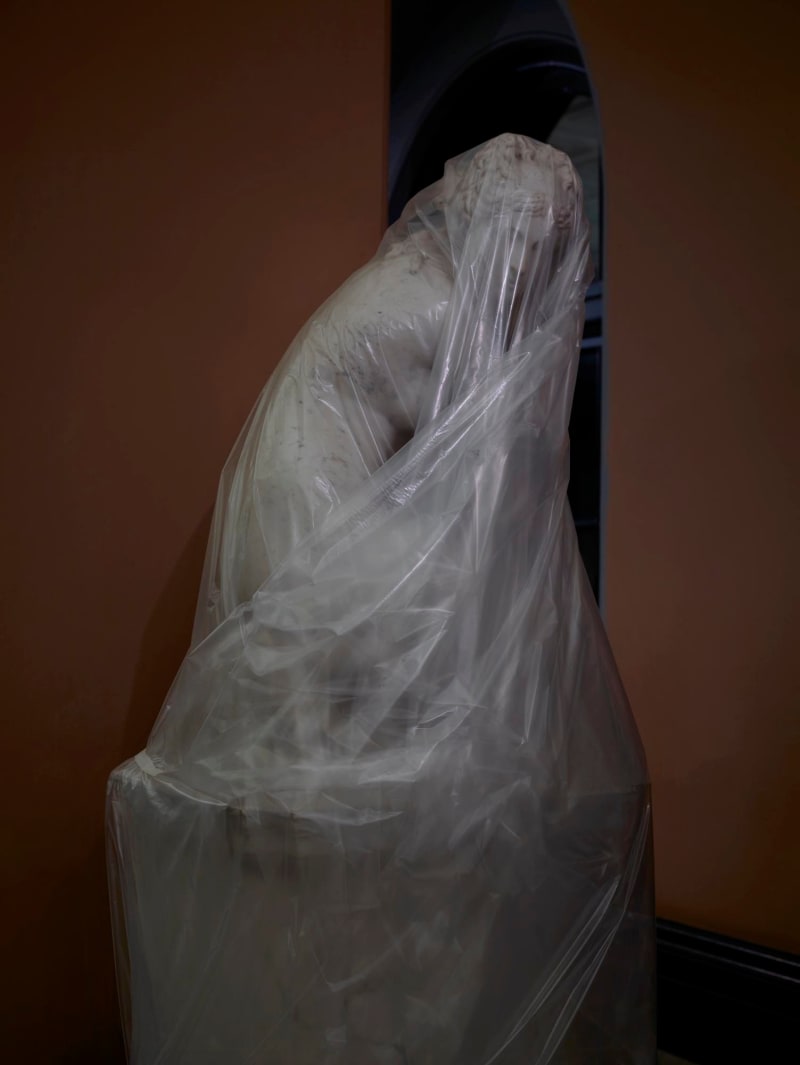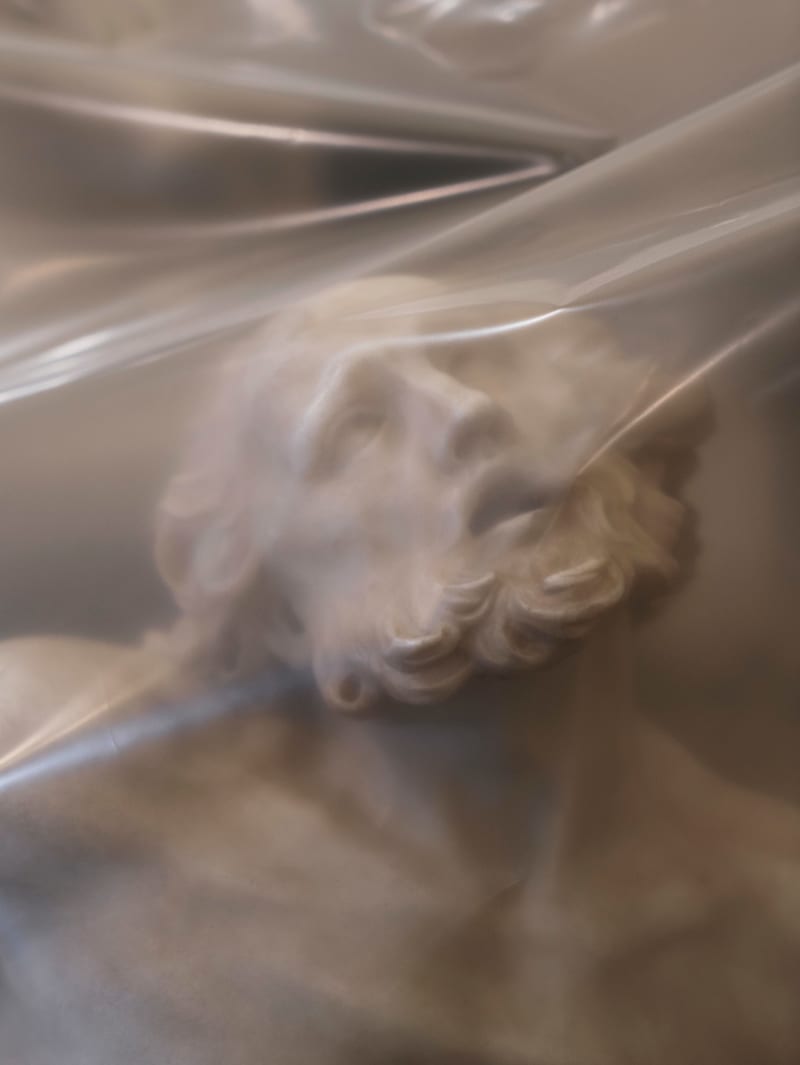 The Weeds And The Wilderness
Trees have been an integral part of our existence since the beginning of human history. To our ancestors they held a special sacred status due to their vital role in everyday life and the emotions they stirred. They are rooted in our language, culture, literature, art, and industry. Many Britons no longer have any daily connection with its woods. Mostly we go about our lives sealed from the wild. At the same time, these landscapes touch upon themes such as conservation, ownership, history, magic and myth, climate change, childhood fears, and our current obsession with what is 'native' or 'alien'. In this series of photographs Roberts seeks out and finds those ancient British woodlands that depict a primordial, Edenic state. All were taken during the winter months.










Merrie Albion – Landscape Studies Of A Small Island
For over a decade, Simon Roberts has photographed events and places across Britain that have drawn people together in public, reflecting on the nature of our shared histories and communal experiences. Merrie Albion – Landscape Studies of a Small Island brings together iconic images and many previously unpublished photographs, recording social practices and customs linked to the British landscape, as well as some of the economic and political theatre that has helped define recent history.
Merrie Albion is the visual representation of a country's anxieties, past and present. It is, as writer David Chandler terms it, "a pictorial chronicle of our times," which addresses the development of a diverse national culture whose story is still being written.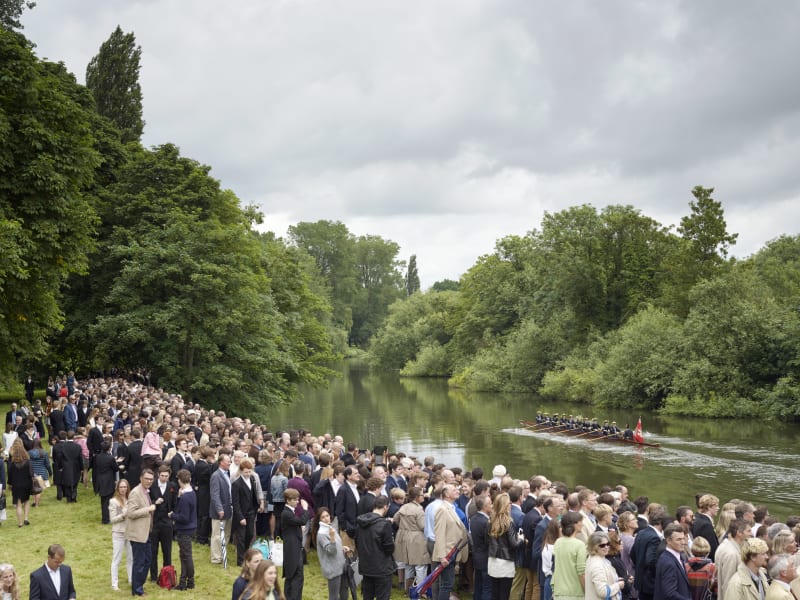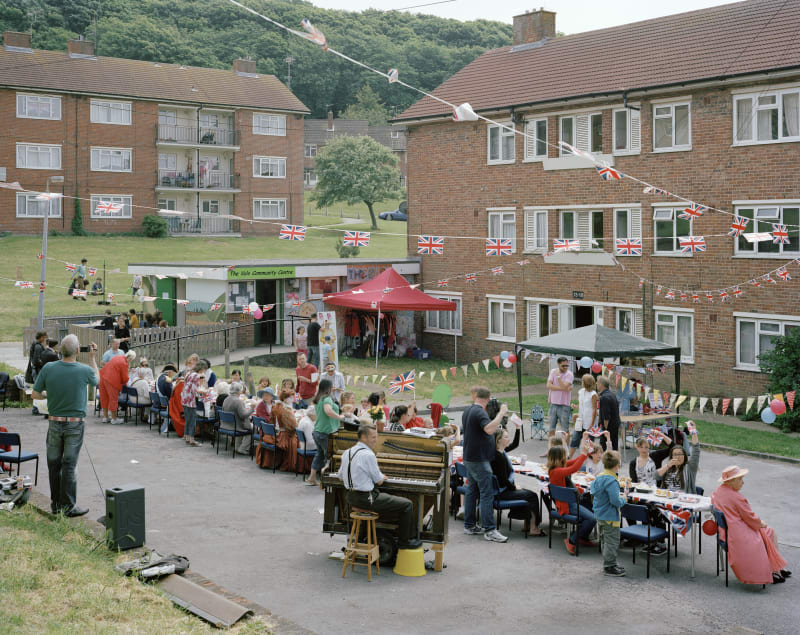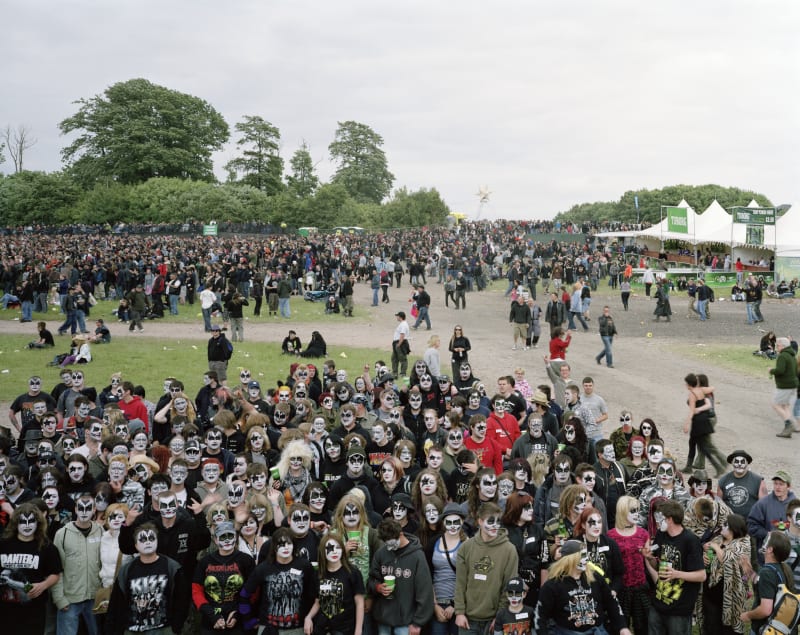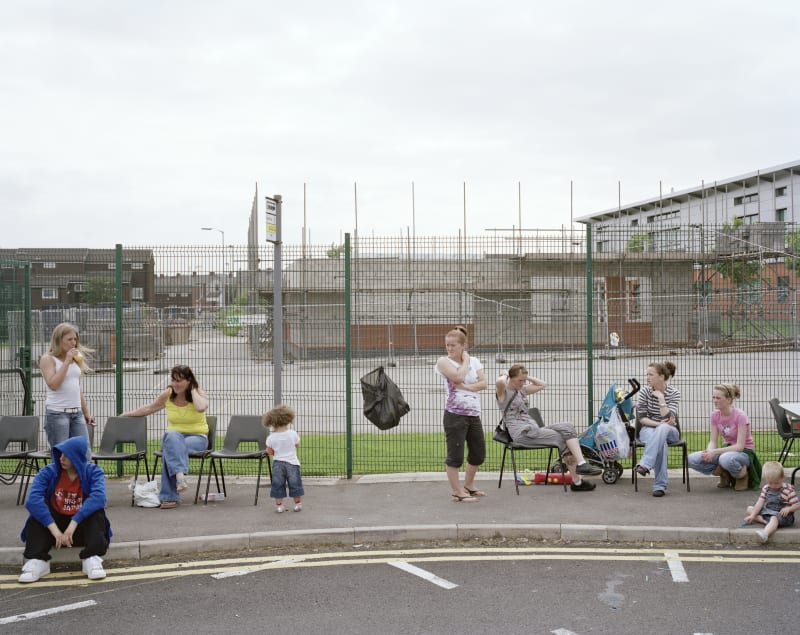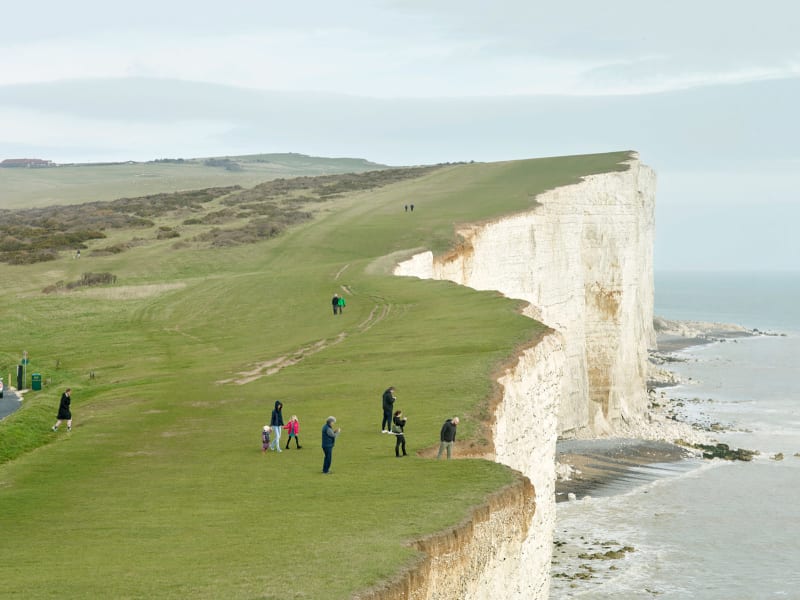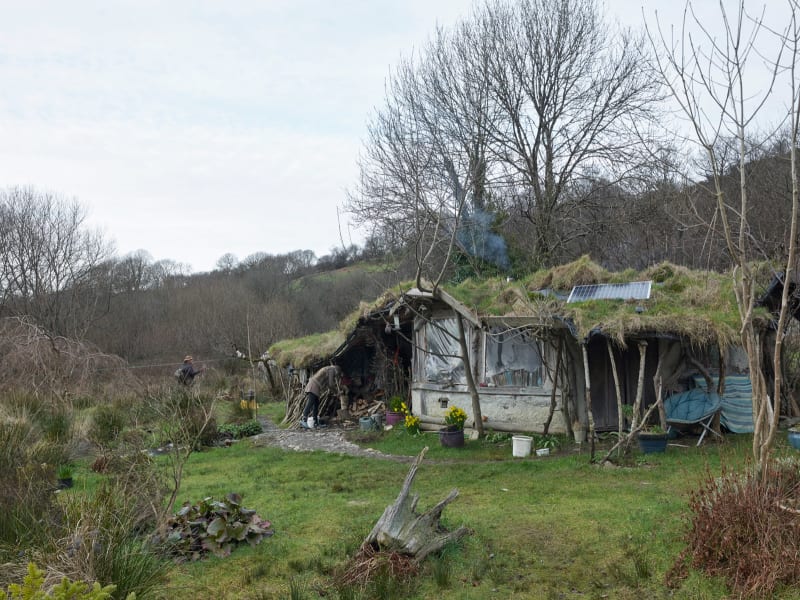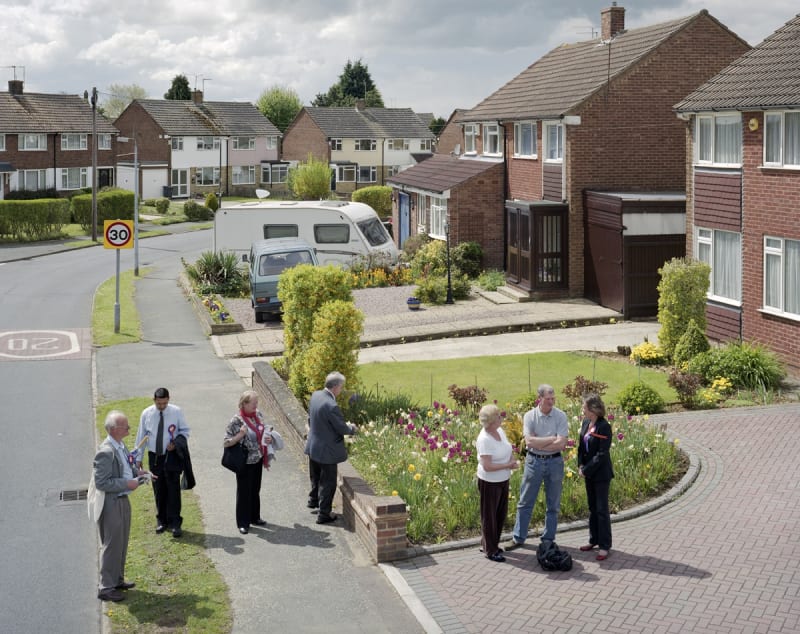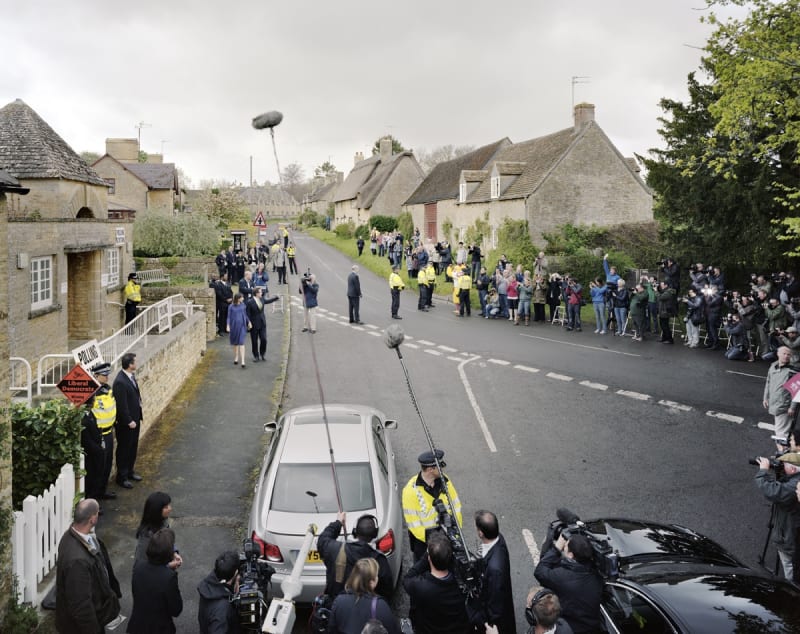 We English
Simon Roberts travelled across England in a motorhome between 2007 and 2008 for this portfolio of large-format tableaux photographs of the English at leisure. We English builds on his first major body of work, Motherland (2005), with the same themes of identity, memory and belonging resonating throughout. Photographing ordinary people engaged in diverse pastimes, Roberts aims to show a populace with a profound attachment to its local environment and homeland. He explores the notion that nationhood – that what it means to be English – is to be found on the surface of contemporary life, encapsulated by banal pastimes and everyday leisure activities. The resulting images are an intentionally lyrical rendering of a pastoral England, where Roberts finds beauty in the mundane and in the exploration of the relationship between people and place, and of our connections to the landscapes around us.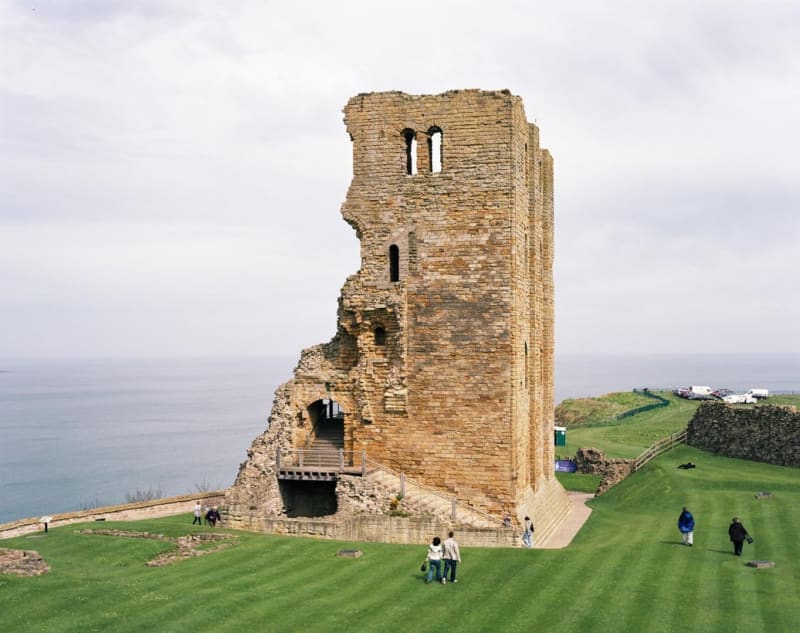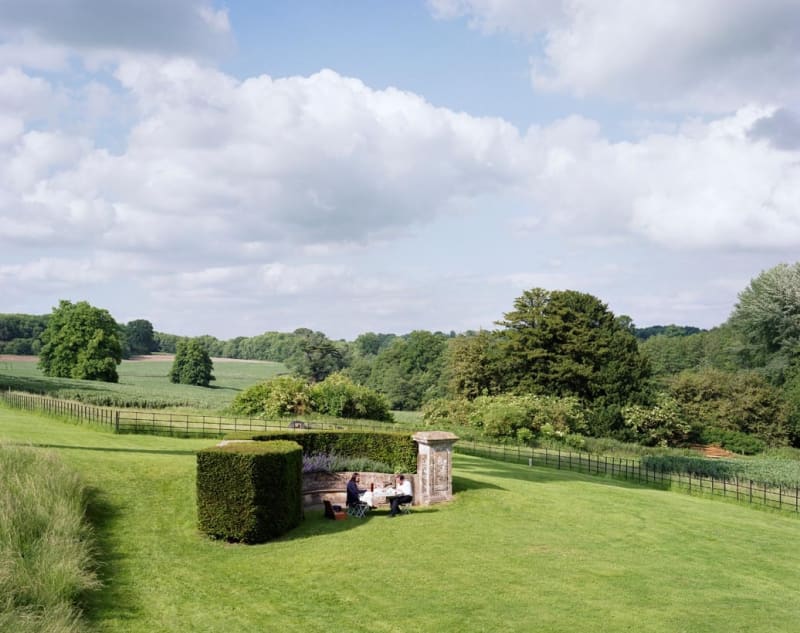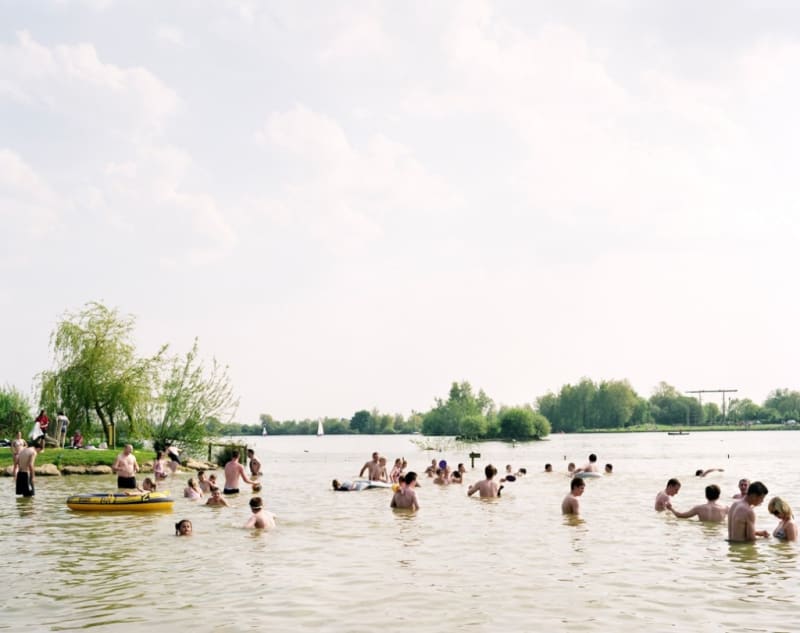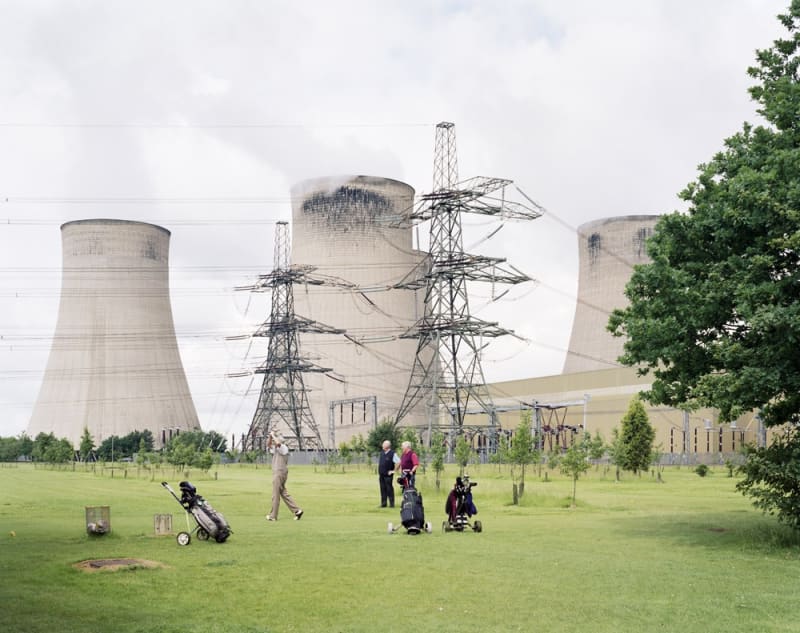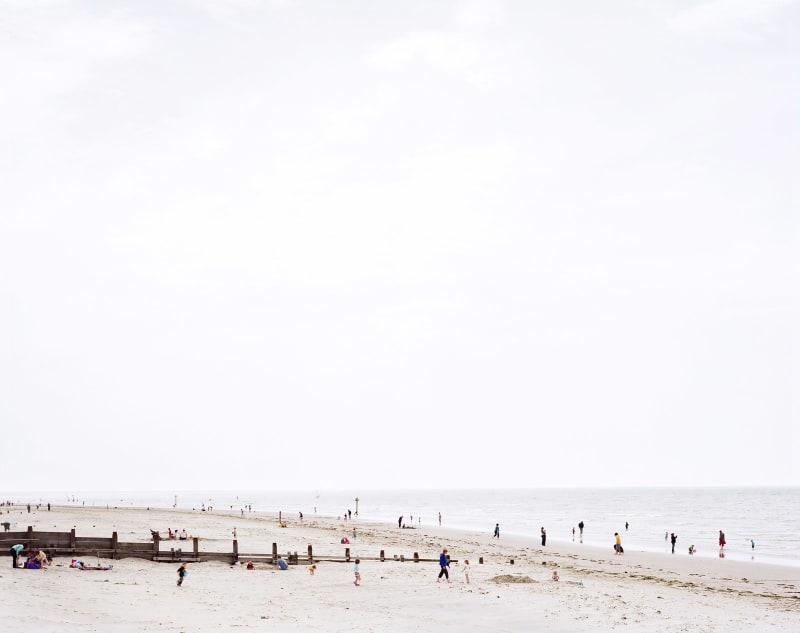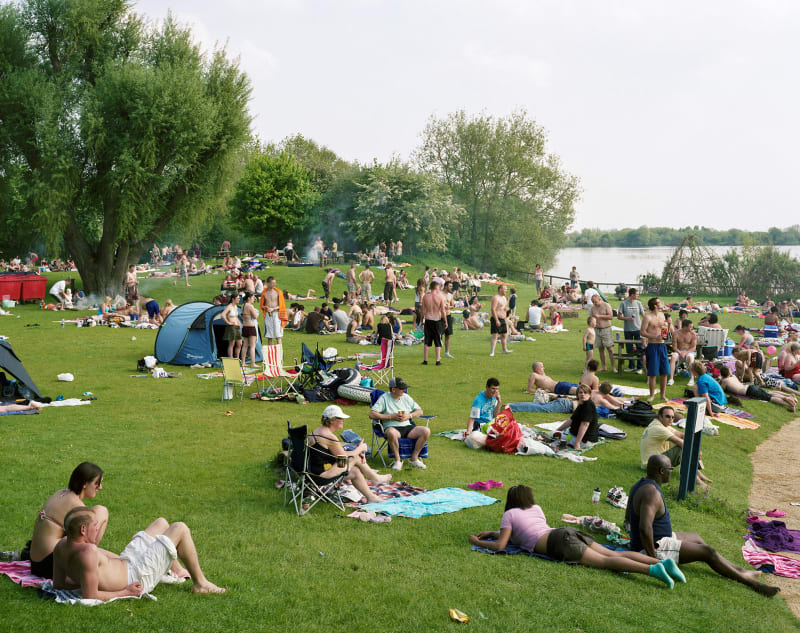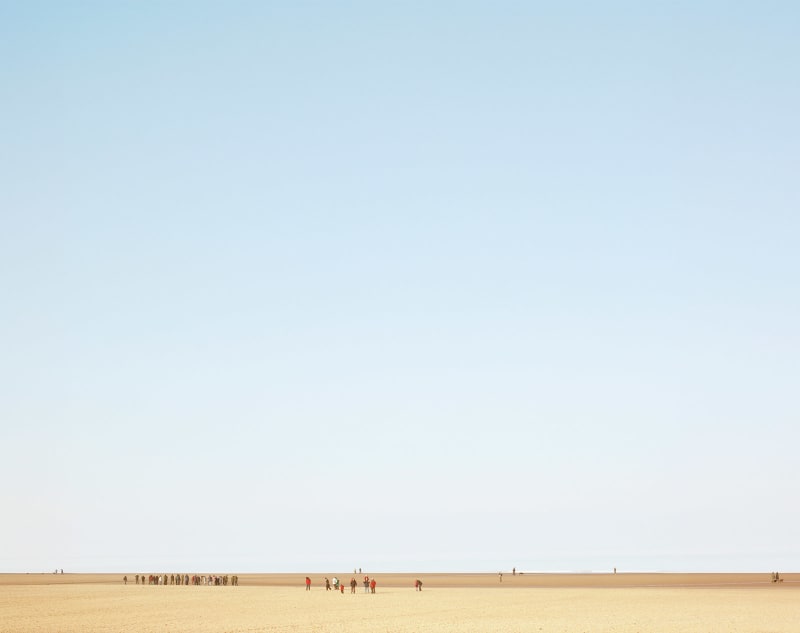 Pierdom
Made over three years, Pierdom is a comprehensive survey of Britain's Pleasure Piers. Predominantly constructed during the 19th Century in the context of expanding Victorian seaside resorts and railways, these structures were often erected as landing docks for pleasure steamers and other sea craft. Growing to accommodate the needs of day-trippers escaping the smog of the city, engineers began to incorporate bandstands, cafes and music halls into their designs, embracing the growing notion of 'pleasure seeking' by the seaside.
Pierdom addresses the historical significance of these architectural structures placed in comparison with their modern interpretation and functionality. Through formal devices associated with the picturesque - perspective, asymmetry and juxtaposition - the photographs engage us with contemporary issues about our uneasy and fragile relationship to our coastal environments.





































The Celestials
During the Covid-19 global pandemic and ensuing lockdown, satellite images released by NASA and the European Space Agency showed a dramatic drop in nitrogen dioxide emissions; the skies were clearer, bluer, the earth was breathing again. This series of cyanotypes was made using negatives of pictures taken from plane windows during work expeditions over the preceding years, partly because they had immediately become an estranged perspective and partly because the spectre of the climate crisis was dominating much of the media coverage.
The startling shade of 'Prussian Blue', unique to the cyanotype, imbues ​The Celestials with an otherworldly, dreamlike intensity. The images​ ​were created by first treating watercolour paper with a solution of iron salts, then layering multiple photo negatives together on the paper before exposing it to sunlight. This tactile and unmediated process was important to Roberts, as it allowed for greater openness and receptivity to what emerged.







National Property: The Picturesque Imperfect
Since land invariably belongs to somebody, landscape is closely linked to notions of ownership, by individuals or institutions. Landscapes are also linked, beyond legal ownership, to larger worlds of nature and nation, beauty and history, as the term "belonging" extends to more shared senses of attachment, citizenship, and entitlement. The photographs in this series are an exploration of public interaction and usage of landscapes in private/ quasi-public hands, and how that frames shared experiences of place, a sense of cultural belonging, and the various ways this is claimed in the ways people conduct themselves, and in the company they keep.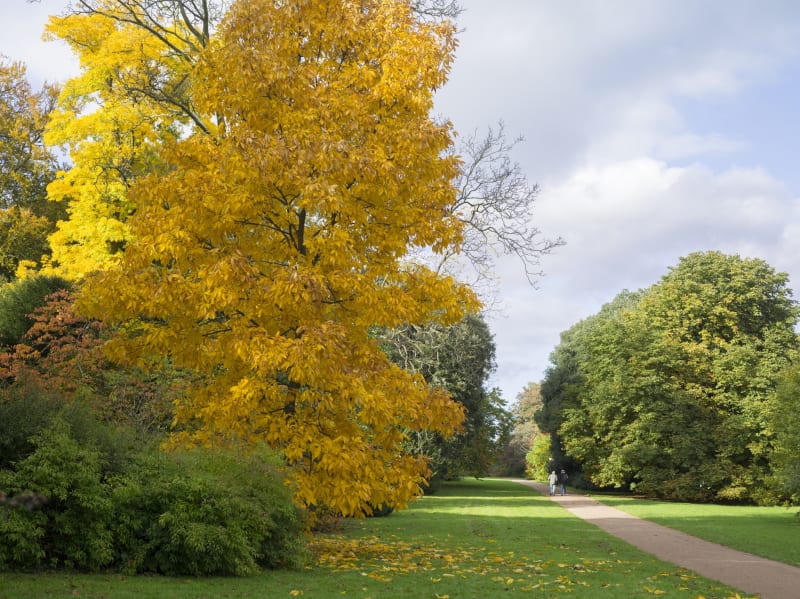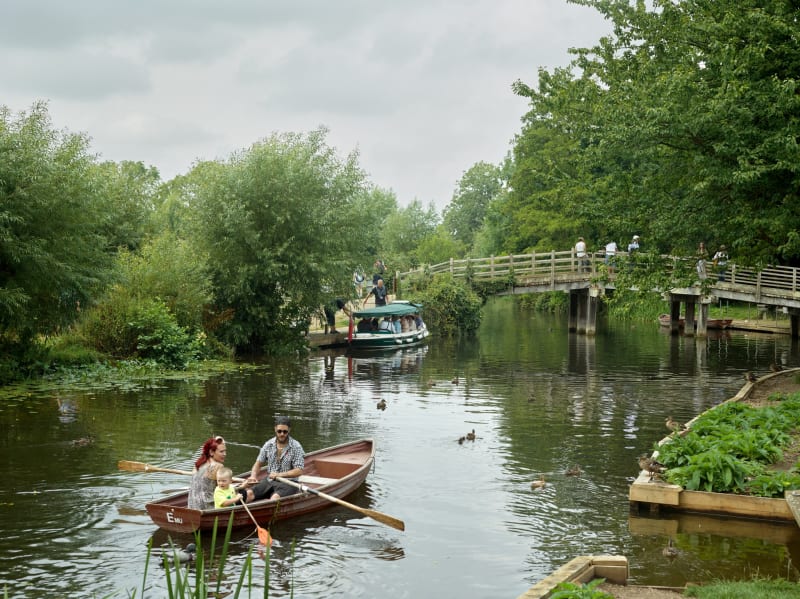 Sight Sacralization: (Re)Framing Switzerland
When the wealthy English set off on their European Grand Tours in the 1800s, they expected that Switzerland would inspire them with vistas of sublime grandeur. The landscape's untamed romanticism was a crucial component of Switzerland's national identity and cultural prestige. Today, the Swiss landscape often resembles a theater set, where tourists are transported to officially designated areas of natural beauty to gaze upon epic views from the safety of stage-managed viewpoints, a process referred to as "sight sacralization". Roberts' large-format tableaux photographs are taken of viewing platforms at some of the most photographed places in Switzerland, sourced using an online mapping software which created popularity heatmaps based on crowdsourcing geo-tagged photographs uploaded to the Internet.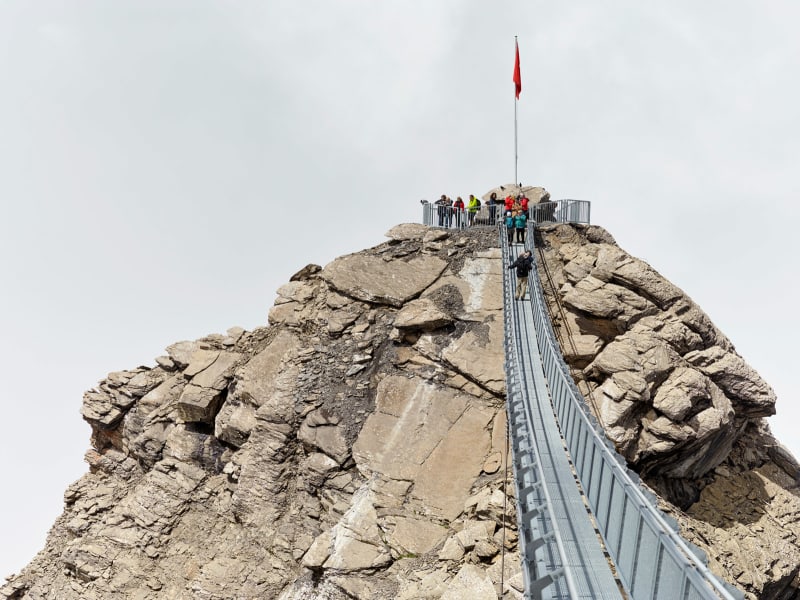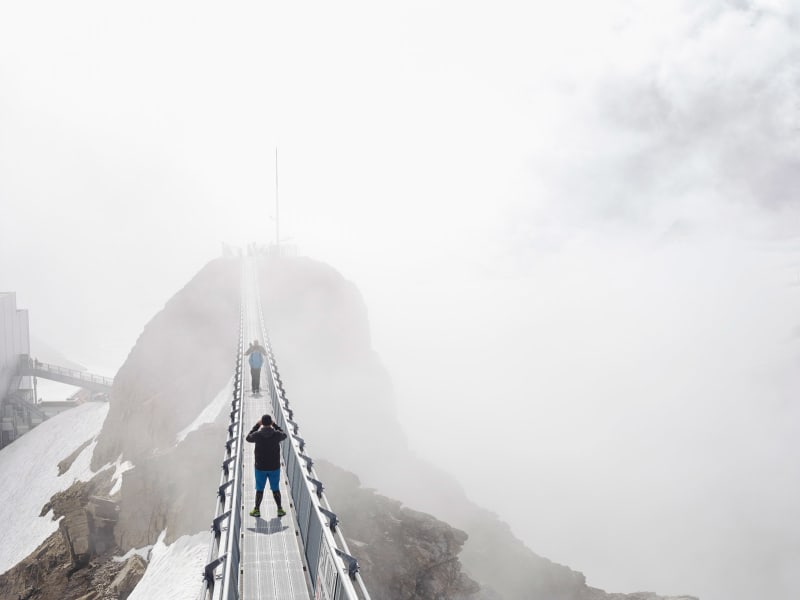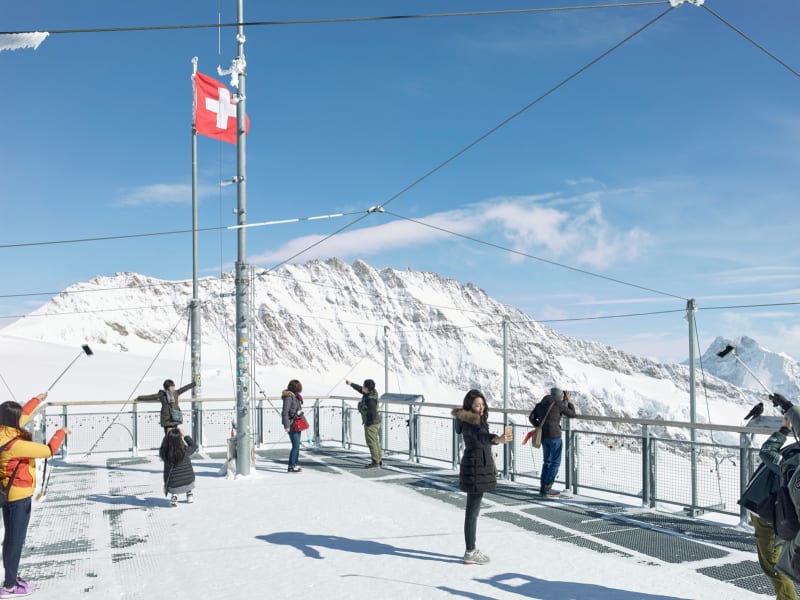 The Brexshit Machine | The Brexit Lexicon
The Brexshit Machine is an LED artwork based on text extracted from The Brexit Lexicon (2016-2020), Roberts' compendium of the most common terms that have shaped the discussions of Brexit in both politics and the media. The work was created to mark the 31 January 2020, the day that the UK's membership of the European Union ended and the start of the "transition period".
The Brexit Lexicon is a two-part video work (78 minutes) that explores the store of metaphors and verbiage that have become the stock in trade of politicians and journalists during Britain's exit from the Europe Union. Creating a compendium of the most common terms that have coloured the way Britain and the EU have described current political discussions associated with Brexit, the lexicon is read out by a news presenter who appears at a desk in an anonymous news television studio against a green-screen.



Urban Parks
Over the past few decades, the urban park, in all its forms, has emerged as a critical tool in revitalising cities and solving a variety of urban issues, including: regenerating economically deprived areas, bringing nature into the city, rejuvenating neighbourhoods, creating a place for physical interaction in our increasingly digital world, and improving city sustainability. This photographic narrative offers a timeline of urban parks beginning in 1660, when St. James's Park in London was made available to the public, up to the present day. It illustrates the evolving nature of urban parks over time and the philosophies behind them, reflecting the cultural history and social values of their origin.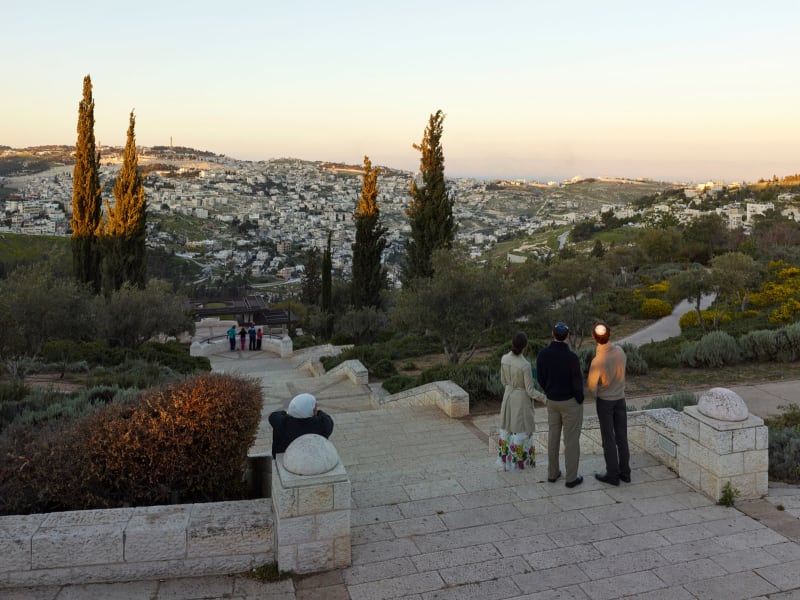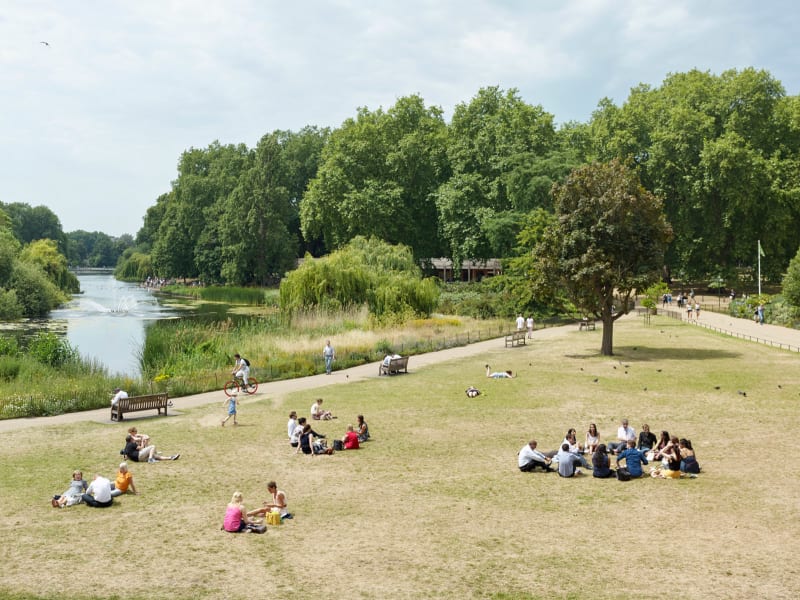 Motherland
Made between July 2004 and August 2005, Motherland tells a story of Russia. Comprising photographs from over 200 locations in this vast, eastern nation, this body of work represents the most extensive and comprehensive photographic account of the country by a Westerner. Instead of falling prey to the clichéd representations of a Russia ground down by poverty and despair, intimate portraits of contemporary Russians show us a diverse people, united by a sense of common identity and connected by a shared love of 'the Motherland', whilst vast, sometimes peopled, landscapes reveal the complexity and uniqueness of the country. Together, the photographs explore the notion of Russia's "modest beauty" without sidestepping the realities of Russian daily life.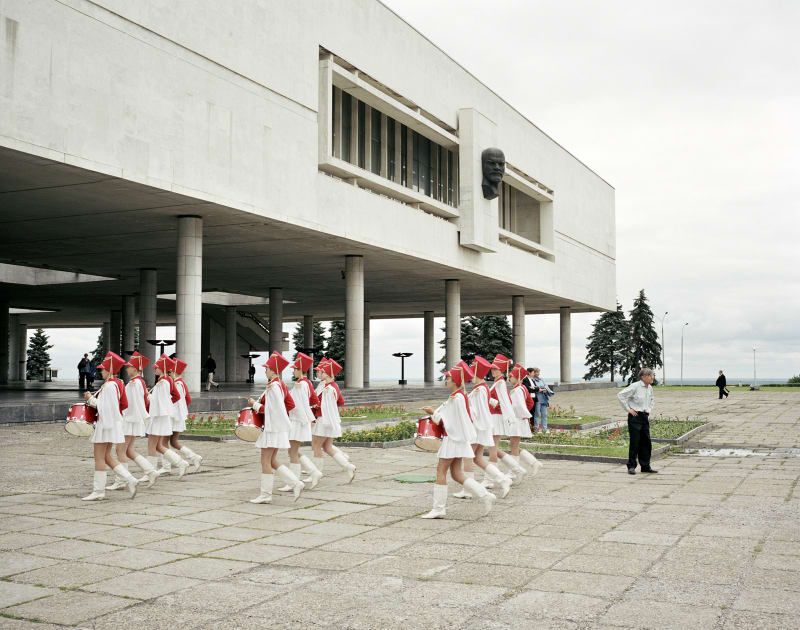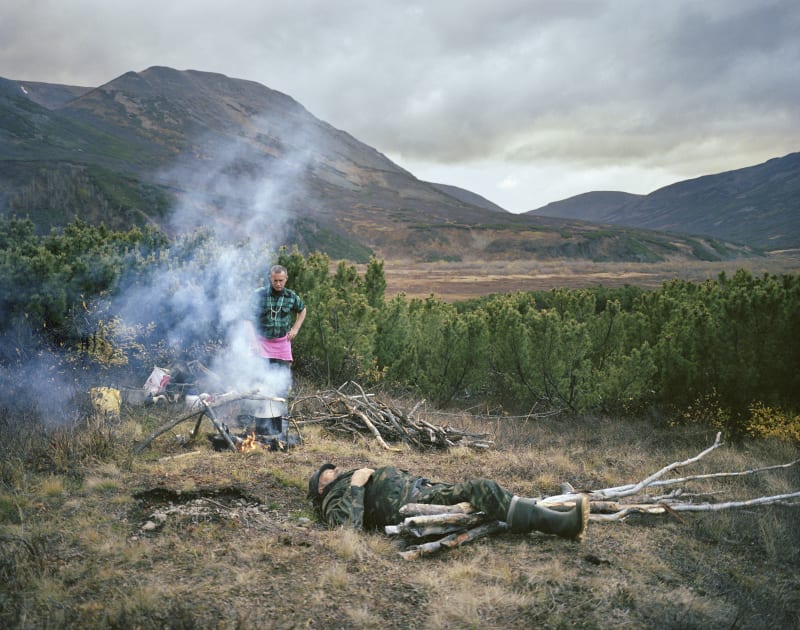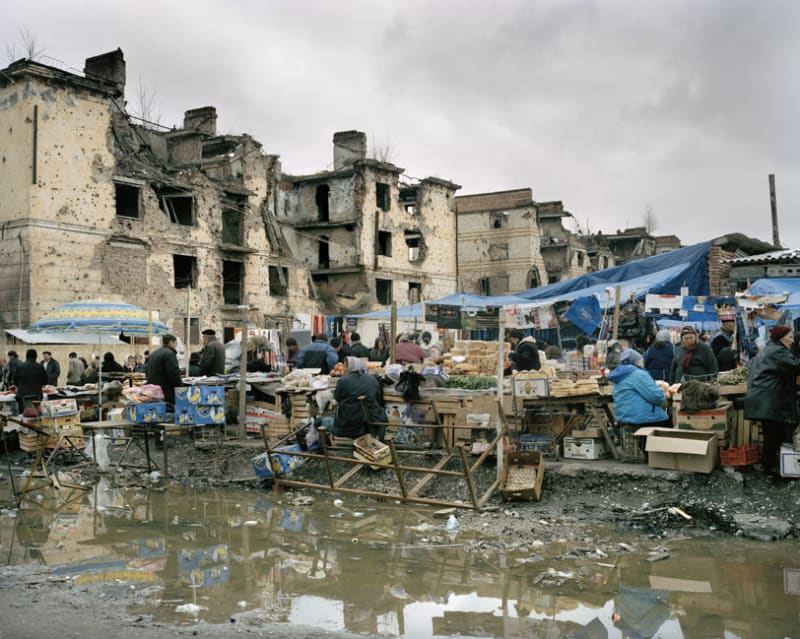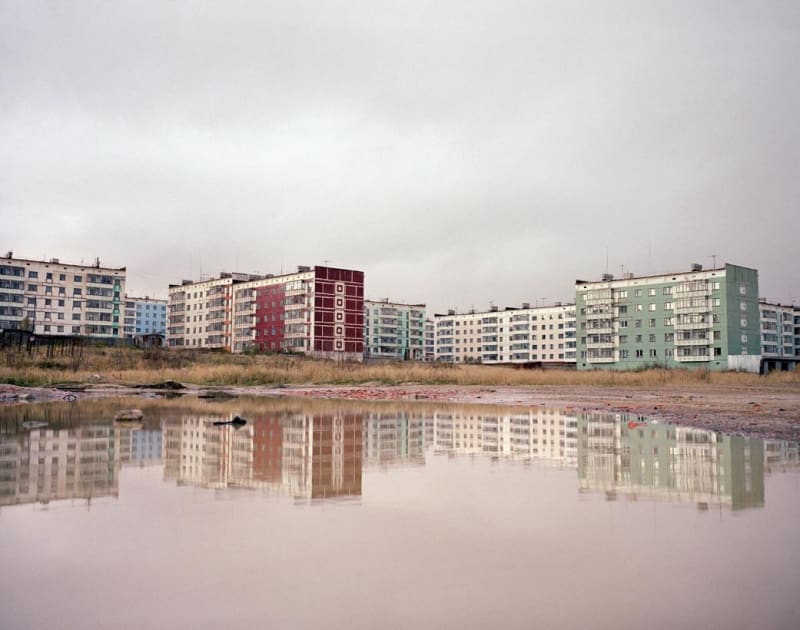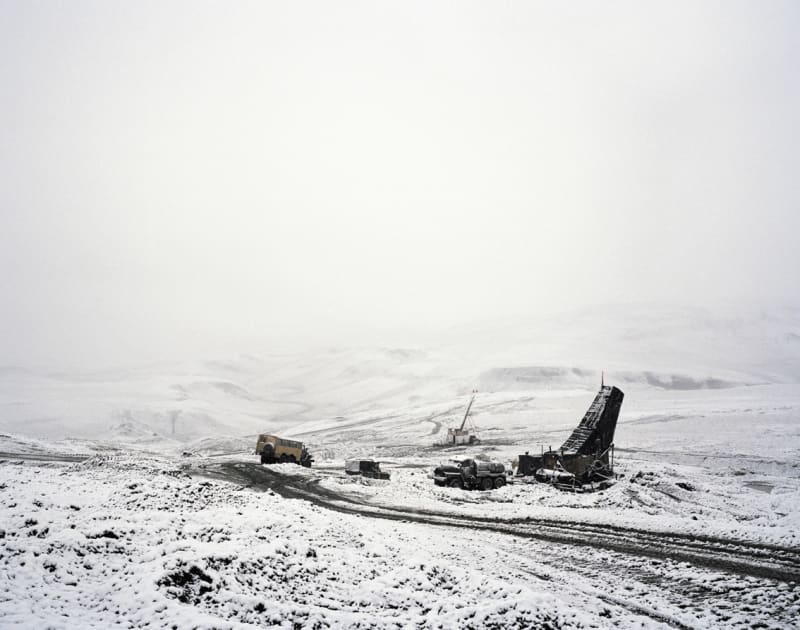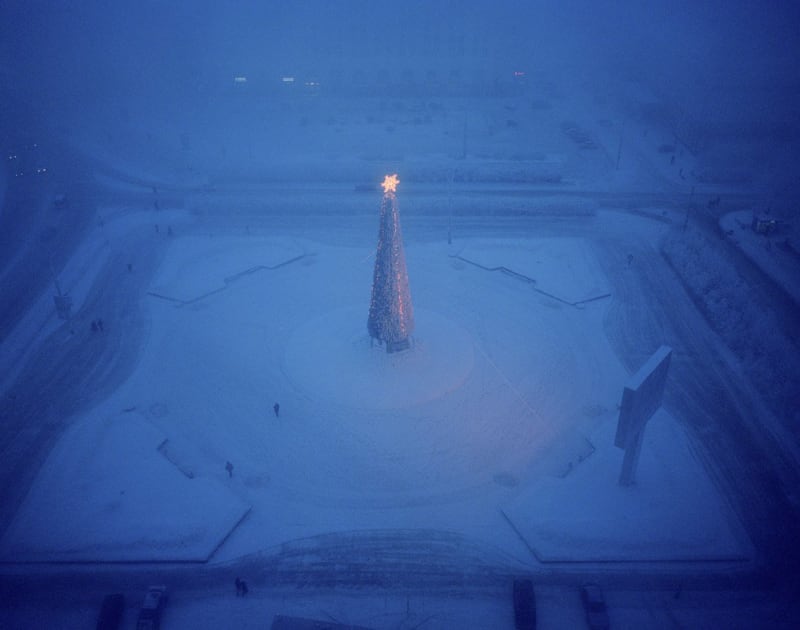 Polyarnye Nochi
Unforgiving and dramatic winters have often been regarded as one of Russia's most defining characteristics. A Russian winter is redolent both of great hardship: extreme temperatures, physical privation, an atmosphere of isolation and desolation, but also great beauty. Russia's majesty is heightened by the intensity of its winter and for centuries, the Russian winter has been romanticised by many artists from the master realists of the nineteenth century, to modern day film directors such as Tarkovsky and Zviagentsev.














The London Olympiad
In 2012, The International Olympic Committee granted Roberts photographic access to the London Olympics, but the focus of
The London Olympiad
is not the sporting spectacle, with its plethora of record-breakers, but rather the surrounding cultural, economic, and political vistas that may be overlooked in the excitement and confusion of these events. These photographs explore the relationship between athletes and the public, putting them in the context of the built environment, and the wider social issues raised by hosting such a thoroughly modern spectacle. The focus is not on Usain Bolt crossing the finishing line but the alternative narratives; photographs of how we congregate, how such a complex logistical exercise is staged, the assertion of national identities, and the backdrop of the British landscape, forever present.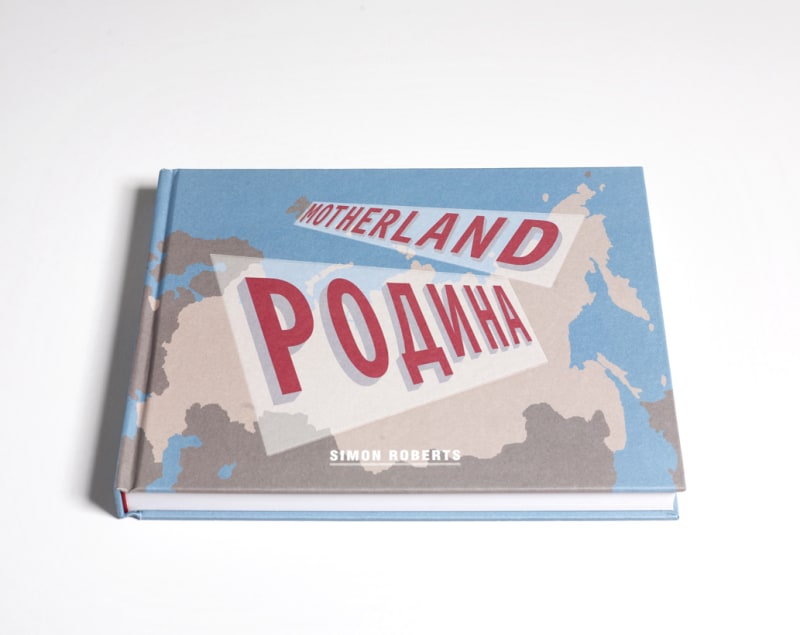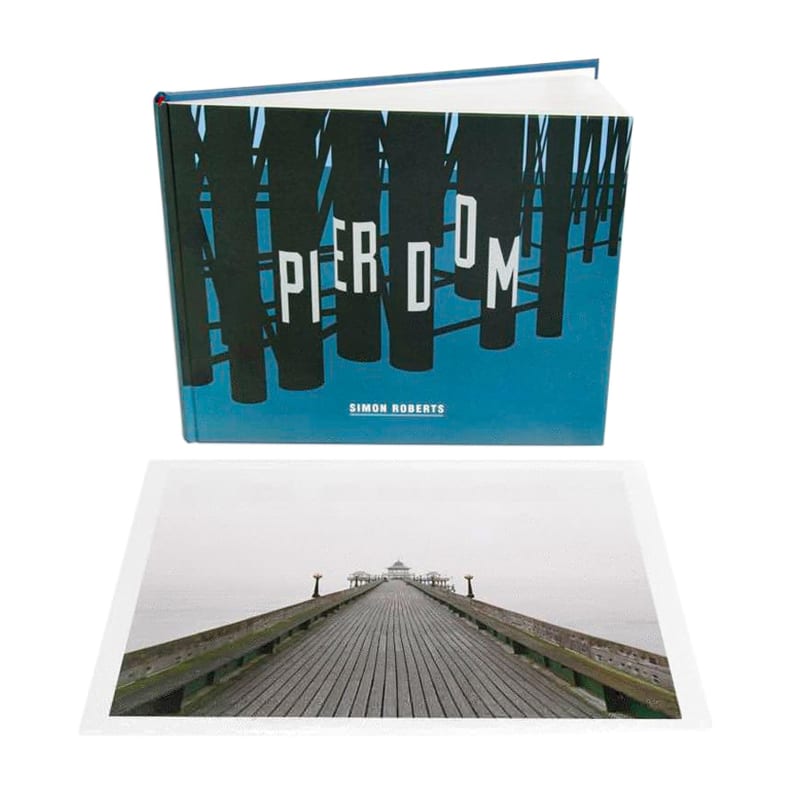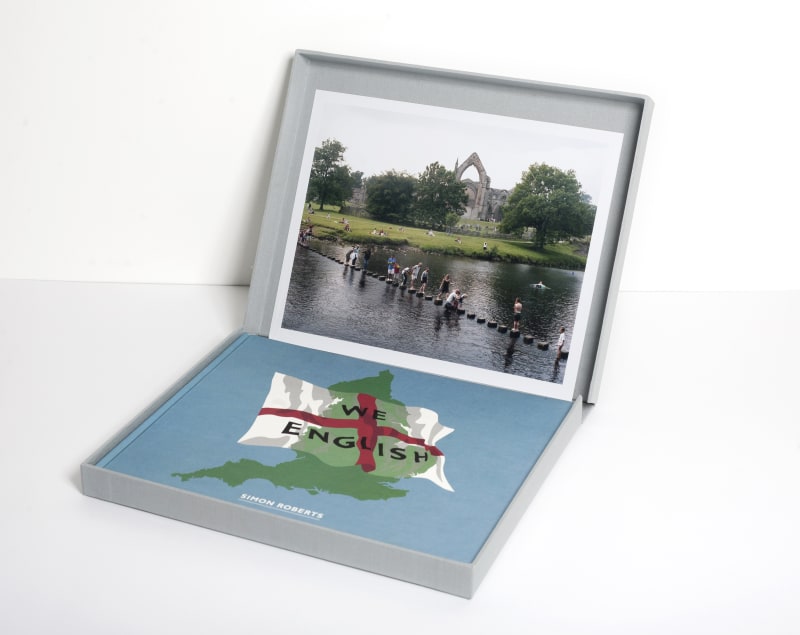 News