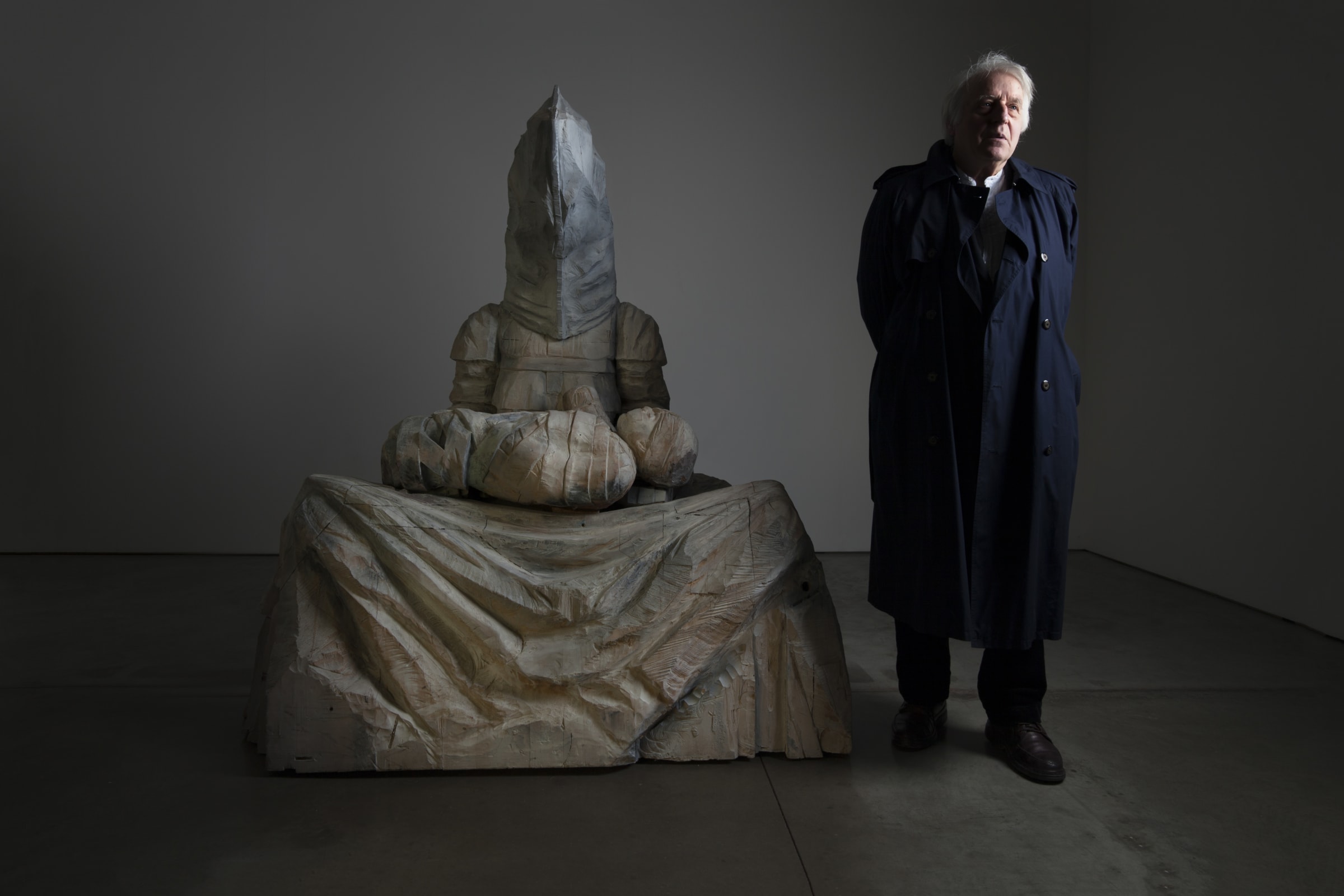 Biography
MICHAEL SANDLE (RA) (b 1936)
I am interested in a declamatory art. I remember a tutor at the Slade saying to me "now you are doing art like standing on the rooftop, shouting at the top of your voice." He meant it as a criticism, but I can't see anything wrong with that.
British artist Michael Sandle was born in Dorset, and has lived and worked in London, Paris, Calgary, Rome, Pforzheim Karlsruhe and the Isle of Man. Sandle studied at Douglas School of Art and Technology, Isle of Man, from 1951 to 1954 and studied Painting and Printmaking at the Slade School of Fine Art, London, from 1956 to 1959. In his early work he emphasised craftsmanship and the search for symbols, rejecting the formalism increasingly common in sculpture of the period. Throughout the 1960s and '70s he worked on a small range of individual works in which he explored abstract and figurative idioms. In the late 70's, Sandle's work became more monumental. Sculpted in Fibreglass and polyester resin, these works began his lifelong engagement with the commemorative function of sculpture and birthed the characteristic blackness of his work. Sandle's work voices criticisms of what he describes as 'the heroic decadence' of capitalism; in particular, its appetite for global conflict. He has also attacked the media for packaging and sanitising the destructiveness of war, in works including A Mighty Blow for Freedom/Fuck the Media, 1988 and hisTwentieth-Century Memorial, 1971-78 in which a skeletal Mickey Mouse is seen at the helm of a machine gun.
Michael Sandle was elected Fellow of the Royal Society of British Sculptors in 1994, and Royal Academician in 1989 and a Senior Royal Academician in 2011. Significant commissions include the Seafarer's Memorial, 2001 for the International Maritime Organisation, on Albert Embankment London, Memorial to the victims of a Helicopter Disaster,1988, Mannheim, Germany; St George and the Dragon, 1988, London, and The Malta Siege- Bell Memorial, 1992, Grand Harbour Valletta, Malta. Sandle has exhibited widely internationally and in the UK had major solo exhibitions at amongst others, the Whitechapel Gallery, the Royal Academy of Arts, London; the Imperial War Museum, London; and Tate Liverpool. His work is held in the numerous collections including, the British Museum, London; Tate, London; Dallas Museum of Art, USA; The Metropolitan Museum of Art, New York; National Gallery of Australia, Canberra; and Victoria & Albert Museum, London.
Selected works









Prints

Works on paper







News