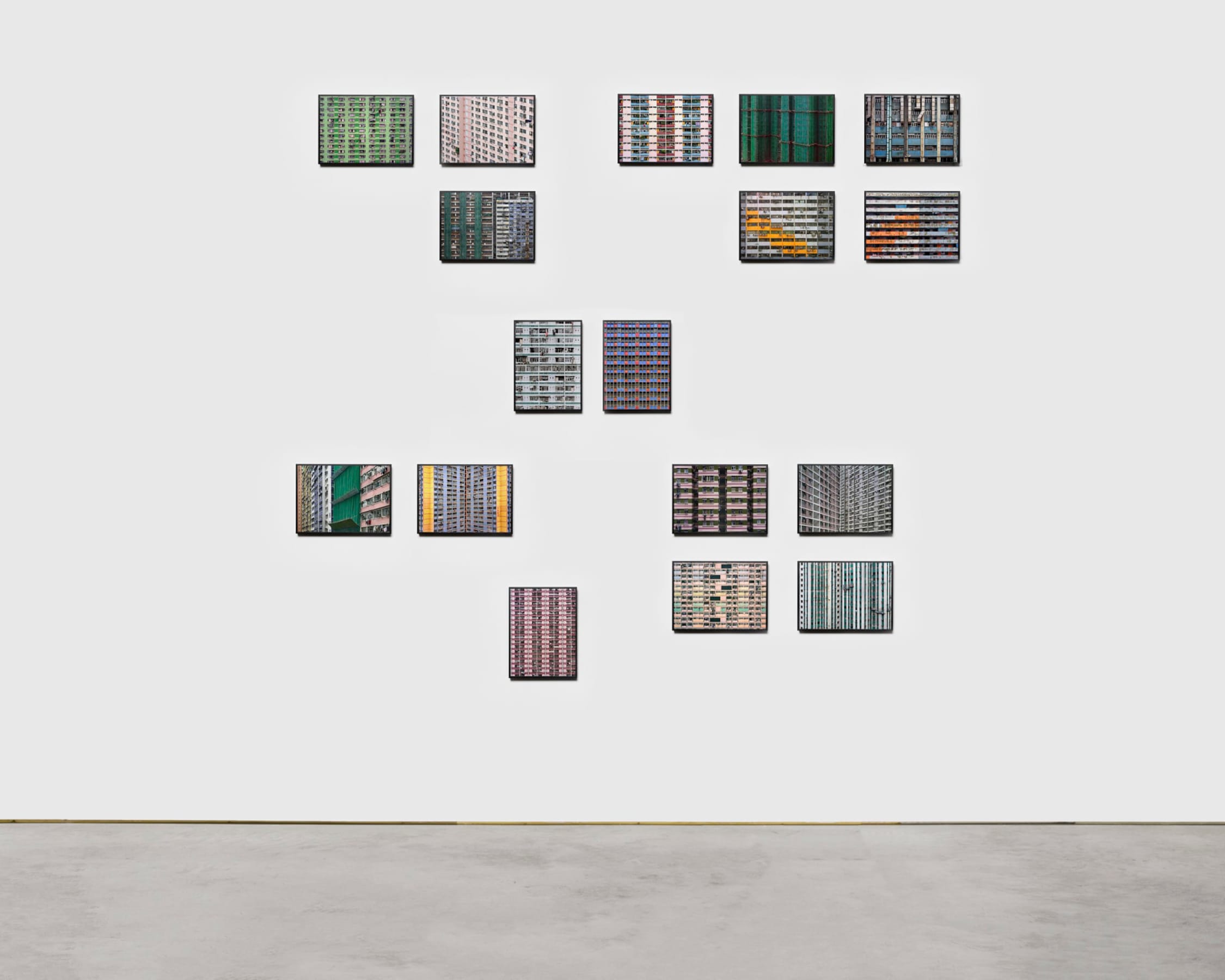 9 June 2021
Michael Wolf
AoD Scouts and Informal Solutions
Overview
German-born artist Michael Wolf (1954 – 2019) saw himself as a chronicler of Hong Kong, documenting its shoulder-to-shoulder architecture and alternative urban culture since his move to the city in 1994. This online presentation celebrates his life and artistic output by sharing small-scale works from two of his most celebrated series.
Wolf's Architecture of Density depicts the insatiable growth of Hong Kong's contemporary urban vistas by excluding any horizon, foreground or background from the frame, in what the artist referred to as 'No-exit compositions'. Taken from a frontal perspective, the endlessly repeating patterns created by grids of apartment windows, vivid cladding and scaffolding become flattened, abstracted and with an ambiguous sense of scale. Scout Shots acted as studies for Wolf. Taken with a small digital camera when out looking for suitable locations, they formed a digital sketchbook that later evolved into his larger works.
With Informal Arrangements, Wolf countered the rigid uniformity of the high-rise blocks seen in Architecture of Density, exploring the vast network of back alleys that weave around them. Situated between public and private space, these passages are utilised by the population in a multitude of ways, including acting as shortcuts between thoroughfares, as quiet resting places, or as much-needed storage spaces by local workers and residents. For Wolf, the items found in these alleys, often taking on new and improvised functions, form a valuable insight into the city's vernacular culture: upturned buckets topped with egg crates provide seating and gloves are left to dry on coat hangers, each assemblage captured as a form of urban still life. The works in this presentation explore just a few of the twenty-three categories that make up this encyclopaedic project.
VAT and delivery is calculated at the point of purchase. Prices are inclusive of framing (matte black aluminium frames, 3.5 cm depth). Delivery of purchased artworks will be arranged 3 weeks after payment is received to allow time for framing.
Enquire below for special prices for groups of works or custom framing quotes.
The way I see it Hong Kongers are survivalists. Hong Kong is such a tough city, and the powers against the working class are so great. I just really admire the Hong Kong people for their ability to survive in this situation, and this is a symbol of it for me. People often ask me about why I do this, and I do it because I enjoy it. But these pictures have a certain effect – especially in Hong Kong. Because most people rarely see these things - they are most often overlooked.

- Michael Wolf, 2015
Architecture of Density was the first topic that made me think in depth about where I live and what it's like to live in this city. I'd always lived in Europe where everything was very tame, and even in the U.S. things are relatively tame, even New York. Europe was too predictable for me. Paris looks like a movie set, it hasn't changed in 120 years.
- Michael Wolf, 2015

If you look at all my topics, most of them consist of several layers. I find that it makes for more interesting viewing and is also more provocative than just doing a very one sided portrayal of the city. I think the combination of Architecture of Density and Informal Arrangements is a perfect match. You get the micro and the macro…it makes you think about what's behind the buildings, so it's more thought provoking than just doing a monothematic topic.
- Michael Wolf, 2015

In February, Legco (the Hong Kong Government) published a paper about their goals and what they have planned, and this year in February one section of it specifically dealt with the back alleys of Hong Kong. What they have decided is that they are going to take thirteen of them and sterilize them (which they have already done), which means remove all of the worker's objects from them and dedicate each back alley to an artist to decorate it in some way - to change its function, to make it into a pedestrian throughway. I am quite convinced that it is the beginning of the end. All the back alleys will ultimately be sterilized, (which I am not all that against, because they can be quite grubby, there are lots of rats and cockroaches and in summer they're smelly) but they are a very important part of Hong Kong's identity. And that is one of the reasons that I am going out and trying to document as many as possible, just to preserve this aspect of Hong Kong local culture, which I am sure in ten years will be 100% gone.
- Michael Wolf, 2015