Overview
Brazil-born, Los Angeles-based artist Mona Kuhn has received international acclaim for her contemporary re-interpretations of the nude. Through building close relationships with her subjects, employing playful visual strategies and drawing from traditional iconography, Kuhn's images portray profoundly intimate depictions of the complexities surrounding human nature and our connectedness with the environment.
Coinciding with the publication of the artist's first retrospective Mona Kuhn: Works, published by Thames and Hudson (11 March 2021), this exhibition features works from across her career, including previously unseen images. Accompanied by a short reading by Mona Kuhn as well as excerpts from texts by Rebecca Morse, Chris Littlewood, Darius Himes and Simon Baker, and an interview with Elizabeth Avedon, this presentation offers a detailed insight into the creative processes Kuhn has developed over the past twenty years.
Over the course of this exhibition, Mona Kuhn will be participating in numerous online events, including Photo London's inaugural Book Club live. Further information can be found at the foot of this page.
Early Depictions
1996 - 2002
One of the first persons I worked closely with in the mid 90's was Philipp. He was not only a dear friend, but also was patient enough to be my first model in France. We met when I was first introduced to a naturist community. Naturism was part of a literary movement in the late 1800s which also influenced the art movements of the time specifically Henri Matisse and other Fauve painters. This movement was based on the French concept of joie de vivre. Back in the 50's, Philipp's grandparents fell in love with the cultural movement, and bought a summer beach house, where the family would gather over the holidays. For Philipp, who grew up in that culture, nudity is closely associated with his personal freedom and innate right. While it was my very first time in this unique setting, and I had to learn my ways around it, for him it was just another summer. I am not sure if it was the easiness of the elderly, or the nonchalant attitude of the youth, but in the process I became different for having known it through friends. They brought me in and shared their culture, and what at first seemed to be another world, became our world.


- Excerpt from an interview with Mona Kuhn by Elizabeth Avedon
Evidence
2000 - 2008
The work within the series Evidence, represents eight years of photographs made among families and friends within the shared environment of Southwest France and acts as the foundation for Mona's work. The accompanying publication opens with the following statement: "The most immediate form of evidence available to an individual is the observations of that person's own senses. An observer wishing for evidence that the sky is blue need only look at the sky." We come to understand that these individuals, alone and in groups, standing, walking, and lounging, are evidence of our shared human existence. The time spent among them is palpable, their pictures are not quickly taken, but instead made much in the same way that a figurative painting by Lucian Freud might take up to eight months or a year to bring to life.
The human form and its relationship to the natural world is visually explored throughout these photographs. Glass, wood, leaves, flowers, and skin abound, with some figures so dappled in soft focus they turn to abstracted sunspots. They are profoundly natural, like the foliage that surrounds them and the simple structures that only barely separate their bodies from the outside. The painterly Klimt-inspired palette is golden, and the skin is like poured sunshine. In daylight they appear standing, and when darkness falls, they are recumbent. We do not see distinct individuals, as such, but rather components of a shared system operating symbiotically with nature. This united existence makes them certain, emboldened, and free.


- Excerpt from Universal Figures by Rebecca Morse
Native
2007 - 2009
"I was thinking of a bird that flies back into the forest searching for its abandoned nest. I was looking for answers but forgot the questions along the way." - Mona Kuhn, 2009
Sliding between autobiography, fiction and myth, Mona began constructing an image of her possible place within Brazilian society had her life taken a different trajectory. Yet she was not concerned with tracing the precise narrative of her own genealogy, rather with using her past as a touchstone for a more speculative journey. The resulting series, Native, pitches the grandiosity of the Mata Atlântica rainforest against the faded grandeur of a 1950s apartment interior – or rather a faded attempt at grandeur. Aspirational or simply the style of the day, the interior is a mixture of Baroque-esque ornamentation with other European influences. The colonial-era chair, patterned wallpaper, mid-century lampshade, parquet flooring and golden drapes: deliberately employed by the artist, these furnishings evoke an atmosphere of refinement. Yet something more mysterious and earthy percolates beneath initial appearances. Coinciding with the same time period Mona had been away, the apartment had remained abandoned for twenty years. Threadbare and moth-eaten, window dressings and surfaces succumbed to an inevitable process of tropicalization. Peeling paint. Rusty hinges. Everything stained. Like the bird searching for its nest, the abode itself was gradually returning to nature.


- Excerpt from A Braid of Tales by Chris Littlewood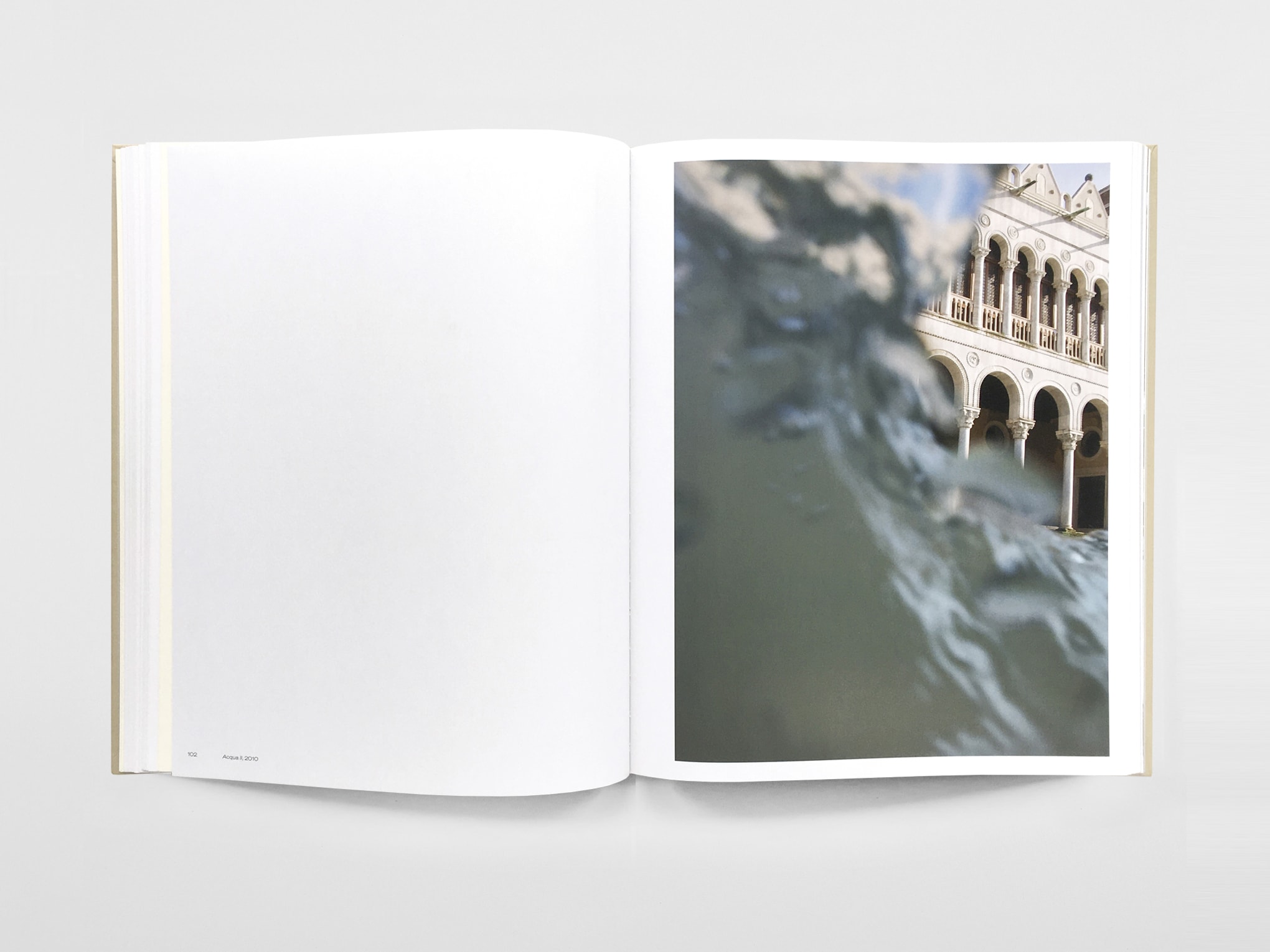 Venezia
2009 - 2010
Palazzo Vendramin Calergi is a palace on the Grand Canal in Venice, Italy. The architecturally elegant building was the home of many prominent people through history, and is remembered as the place where composer Richard Wagner spent the last days of his life. To this day, strains of some of the most sensuous, luminous, opulent music ever written are whispered in these rooms and echoed through the waters.



- Mona Kuhn
Bordeaux Series
2009 - 2011
Likening herself to a small-town photographer dutifully documenting her community, Mona Kuhn created Bordeaux Series over a period of four years. Each sitting was as much about reconnecting with long-term friends and neighbours as it was about her art – described by one sitter as a process having more in common with going for therapy or a relaxation session than having your portrait taken. Here, the act of photographing is a somewhat intense encounter between subject and photographer, an expression of attention for and appreciation of the person. Mona's approach has always been about connecting to people over technical prowess, at its core a fascination with human energy. Bordeaux Series may well represent this dynamic at play in its rawest, most unfiltered form. Thanks to the simple setup, not even the camera itself comes between the photographer and her sitters, allowing a constant and reciprocal dialogue. The photographer preferred each sitter to gradually settle into their own posture. Through their shallow depth of field, the photographs lift the people from the background, balancing visual intimacy with respectful distance.
- Excerpt from A Braid of Tales by Chris Littlewood
Private
2012 - 2014
Kuhn spent 15 months on regular trips into the Mojave desert for this project, one she aptly titled Private; a presentation of a very private sojourn to commune with Source and it's connection to her own inner voice...
...The images of individuals might be stand-ins for Kuhn herself—they drift through the book, at times clearly seen, standing in the noonday sun; at other times, rapt in their own contemplation, oblivious to our gaze. They are each classically presented, as if to say, "I represent all of humanity." And indeed they do. A soul is a soul is a soul, in the same way that a ray of light emanating from the sun is like any other ray of light. In fact, this is the basis of the theory of 'emanation', also prevalent in certain threads of sacred traditions. There is always a paradox that lies at the heart of this spiritual truth: if one were to say, this light is the sun, you would be accurate. And if you were to say, this ray of light is not the actual sun, this too would be accurate.
- Excerpt from The Private Recesses of the Soul by Darius Himes




Bushes and Succulents
2017 - 2018
With a wink and a nod, Mona makes clear her photographic goals in Bushes and Succulents, which is to suggest the inextricable link between humans and nature. Solarized female figures are intercut with seductive color images of the undulating forms found in desert succulents, their eroticism reminiscent of Imogen Cunningham's plant forms, but with a bold and contemporary palette. Moving seamlessly between the two we understand the natural forms, both human and plant, follow the same patterns visually. By juxtaposing them she does not have to be explicit, we naturally merge the two in our mind.
- Excerpt from Universal Figures by Rebecca Morse
She Disappeared
into Complete Silence
2014 - 2019
Mona Kuhn has often dealt with the human body in her work, either through expanded forms of portraiture, or her own particular variations on the life-study—most often, but not exclusively, the female nude. She works with friends, or people she knows well through professional familiarity. The subject of She Disappeared…, Jacintha, is a friend that Kuhn has worked with on many occasions, from Evidence onwards, and who is courteously credited by Kuhn with having contributed significantly to the images in the later series. Although rarely understood in any sense as co-authorship, the notion of the collaboration necessary for performative photographic work, which can be traced back to the mid-nineteenth century, now has its own rich tradition.
For Kuhn, evidently, Jacintha's contribution to the work was far more than simply following directions. And the importance of the setting for her performance, a modernist glass and concrete house in Joshua Tree, California, is also key: it too is an equal strong character in the visual exchanges created by the photographer. And where Kuhn is keen to implicate her model in the creation of her work, Dali, characteristically, went much further in his, for as well as attributing his ability to paint in general to the very existence of Gala, he signed many paintings, including the Portrait of the Back of my Wife, 'Gala Salvador Dali.'
- Excerpt from Reflections and Echoes by Simon Baker
Click below for further information regarding alternative sizes and availability.


Upcoming Events