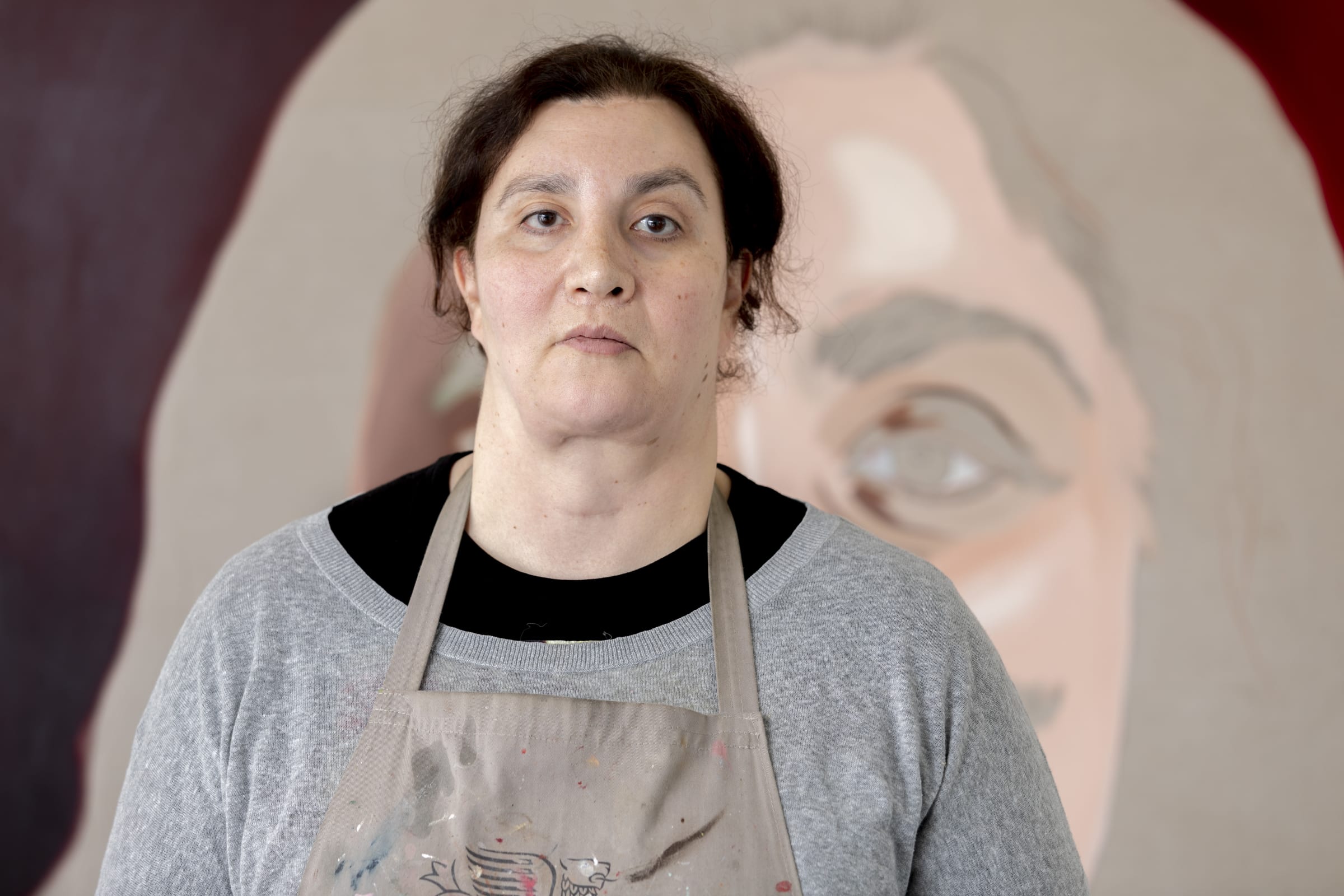 Biography
VICTORIA CANTONS (b 1969)
Victoria Cantons' work is autobiographical as well as confessional with political undercurrents. Cantons presents a record of trauma and healing, alongside a rigorous inquiry into the social constraints surrounding gender politics. Deeply informed by her own experience of limitation and stigma, her work reverberates with notions of freedom, selfhood

, representation

, power and aspects of the human condition which she writes, despite our divergent identities and experiences,

"connect us all."
While her incisive and inquisitive creative gaze extends across photography, text and video, painting and drawing remain firmly at the centre of her practice, providing a means of, she writes,

"clearing the drainpipes" and

exploring

the question

what can paint and painting do? Her 2022 Flowers Gallery exhibition

People Trust People Who Look Like Them presented a series of large self-portraits painted from a personal archive of photographs made over a period of more than a decade in the years before, during, and after intensive facial surgery. Luminous and visceral in their depiction of flesh, the paintings capture the shape-shifting bloom of post-surgical bruising, fading scar tissue, greying hair and the mottled lustre of theatrically applied makeup. Cantons describes the importance of accuracy and honesty in the paintings, saying

"I needed to show exactly what this woman has been through."
Cantons lives and works in London. She studied Fine Art Painting at Wimbledon College of Arts (UAL); followed by the Painters Studio Programme, Turps Art School, London; and graduated with an MFA in Painting from Slade School of Fine Art, UCL, in 2021, where she received the Felix Slade Scholarship. She was shortlisted for the Chadwell Award in 2021 and for New Contemporaries in 2022. Recent solo exhibitions include People Trust People Who Look Like Them at Flowers Gallery, Kingsland Road, and Champagne Tastes on Beer Money at Guts Gallery, London. Recent group exhibitions include Tomorrow: London, White Cube, (online); the Royal Academy Summer Exhibition, London; and PAPA RAGAZZE, Nicodim Gallery, Los Angeles. Cantons curated the Slade Rooms as part of LONDON GRADS NOW 2020 and 2021 at the Saatchi Gallery, London. She first exhibited at Flowers Gallery as part of the 24th Edition of Artist of the Day in 2018.
Artworks














Victoria Cantons in Conversation with Ben Luke, Flowers Gallery Kingsland Road, 15 June 2022