Overview
Flowers Gallery is delighted to launch the inaugural presentation for the new Insiders platform, a behind-the-scenes online programme delving into a broad range of artists studio processes and practices, to gain insights into new or developing bodies of work. For the first presentation, Flowers Gallery takes an insider look into the studio of British artist Julie Cockburn, asking what has inspired her new body of embroidered found photographs and ceramic-photographic hybrids.

Cockburn's work often centres around found photographs - using vintage studio portraits and anonymous landscape photographs, snapshots and ephemera to create new images with contemporary resonance. The images are altered through processes of splicing, layering and juxtaposition, often embellished with intricate patterns of embroidery and beading.

Originally trained as a sculptor, Cockburn's latest interventions into the surface of found photographs has extended into ceramic forms, where painterly 'strokes' of glazed ceramic intersect the image.


*Prices are inclusive of framing (click into artworks to see frame specification). VAT and delivery are calculated at the point of purchase. Purchases may be subject to local rates of import, sales and use taxes for which the purchaser is 100% liable. Delivery of artworks purchased will be arranged 3 weeks after payment is received to allow time for framing.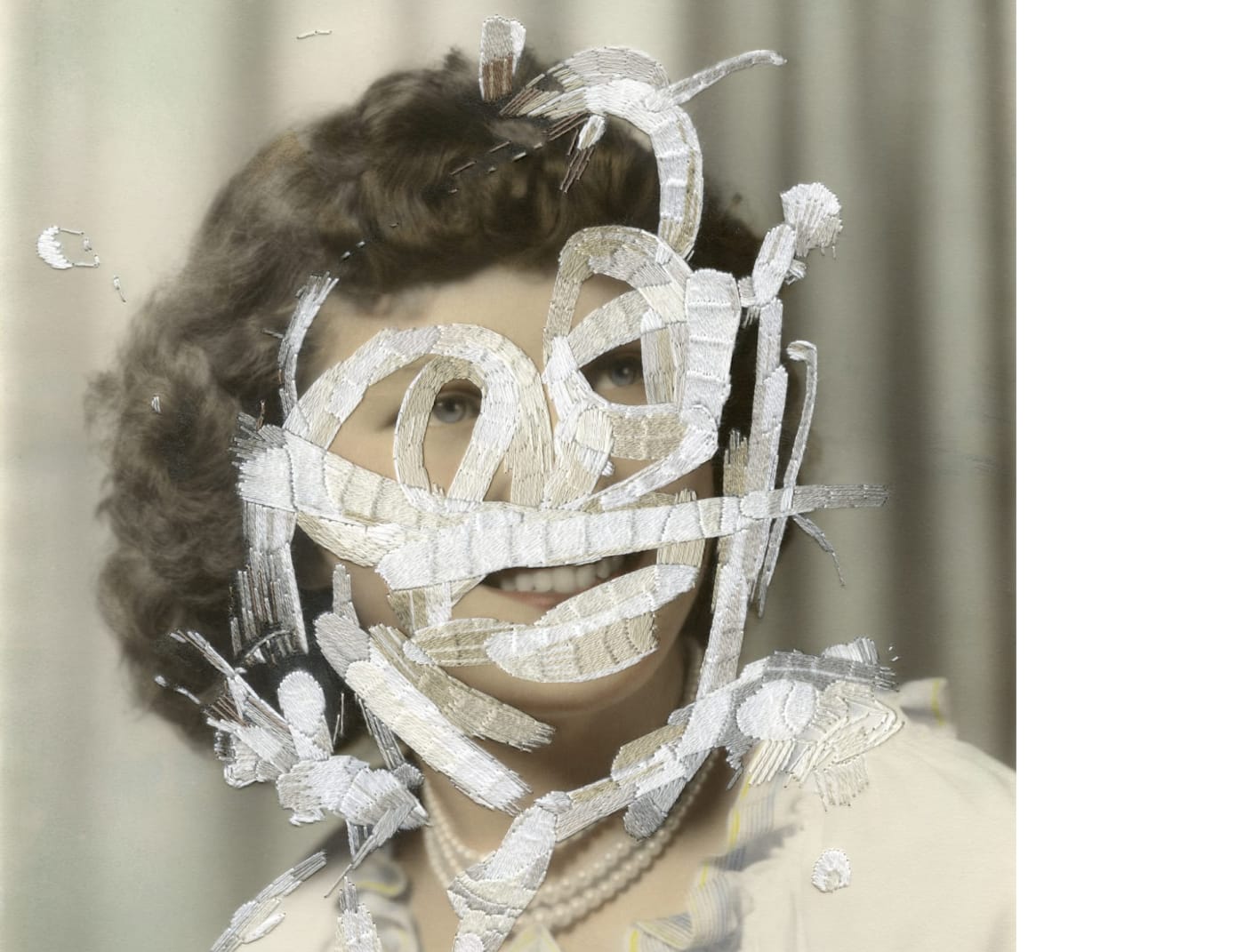 When did you first start working with ceramics, and how did you first start to connect the fired forms with photography?

I began going to a local pottery studio in 2019 when I relocated to Suffolk. I wanted to be creative outside of my studio space, and this offered me a change of scenery and interaction with other people in a creative environment. I find the physicality of working with clay beneficial too; when I make a stitched photograph the hours of embroidery can take a toll on my body.

I want to master the potter's wheel which I know will involve years of practice, a light touch and precision. As a counter to this, I began to play with making clay paint strokes, three-dimensional marks redolent of my embroidery in works like 'Lady Jane' (2014) and 'The Playground' (2015). I suppose I'm challenging the viewer to ask questions about what they are looking at. It's a version of trompe l'oeil without the intention to deceive.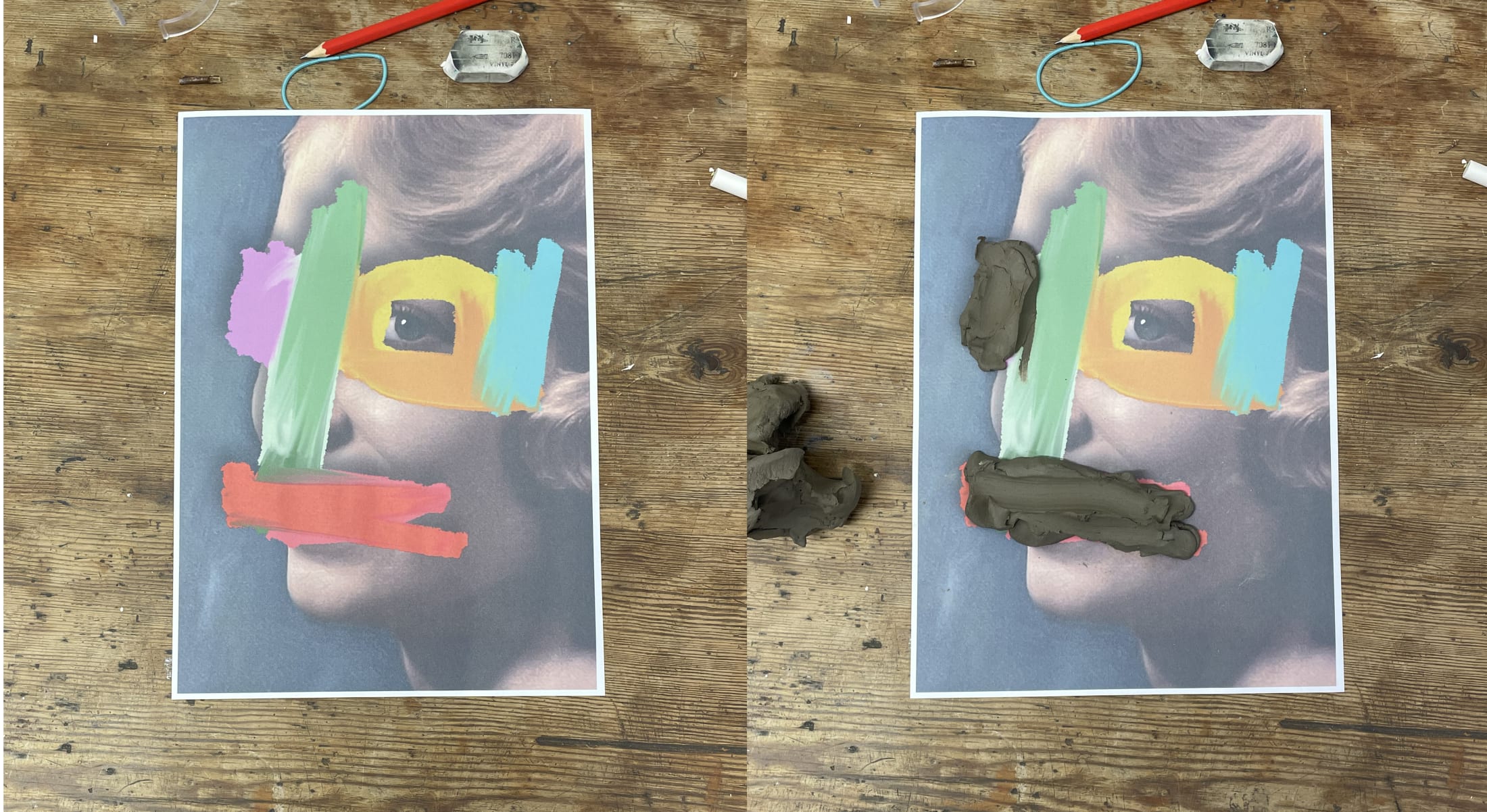 Do you see these ceramic-photography works as hybrids?
All my works are a form of hybrid – I guess that's the intrinsic nature of working with found objects and images. I don't really see them any differently than the embroideries or sticker collages. Even my large-scale screen prints combine two separate elements. It's just the way I work, trying to keep as much of the integrity of the found materials but shifting them away from their original contexts.
When it comes to composing your new sculptural works are you working in a similar way to your embroideries (mapping out your terrain beforehand), or are these more intuitive?
I work both ways. 'Large Ceramic Face 1' and 'Large Ceramic Face 2' were initially mapped out in Photoshop to give me an idea of colour and composition, what elements I needed to make and at what size. It's the same process I use for my embroideries. The found materials are delicate and unique so I need to sketch on a digital facsimile. Finding the right colours and shapes to balance the photographs is a nuanced process, all the time keeping in conversation with the original. There was another layer to the process once the stoneware shards came out of the kiln. Colours glaze differently to how one expects them to and pieces warp in the kiln. Finding the correct placement can make the difference between a piece that 'works' and one that doesn't. Things don't always go according to plan, so I make extra shapes as back up. It's then a matter of trial and error to get a pleasing composition.

I spend hours finely tuning my thrown pots, trimming them to get the perfect profile and spray glazing for a faultless finish. When making these painted shards, I am quick and spontaneous, playful and childlike. I want that expressionistic mark making found in a de Kooning or Auerbach, made three dimensional in clay.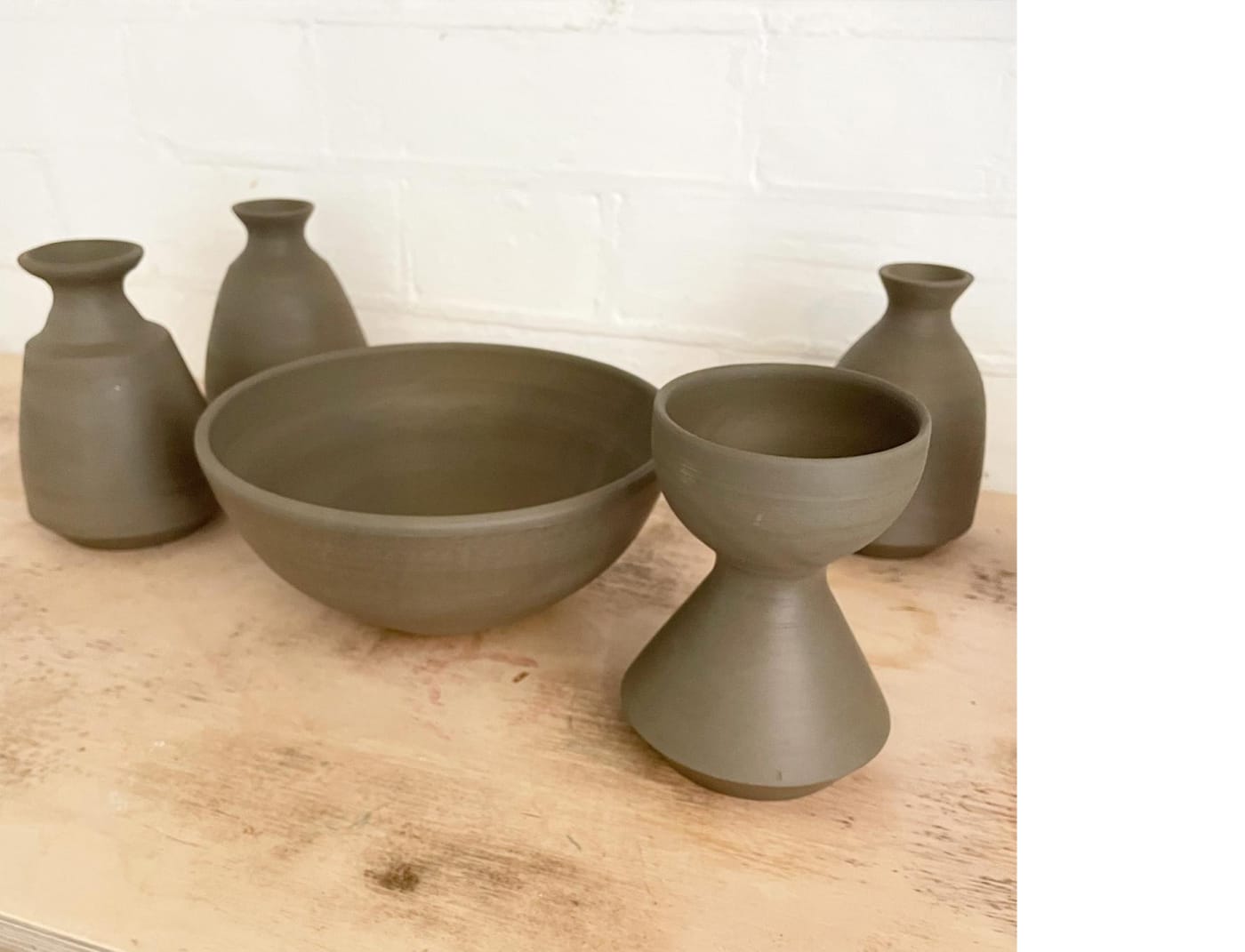 How has working with ceramics shifted your studio practice? Could you tell us about how working in an external studio might have impacted or shaped your processes and methods?

Now here's the thing. Hand stitching the embroideries is intense, lonely and boring. Each of the landscapes takes about 40 hours to make, sometimes more - it's such precise work. I started going to pottery again for three hours a week as a counter to that. It's wonderfully messy, very physical and in a studio with other people to bounce ideas around with. It's this respite that helps my focus and stamina.

Have the discoveries of clay, chemistry and the kiln changed the way that you think about colour, light and form?

I have always been drawn by colour and the outlined boats in this series of works is plagiarised from my 4-year-old self. Ceramics have drawn me closer to my sculptural roots, and I am having to work with less control because of the anomalies of the kiln and what it does to the glazes. As I get more experience, perhaps that will change, but I love having some of the terms dictated by something else. It's why I like to start a work with a found image.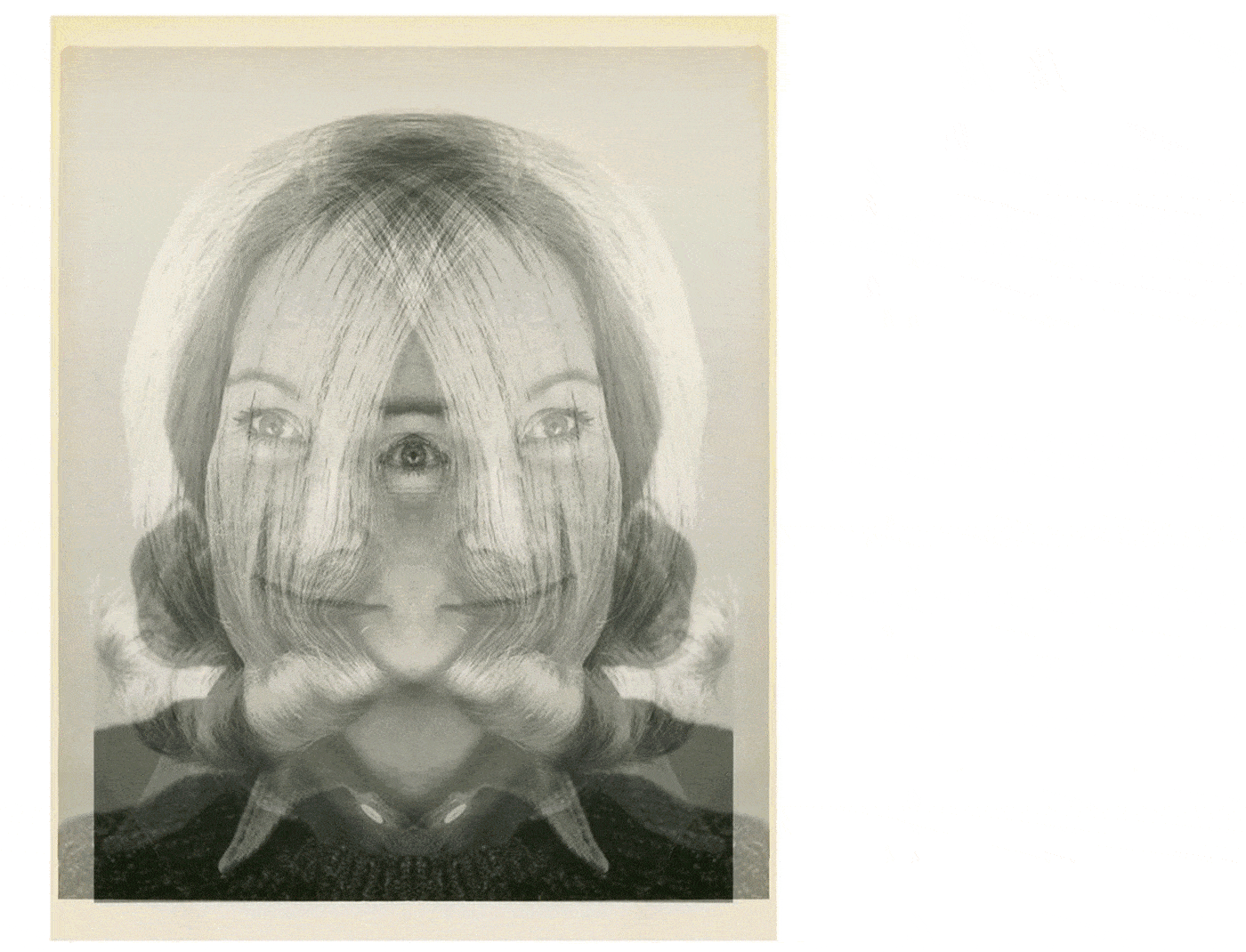 Are there any tools or objects in the studio that you could never be without?
Here's a trade secret, and one I often get asked. I use Pony number 10 crewel needles for my embroidery. They have a tiny head which makes threading them nigh on impossible, but they don't make too big a hole in the photographic paper. I have a portrait of my mum in there, a work I made for a breast cancer charity auction in Paris last year. And a mound of threads – a coloured cloud of cotton that I scour for the perfect blue or yellow to finish a rainbow run or ombre transition. Whenever possible, I have a vase of flowers picked from my garden.

Could you tell us a bit about your working day, do you have specific routines or rituals that you follow on a day-to-day basis?

I get up early, around 6.30. After some coffee and Wordle (I've yet to get a hole in one), I walk my young lurcher Jean in the local meadow or on the heathland and this physical exercise and time to think about what I'm planning to do in the studio that day are invaluable. I made a pact with myself that I should be in the studio by eleven, and I work until about 5 pm most days. The embroideries aren't difficult, but they are an endurance. If I've planned them well I am enthusiastic to finish them, but if they are problematic – sometimes the paper warps, or the threads get into continuous knots – it's best to stop and go and do something else. In the late afternoons or when the light is gone, I'll work on the computer, searching online for new photographs and sketching in Photoshop or scanning and documenting a finished work. This is down time for me.

After I have finished a body of work for an exhibition or art fair, I tidy up the studio (I generally work in a mess, but I know where everything is). It's a spring clean, clearing the space and my head ready for my next project. My studio overlooks my garden, so I have a wonderful view of my border in the summer, and I always work with the door open when it's warm enough.
I listen to audiobooks while I work. There's something about the timbre and pace of someone reading to me that complements my stitching. I generally find listening to music too distracting, but if I'm experimenting, painting or playing with new forms or materials I turn on Classic FM. There's nothing like a good aria to stir the soul.

Prices are inclusive of framing (click into artworks to see frame specification).
Delivery of artworks purchased will be arranged 3 weeks after payment is received to allow time for framing.
VAT and delivery are calculated at the point of purchase.
Purchases may be subject to local rates of import, sales and use taxes for which the purchaser is 100% liable.

Enquire below for further information.