26 August - 17 September 2022
Carol Robertson
Astral Variation & Luna
Overview
Carol Robertson was first introduced to printmaking by Garner Tullis at the Tullis Print Workshop in Santa Barbara, California in the late 1990's. In 1998 she made a series of monotypes there, working with Garner's son Richard Tullis, and again in 2000. He encouraged her to work with oil paint, directly onto aluminium plates that were then transferred to thick sheets of handmade pulp paper under the enormous pressure of a hydraulic press. Robertson loved the immediacy and physicality of the process and its close relationship with painting. It was an experience that has encouraged her to experiment within the print medium ever since.

Flowers Gallery introduced Robertson to Pete Kosowicz at Hope Sufferance Press in London in 2000, where she made aquatint etchings for the first time; resulting in two luminous series of editioned aquatint prints, Solos and Lost Light. In 2006 she was commissioned by Peter Foolen Editions in The Netherlands to make her first screen print edition East West, subsequently shown at the Van Abbemuseum in Eindhoven and acquired in the UK for the Government Art Collection.

Robertson has gone on to make many more silkscreen prints, working exclusively with master printer Kip Gresham at The Print Studio Cambridge. Her editions made in his workshop include Starcross, Maya, and Navajo, and many series of monoprints, including in more recent years, the Copán and Free Fall series. Her latest prints have all been made with Kip Gresham.
VAT and delivery are calculated at the point of purchase. Prices are exclusive of framing, please enquire below for a framing quote. Delivery of artworks purchased will be arranged within 3 weeks of payment.
Astral Variation
Robertson particularly enjoys making monoprints because it allows her to experiment with unique colour variations in a highly personal manner. Using multiple screens she can work quickly and intuitively, over-printing where necessary. She sees colour as a vital key, viewing it in a similar way to music: enabling us to unlock our emotions and be transported to a different mindset in a very short space of time. Known for working frequently but not exclusively with circles, she has used an eighteen point star formation to contrast dramatic colour combinations that pulsate outwards with different intensity and concentration from their centre-point. There are 23 new Astral Variation monoprints and one edition of 30, Astral.
"Stars evoke for me the universe and the heavens. They are mysterious unobtainable points of light that draw me into the infinity of the cosmos, each one an inspiration, but together a miracle of almost unbearable beauty. The circle is a symbol of wholeness and completion, the never-ending line, yet the points of a star hugely increase that external line as one follows the radiations outwards from their luminous centre-point. The time taken to travel that extra distance becomes a meditation." - Carol Robertson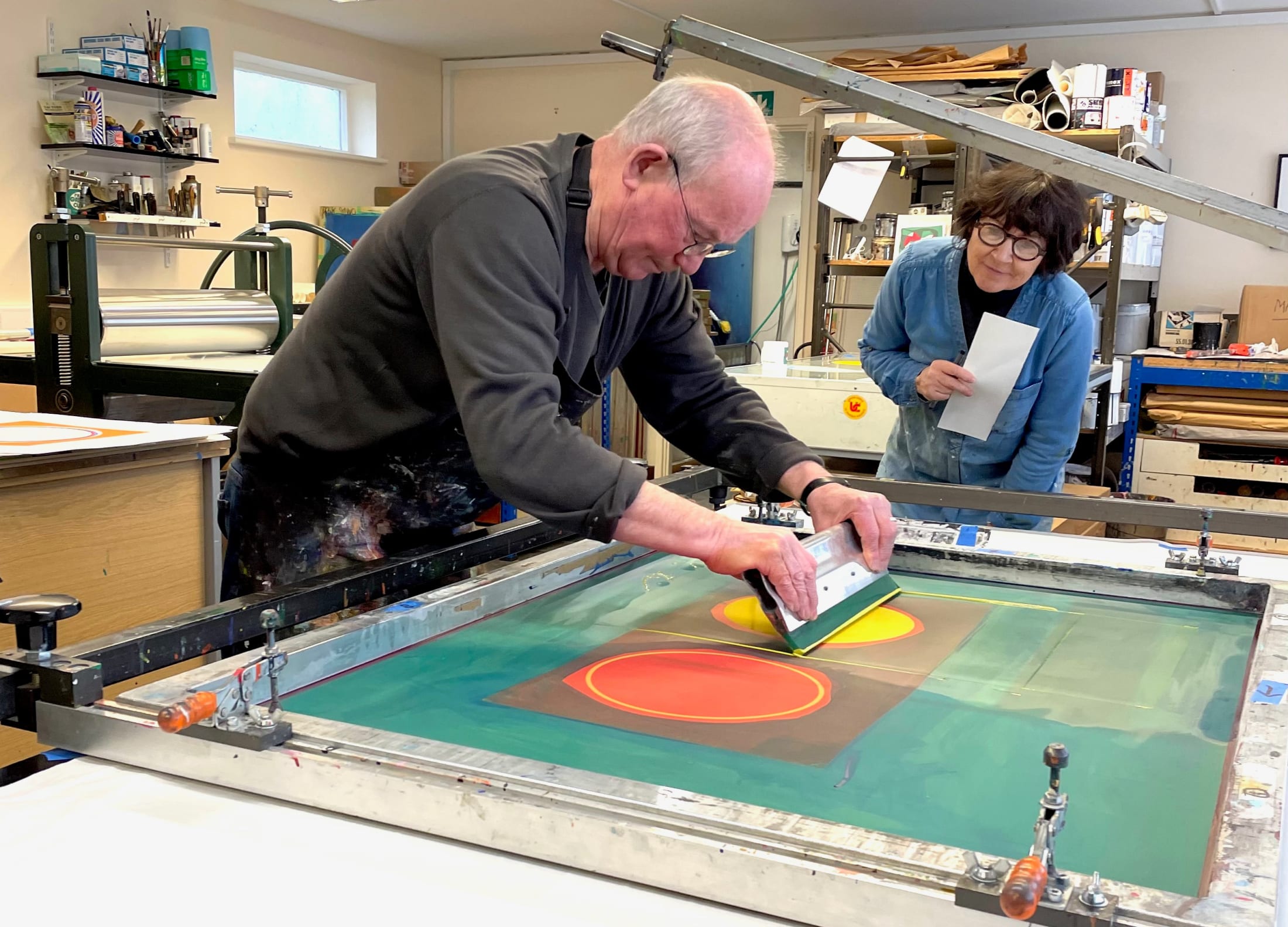 Luna
In a second colourful series of monoprints titled Luna Robertson has returned to the circular motif but this time introducing eclipses for the first time. This interest in eclipses is born from her life-long affinity with cosmic connections. The title of the series derives from the goddess Luna, divine embodiment of the moon in ancient Roman religion and myth. The Luna monoprints, 30 in total, have developed in tandem with Robertson's current paintings, exploring the optical possibilities evinced by the eclipsed circle.

"Geometry takes the chaos out of too much choice. It frees me to interpret my senses, frees me to access a multi-dimensional world." - Carol Robertson
For further information and to view the full series, please enquire below.