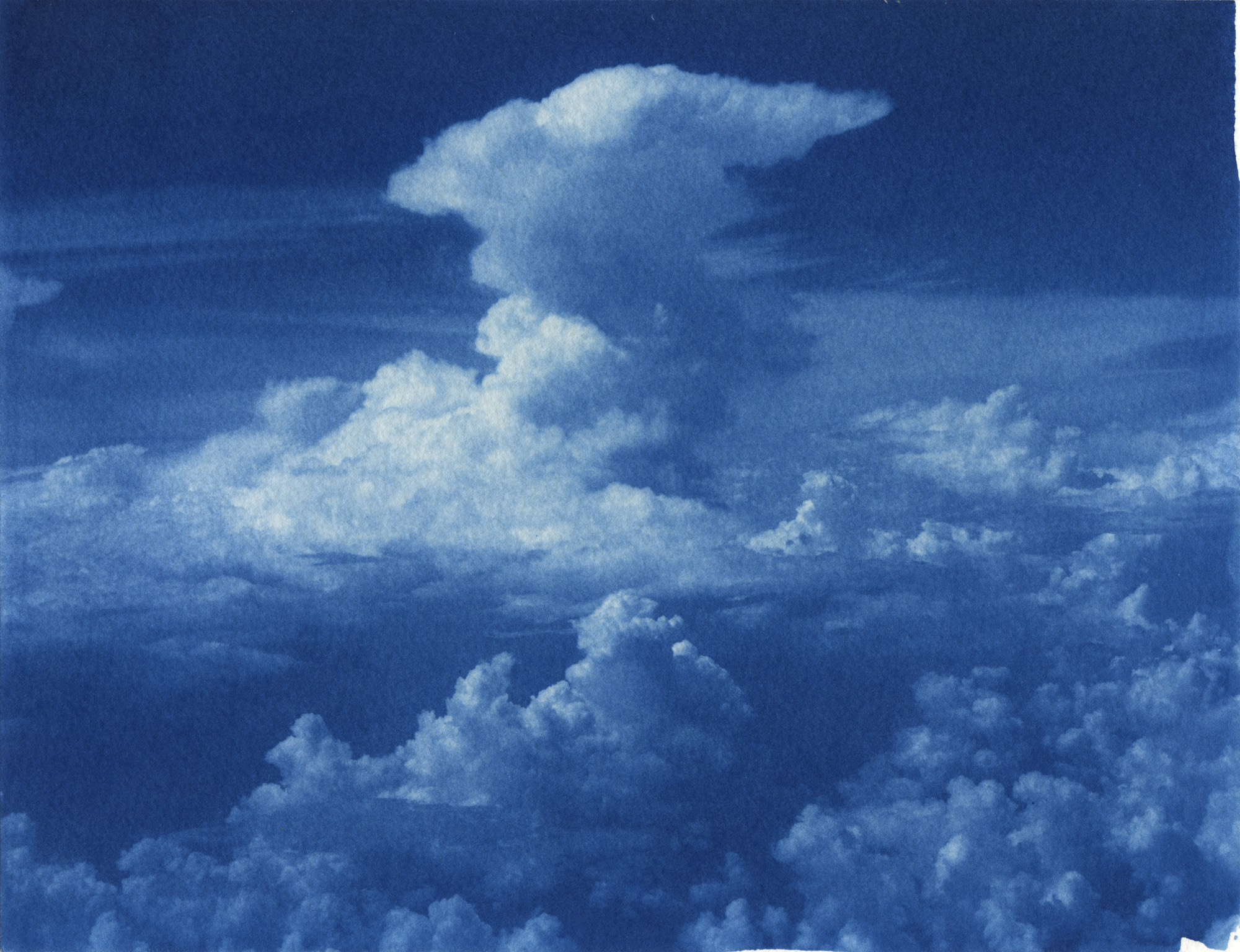 25 September 2020
Simon Roberts
The Celestials
Overview
The Celestials by Simon Roberts, 2020
The artist's need to reconcile the material with the ideal is a given of creative life. On the one hand, I photograph what I see; there is a literal, physical world in front of me waiting to be captured and conveyed. On the other hand, art aspires to take both artist and viewer beyond the material; it is fundamentally idealist, a spiritual and often inward-looking exploration of existence and meaning.
The onset of the coronavirus and the ensuing lockdown found me grounded, with all my planned projects cancelled, and attempting to home-school three children. I had the prosaic realisation that I am accustomed to travelling fairly extensively, and to not be able to do this was a loss. My second, more personal realisation, shared by many, was that I wanted to derive my own meanings from the Covid-19 crisis and to produce work that reflected some of the concerns of the time: climate emergency, our relationship to the natural world and each other, and our need for something beyond the physical.
So to make the cyanotypes, I used negatives of pictures taken from plane windows during my work expeditions over the preceding years, partly because they had immediately become an estranged perspective and partly because the spectre of climate change was dominating my thoughts, and much of the media coverage I was seeing. Satellite images released by NASA and the European Space Agency showed a dramatic drop in nitrogen dioxide emissions during lockdown; the skies were clearer, bluer, the earth was breathing again and like many people, I saw this as a sign of hope and of the changes we desperately need to make. Nonetheless, I struggled with the new 'normal,' and looked upwards, searching for some sort of divine order, perhaps, in the chaos and absurdity. The idea that we can move beyond our physical world if we utilise our will, our intuition, imagination and individual sense of self, expounded upon so convincingly by Ralph Waldo Emerson in his essay, 'The Transcendalist' (1843) greatly appealed to me and indeed, in the work that became 'The Celestials', I found new expression of hope and movement during a time of worldwide fear and stagnation.
VAT and delivery are calculated at the point of purchase. Prices are inclusive of framing. Delivery of artworks purchased will be arranged 3 weeks after payment is received to allow time for framing.

There is an obvious reference to Alfred Stieglitz and his innovative photographs of clouds, 'Equivalents' (1925 – 1934). I found his idealism and singular exploratory voice particularly inspiring during lockdown, and sought to build on his efforts to transcend our material existence. Although Steiglitz claimed he was only interested in "clouds for themselves," he also argued that his images could reflect his own emotionality, and like him, I saw a beauty and otherworldly repose in the clouds that transcended the immediate. As well, the actual process of making the images, which is pleasingly tactile and unmediated, allowed for greater openness and receptivity to what emerged.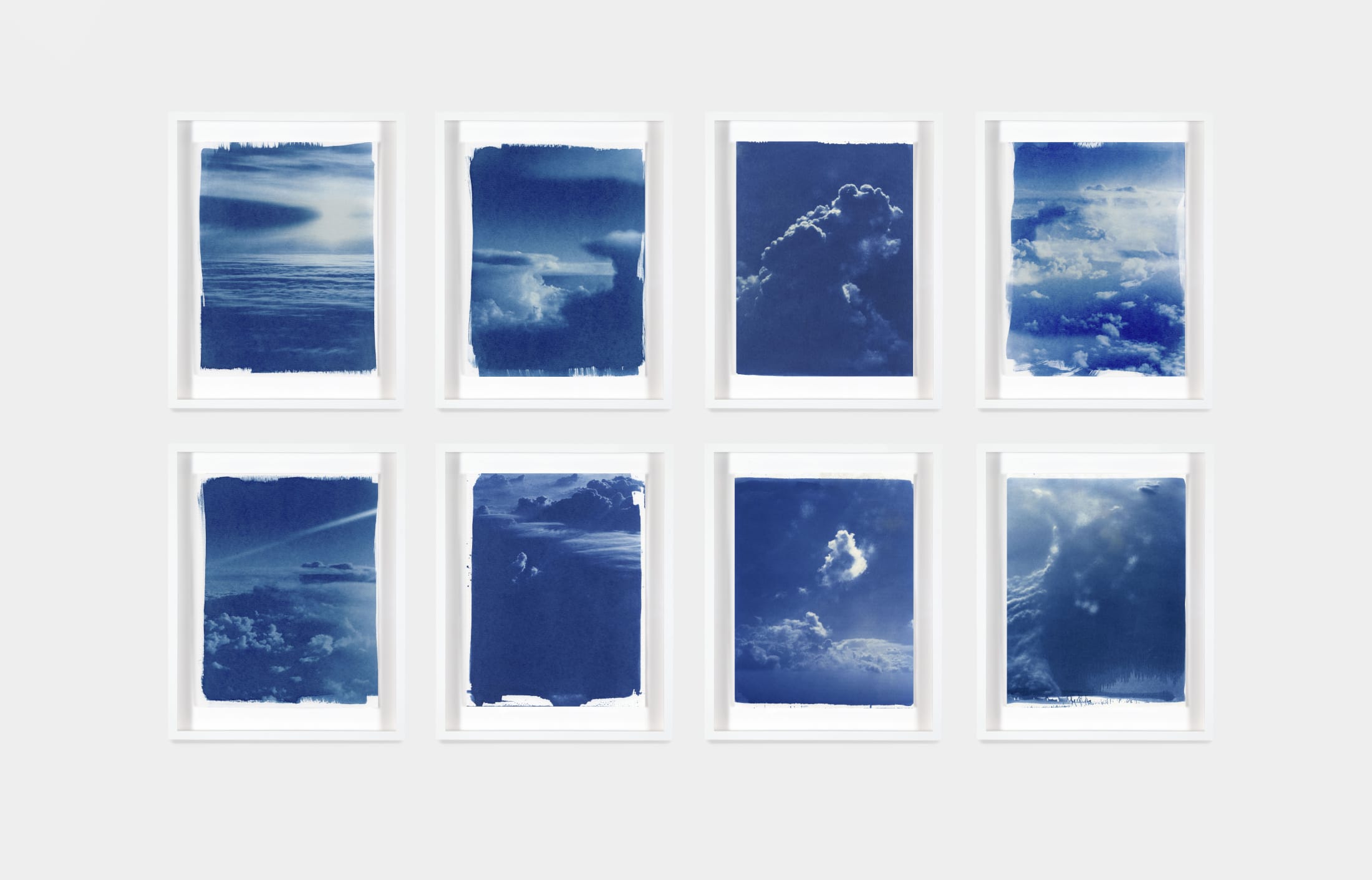 The early results were often 'wrong' – and not what I intended at all, but the cyanotypes had a hold on me, their startling Prussian blue (interestingly, a colour that is not found in nature, but is brought about by a chemical reaction that produces ferric ferrocyanide) evoking an otherworldly, dreamlike intensity that I sought to augment by layering multiple negatives. For me, this degree of abstraction speaks of the essence of what we went through in lockdown: our altered states and perspectives, collective uncertainty and deepening awareness of the interconnectedness between us and the natural world.

For further information regarding alternative sizes, availability or for general information, please enquire below.