Emerging from the Royal College of Art in the early fifties, Jack Smith (1928-2011) quickly rose to prominence, winning a notable place in British Art History. Smith was first recognised as one of the Beaux Arts quartet, comprising of John Bratby, Derrick Greaves, Edward Middleditch and Jack Smith; mockingly named the Kitchen Sink painters in 1954 by the renowned critic David Sylvester, the group represented Britain in the 1956 Venice Biennale. Smith was championed by the influential critic John Berger, winning the 1957 John Moores painting prize and 14 years later at 31, becomming the youngest artist to be given a retrospective at the Whitechapel Art Gallery, London.
Smith was consistently interested in light, and following a period of time in Cornwall, where he was heavily influenced by his friends Patrick Heron and Peter Lanyon; without any concern for the impact it might have on his career, Smith began to turn away figurative art and realism to explore his fascination with abstraction.


"There are three qualities I think of great importance, one being that the work must be dynamic this is its life force. Without it painting is just a surface.
The second is austerity and precision - there must be no area that allows the spectator to dream himself away from the picture. The picture is the reality not his fantasy.
The third quality is detachment.
A work without these qualities becomes an essay in self-indulgence.
There must be no compromise.
Each work should be a celebration."
- Jack Smith, 1971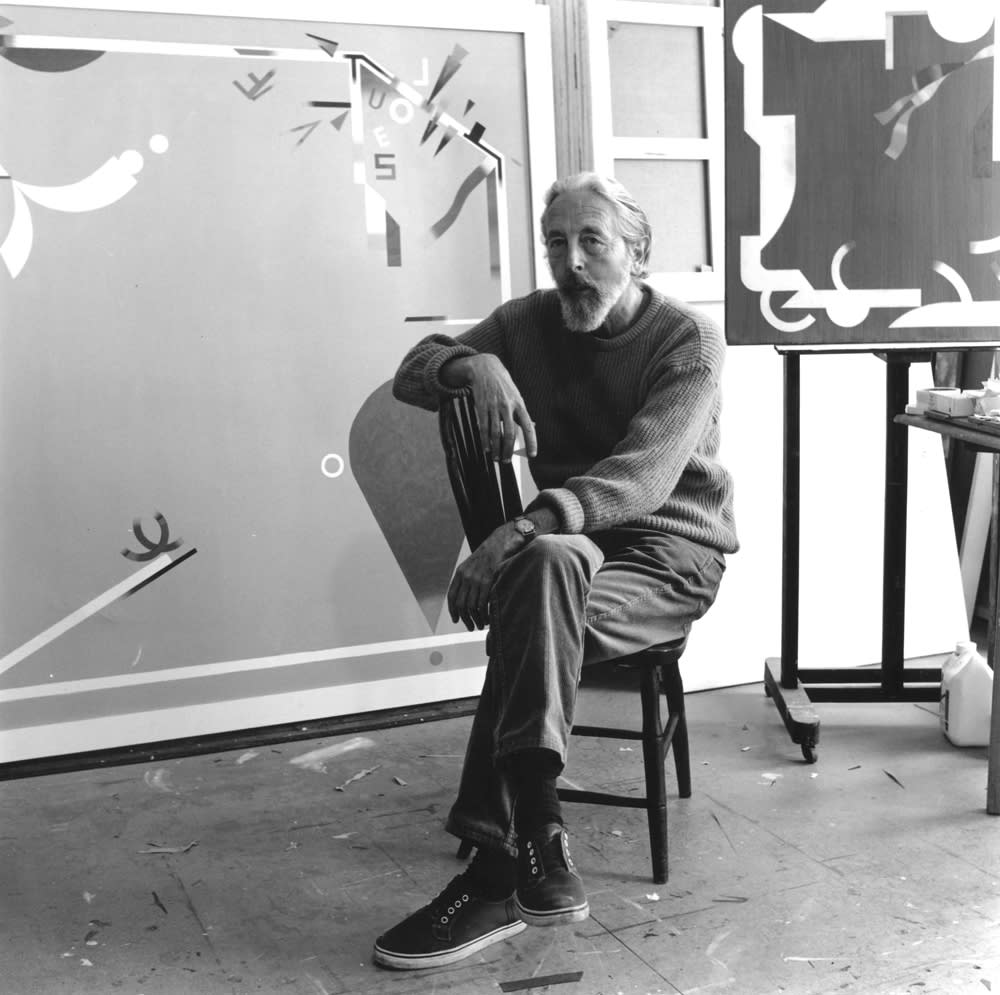 Portrait by George Newson
"A true visionary, uncompromising and refusing to make concessions to tastefulness, or mere picture - making" - Bryan Robertson, 1965
"I didn't like the kind of painting that was being done at the time (in the 50's), Both in France and in England. So unlike many other artists at the time I took my own environment as a subject. Funnily enough the first Written painting I did was based on making a list of everything in my studio, making the equivalent form from something and putting it all up in rows so that I didnt get bogged down with ideas of importance in the painting. Everything was important, equally important." - Jack Smith, 2008
"Smith's system of signs is not musical notation, but places music at the very centre of his work. Far more than a simple analogy, his paintings resonate with the unvoiced, but deeply experienced, sound of music. The works can be read, 'listened to' and understood and hence 'heard'. While the heard is purely visual and emphatically silent, these images are bold, vibrant, and full of silent sound." - Robert Heller, 2006
"In the 80's - after the 70's which is really reticent work - I decided to consciously make an effort to push colour to an extreme position. I think because I was reacting against English painting, which is mainly tonal, and I felt the need to push it to an extreme position with colour. And I think that's one of the very reasons I feel un-English as regards my painting because of that extreme position of colour. Let's face it, most people who buy paintings like pictures that disappear into the wall. It's a sad fact." - Jack Smith, 2008
'In his late fifties, Smith is painting some of the most radiant and compulsively watchable pictures of my lifetime in this country' - Bryan Robertson, 1990
"To produce work that stands outside the hysteria of our time. How difficult it is to produce the perfect painting. Nothing can be added to it, nothing can be subtracted from it. The perfect painting and a memorable image. I suppose we are fortunate we can produce half a dozen such paintings in a lifetime. The painted image, its silence is beautiful."

- Jack Smith, 2007