One of the most important British painters of the post-war period, Prunella Clough (1919 – 1999) was a distinctive artist whose inspirations lay initially with the concealed beauty of Britain's industrial landscapes, before later shifting her attention to post-industrial urban scenes of London corner shops and markets, or souvenir stalls at decaying seaside resorts.

This exhibition focuses on works from the latter phase of Clough's extensive career, from the 1960s to just a few years before her death. Prunella Clough was widely regarded as an abstract painter, however her work always retained a figurative base, as it gave new form to the unnoticed or ignored and incorporated the found detritus of advanced capitalism into a language of characteristic minimalist abstraction.
"Figures had vanished from her work and she had begun to experiment with abstraction, becoming one of the most original and continuously inventive practitioners in this field, creating a perverse yet exhilarating diversity of imagery. But the source of her ideas still came from the environment. She was wary of abstract art that had no connection with the outside world. She stressed the need to go on looking and finding excitement in things, even if it was, as she told Simon Betts, an MA student at Chelsea, just a sweetpaper on a pavement." - Frances Spalding, The Guardian, 2012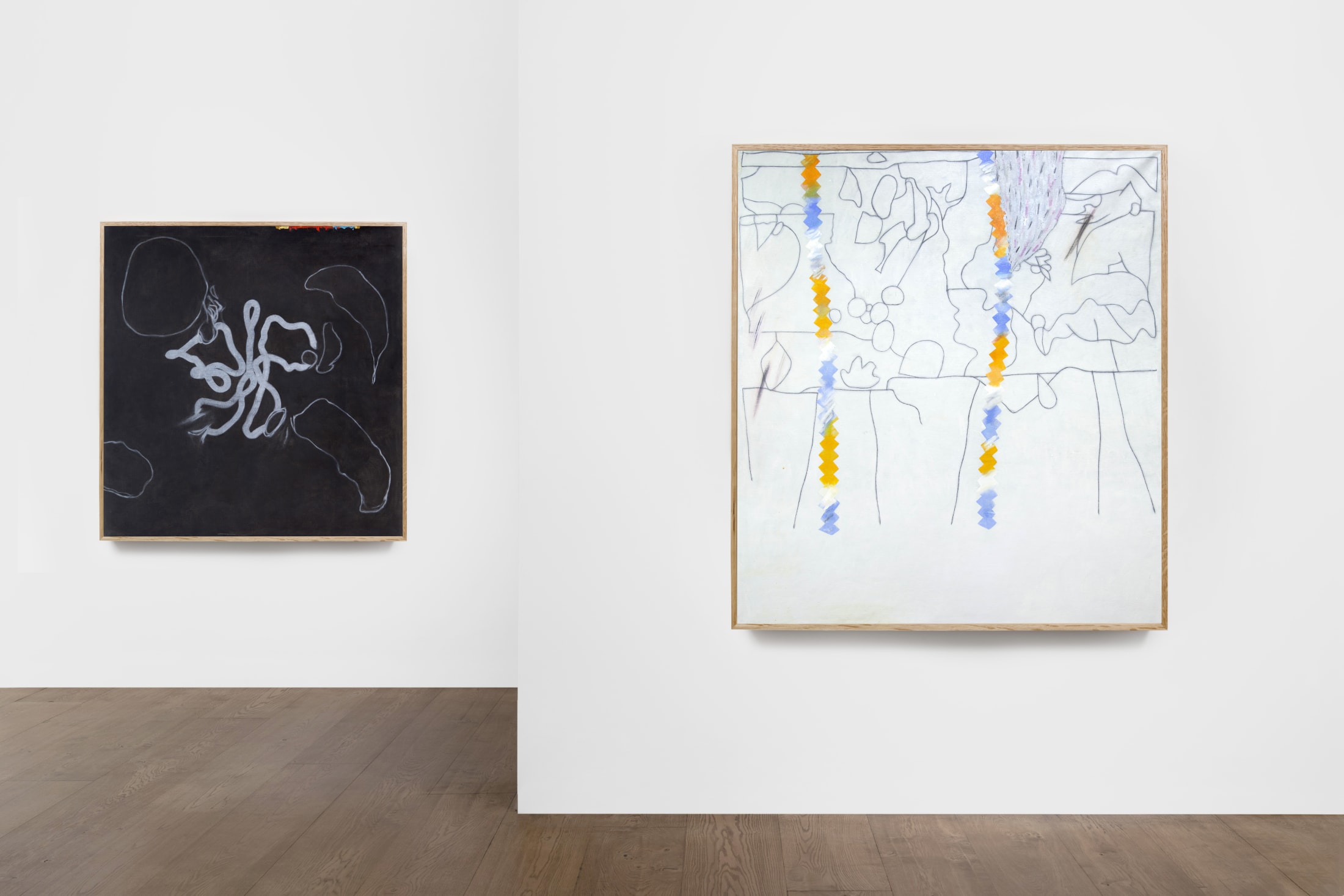 In the paintings Undone and Jingle, we see forms that reference offcuts of rope and a wire-like structure, both recurring motifs throughout Clough's oeuvre. At the centre of Undone the rope-like tangle of lines is at once industrial and uterine. This image suggests life unravelling; the cords cut loose and the four corners left to float into the unknown. A tantalising and deliberate suggestion of bright colour at the top of the canvas completes the work.


The imagery in the latter phase of Clough's career is often more complex and harder to decipher than her early works, as she didn't draw directly from the landscape but rather layered scenes and moments that she documented in notebooks over time. As such, her work developed into a process of memory, in which she created distance between her subjects (oil spills, plastic bags or scrap metal) and their contexts, enabling them to transcend their original status.
"Whatever the theme, it is the nature and structure of the object – that and seeing it as if it were strange and unfamiliar, which is my chief concern." - Prunella Clough




As a famously reticent and solitary artist, often referred to as an 'artist's artist', Clough spent a lot of her time painting in isolation, so printmaking was a rare opportunity for her to work and experiment with some of the most renowned studios and printers. Collaborating with Sky Editions, Curwen Studios and Gresham Studios throughout the 80s and 90s, she produced some of her most subtle and light-hearted work.
The Shadow Play series demonstrates a period in which Clough became preoccupied with the shadows cast on the pavements and walls by people and objects. By isolating and transposing a subject that would otherwise go unnoticed, Clough introduces a new repertoire of playfully enigmatic figurative motifs into her work.
In 1999, three months before her death, Clough won the prestigious Jerwood painting prize and gave the £30,000 award to other artists, adding to earlier scholarships she had initiated anonymously. Her work has been exhibited widely, including at Camden Arts Centre, London; Kettle's Yard, Cambridge; Whitechapel Gallery, London; Serpentine Gallery, London, and the Gallery of Modern Art, Edinburgh. In 2007 she had a major retrospective exhibition at Tate Britain, London and in 2019 on the centenary of her birth, a retrospective of her work was shown at Pallant House Gallery, Chichester. Her work is held in more than forty public collections, including Tate, London; Courtauld Gallery, London; the Government Art Collection; the Ashmolean Museum, Oxford, and Art Gallery of New South Wales, Sydney and most recently The Museum of Modern Art, New York.