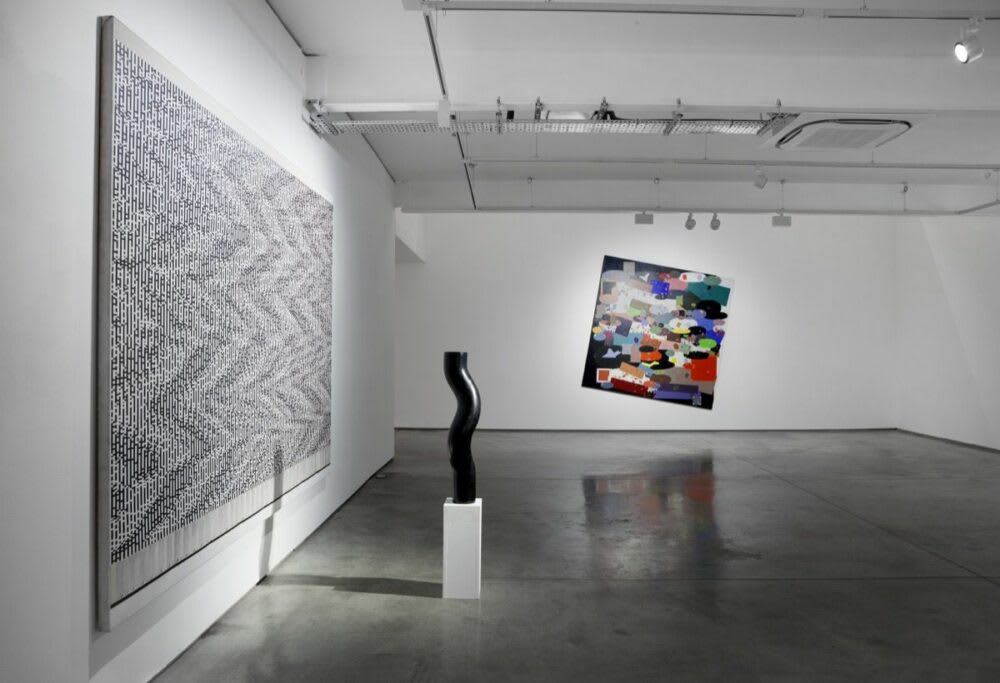 London, Kingsland Road
Seven from the Seventies
16 January - 21 February 2015
Overview
Seven from the Seventies brings together the work of seven influential abstract painters from the decade, featuring Colin Cina, Bernard Cohen, Noel Forster, Derek Hirst, Michael Kidner, Jack Smith and Richard Smith.
Each demonstrates a reductive and disciplined articulation of the sensations of light, form, sound, colour and space. Their mutual rejection of expressionism for an ordered, procedural and systematic approach to painting opened up new possibilities for future formal experimentation within abstraction.
During this period, all seven artists were at the height of their artistic careers, exhibiting in important solo and group presentations internationally and at major British institutions including the Tate Gallery, the Institute of Contemporary Arts, The Hayward Gallery, the Serpentine Gallery and the Royal Academy, London. With prominent roles in British art schools as well as international professorships, their ideas impacted upon a generation of artists.
Michael Kidner's translation of the dialogue between order and indeterminacy into a visual language has meant that his work, though founded in a rigorous intellectual approach to colour and form, also resonates emotionally: 'Unless you read a painting as a feeling,' he has said, 'then you don't get anything at all'. Column No.2 In Front of Its Own Image (1972-3) systematically records the grid or lattice formed by the movement of a three dimensional object in space, itself a solid representation of the intersection of two wavy lines. Exploring the complex effects achieved by the arrangement of simple elements according to a set of self-imposed rules, he generated "visual metaphors for the opposing manifestation of order and disorder in nature" (Irving Sandler).
Also concerned with the systematisation of natural forces, Noel Forster's colour fields made up from 'nets' of interwoven colour refer to the energy of which all light and matter are composed. In Untitled 1974 (1974) space is described through the dense overlapping of coloured line, each band of colour producing a distinct radiant quality.
Bernard Cohen has described himself as"A storyteller and a creator of pictorial theatre". His tensely wrought and unpredictably complex pictures hold a unique position within the canon of contemporary art. Composed of textured applications of layers of paint and interwoven arrays of lines and forms, Cohen's Resting Place (1974-75) represents a complex and vibrating geography, where the artist's exploration of the borderland between order and chaos is evident.
Challenging the structural properties of the canvas and its support, Richard Smith's Maryland (1972) is an example of works that pushed the boundaries of traditional painting into a third dimension by building extensions. Smith produced these works on a large scale, alluding to the monumentality of the billboards that surround the landscape of America.
The diverse paintings of Derek Hirst are uniform only in their insistence on dramatic shifts of emphasis and advocacy of a radically transforming visual language. The style of his work permutated from precisely calculated, hard-edged colour to a luminous blending of surfaces and tones. Hirst's Summer in 1975 (1975) connects the image to its own material substance in an expression of both form and space, replicating the rectangular shape of the canvas in painted bands of gradually reduced colour.
Recording the composition of sonic alongside optical experience, Sounds and Silences No.4 (1970) by Jack Smith demonstrates the artist's use of the formal properties of hieroglyphics and jazz musical notation. Developing new systems of arbitrary signs, Smith created visual form for both the sound of music and the spaces in-between, inviting his works to be 'heard' as well as seen. With an attitude that still resonates today, Jack Smith is quoted as saying:"I've heard it said that painting is finished, not to my way of thinking. Abstract painting is still in its infancy; there is so much left to explore."
Works