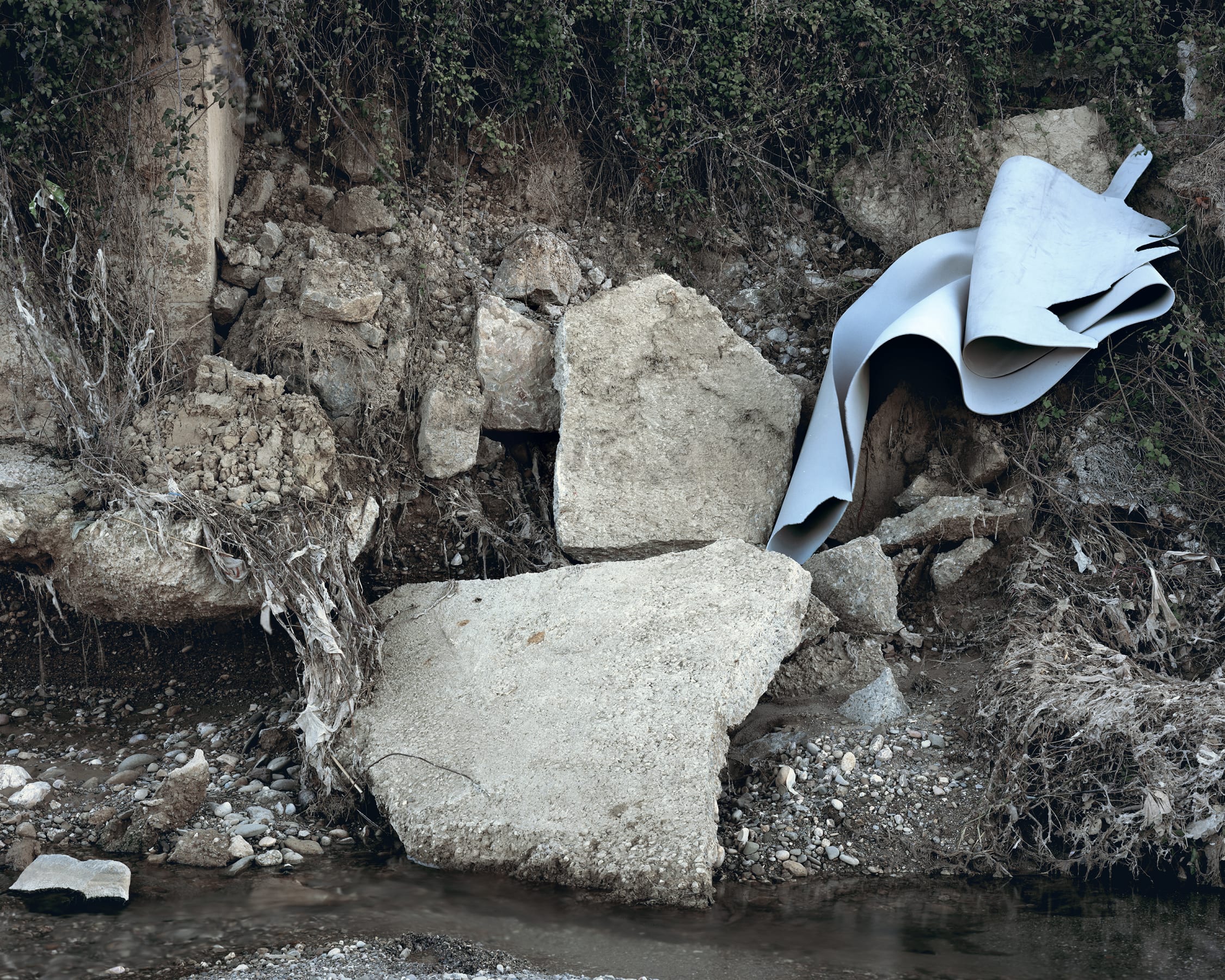 31 May 2022
Janelle Lynch
Barcelona
Overview
"Thus, one of the perennial successes of photography has been its strategy of turning living beings into things, things into living beings."
- Susan Sontag, On Photography, 1977
The images in New York-based photographer Janelle Lynch's (b. 1969) Barcelona series are visual elegies to her grandmother or 'Nana', Josephine Cusimano (July 30, 1915 – January 5, 2008). Photographed during the four years she lived in Spain between 2007 and 2011, Portraits, Ground, The Llobregat and Walls depict the landscape outside of Barcelona and are inspired by the art and architecture she saw during this period, including the work of Jackson Pollock, Antonio Gaudí and Frank Gehry. Although she used a portrait lens on an 8x10-inch view camera, there are no people in the images. Instead, she photographed pylons, puddles, leaves and litter as metaphors for the themes of absence and presence, mourning and remembrance.
VAT and delivery are calculated at the point of purchase. Prices are exclusive of framing, please enquire below for a framing quote. Delivery of artworks purchased will be arranged within 3 weeks of payment.
The Llobregat

One of Catalonia's primary rivers, the Llobregat has supported agrarian and industrial development in the surrounding region for nearly two centuries. I made these images along the river in the El Prat, Sant Boi, and Cornellà districts. They are depictions of landscapes with wooden or steel pylons—some lone, others grouped, all connected by wire. Influenced by the artist Charles Burchfield, I invested the structures and trees with an anthropomorphic quality, converting them into portraits—metaphors for people. They are meditations on the presence that remains after loss.

Charles Burchfield (1893 –1967), known for his vibrant, mystical, and emotionally charged paintings of nature, connected deeply to Transcendentalist literature, which he read as a student at the Cleveland School of Art. Embodied in the work of Henry David Thoreau and Ralph Waldo Emerson, Transcendental philosophy posits that nature is formed and informed by spirits. Every element in it—a leaf, pebble, mountain, or star—is a living symbol of a greater spirituality.

Burchfield was also rooted in the Romantic tradition, which emphasized feeling, spirituality, and free expression over the rationalism of the Enlightenment. These influences inspired his use of geometric motifs to depict sound, movement, and a vital life force in the landscape.

I discovered Burchfield's work and journal writings in 2006, and in them, a kinship. We share commonalities in our visual language and mutual concerns: reverence for the natural world; appreciation for the communicative potential of light; an impulse to depict and animate an uninhabited landscape; and a solitary temperament.

Ground
From photography's beginning in 1839, one of its first uses was to preserve traces of things that would disappear. Post-mortem photographs were made in homes and funeral parlors. Photographers went out to the battlefields to make historical records. By the end of the century they were documenting crime scenes for forensic purposes.
I photographed fallen Jacaranda petals and an evaporated puddle—evidence of life that was eroding or had vanished. The 'Ground' images are symbols for what remains after loss. Rocks are markers for remembrance.

Walls
I made the series 'Walls' in the Rubí stream. The images depict riverbanks of vegetation or rock with debris adhering to them. Most of it is refuse, however, vestiges of objects lost during the 1962 flood can be found deeply lodged in the areas. The walls in my photographs are portraits of those whose remnants are there. They are memorials where past lives can be remembered and, above all, celebrated. In homage to Wendell Berry, the American environmentalist and writer, they also serve as memorials to the destruction of nature.
In the essay 'The Unforeseen Wilderness', Wendell Berry argues that we are guided by assumptions that prevent us from true reflection about ourselves and our surroundings. This leads to indifference about and the destruction of our world. Referring to a cultural history of conquest and greed, he wrote that men have seldom "looked beyond the enclosure of preconception and desire to see where they were, and the few who have looked beyond have seldom been changed by what they saw."
In 2010, inspired by Berry's words, I slowed down. I went without my camera to form a relationship with the landscape. I established a broader sensorial understanding of the place beyond what it looked like. I listened. I smelled its scents. I touched its surfaces. I watched it change with the light and elements. I got closer to my subject. I pursued an experiential approach to picture making.

Portraits
I made the series 'Portraits' along the banks of the river Llobregat and the Rubí stream. I was interested in how those we love and lose stay present in intangible ways. They are images of saplings and fig trees that I invested with human characteristics. The unnamed subjects have wind- and water-swept debris and vegetation attached to or wrapped around them, like clothing or adornments. They represent people who lived in the past.
For further information regarding alternative sizes, availability or for general information,
please enquire below.