1 September 2021
Esther Teichmann
Mythologies
Overview
Flowers Gallery is delighted to announce that Esther Teichmann's Untitled from Mythologies (2012-2014) has been accepted into the Victoria and Albert Museum's collection, London. The arresting hand-painted piece depicts the artist's parents floating within a psychedelic post-apocalyptic swamp - tender, melancholy and threatening at once.
To celebrate, this presentation showcases Untitled from Mythologies alongside Ithaca, a new work created in the summer when Teichmann found herself alone with her parents and infant daughter back in her childhood home in the Rhine Valley next to the Black Forest for longer than she had ever been able to return since leaving over twenty years ago. As borders shut and the world closed down, the artist dove into the past, pulling out old boats and tents from her parents' barn and cellar, the same structures she had dreamt in as a child. The garden and courtyard were transformed into studio and stage set, drop cloths dyed purples and blues in vats that collect rain water, sleeping bags turned inside out to create watery, draped folds, in which a tiny kayak-turned-sailboat drifts off, returning home.
Ithaca (2021) will be on display at this year's edition of Photo London as part of Flowers Gallery's presentation.
Esther Teichmann

in conversation with Emily Spicer

Published on Studio International the artist talks about the inspiration of watery places, lockdown at her parents' home and how motherhood has changed her as an artist.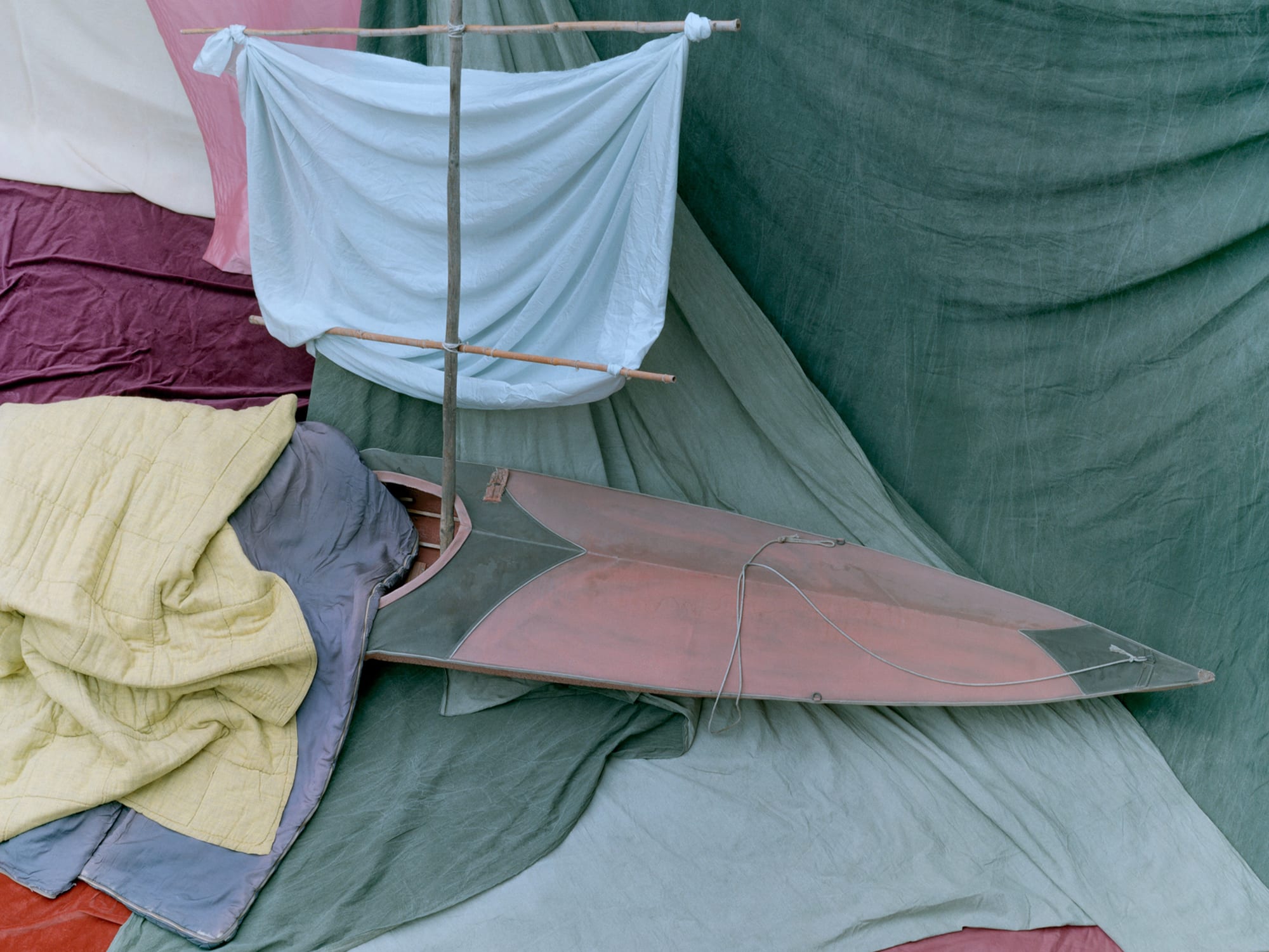 ABANDONMENT
In the photographic work of Esther Teichmann we are invited to enter the dark interiors of caves, the fetid light of swamps, the vastness of sea and sky. They are spaces that congeal time, sometimes becoming so slow that it might be possible to hear the dripping water in caves or feel the heat of the swamps. Schelling employed the term the unconscious in relation to his philosophy of nature so each phenomenon in the natural world has its own distinct pulse of time. Thus, within each image there are distinct forces at play, and this is heightened when the surface of the prints is invested with washes of pigments which intensifies the feeling of irreality. There is within this, the sense of abandonment of worlds that have come apart, of subjects and bodies mutating into spaces alien from other subjects and bodies. Time is interrupted, bodies lose traction, and in gaining the weight of passivity they slip into with the surrounding matter. What is near and what is far are never fixed into a schematic setting, as is invariably the case with Casper David Friedrich, neither is it a rendering of nature as sinking and rising into the realm of ghosts or spirits. There is instead of sublimity, something less certain, stranger perhaps, closer to abjection but not that either. Something lies in the wake of all these recesses, a pulse mixing gravity and light, exhaustion of will, blockages, and yet something suggests movement if only a small sailboat to navigate the waters. The problem posed at the heart of all of this is the issue of passage, an escape from representation assuming sameness in order that an event might occur.
by Jonathan Miles, 2021

Sirensong

Esther Teichmann
This exquisite portfolio produced in an edition of ten is a unique opportunity to acquire four works by Teichmann, including a cyanotype collage, a unique bronze cast of a sea sponge, and two collotype prints.
The collotype prints were created by the artist in collaboration with Master Printer, Yamamoto San, in Kyoto's Benrido Collotype Atelier. Here a 19th C photographic printmaking process is reimagined within a contemporary context, allowing us to travel across time and space.
£1,200 - £1,400 via STANLEY/BARKER