16 September - 31 October 2020
John Keane: Viral
Commentary
"Those who can make you believe absurdities, can make you commit atrocities." - Voltaire, Questions sur les Miracles
John Keane is a renowned artist whose work addresses the most pressing social and political issues of our time. His sustained artistic inquiry into military and social conflicts around the world has extended from Northern Ireland to Central America and the Middle East, where he was commissioned as the Official British War Artist of the Gulf War.
The collection of paintings in this exhibition have been created over the last two years amid seismic shifts in the domestic and global political landscape. From conspiracy theories to data mining, Keane's subjects span the evolving and influential world of information technology and the resulting network of alternative facts, misinformation and cyber warfare.
Audio Commentary
John Keane talks about his exhibited paintings Blue Planet/ Moon Landing/ Flat Earth #8 (0:00), Flat Earth (1:40), Novichock (3:05), Black Board/ Theory of Anything (4:27), Despocracy (5:50), and European Canon (7:05) over a soundtrack created by Brian Eno and Peter Chilvers.
Gingko/Shadow
By Brian Eno and Peter Chilvers
Experience this exhibition while listening to this soundtrack produced by Brian Eno and Peter Chilvers.
Black Board/Theory of Anything
Blackboard / Theory of Anything, 2020 interweaves the complexities of global politics, modern history and religion, drawing connections between cause, effect and unintended consequences in an effort to establish why we are where we are today.
"Politics as science, or selective history? Answering a question which wasn't the one you were asked. Where are we now, and how did we get here? A flow chart, a diagram. Joining the dots. Cause and effect. Unintended consequences. Secret conspiracies...."

Blue Planet/ Moon Landing/ Flat Earth #8
"Blue Planet is the title of one of David Attenborough's nature documentary series, about the planet's oceans. There are a number of different things going on in this painting. The blue in this case is the glow of screens, repeating the same random image ad infinitum. Communities are connected across space, electronically. On the street, on buses, in public, more people are looking at a small screen than at the people and events in their own immediate physical space. It seems that if it wasn't filmed it didn't happen. Is what we are looking at a glimpse into an unseen world, such as that which Attenborough offered us? Are they rows of monitors, like mission control in Houston, 1969? Or is it a mirror of their own world view? Did the moon landing ever really happen, or was it all an elaborate conspiracy? Is the ghostly blue light the flickering of gaslight, which makes us question our own sense of reason?"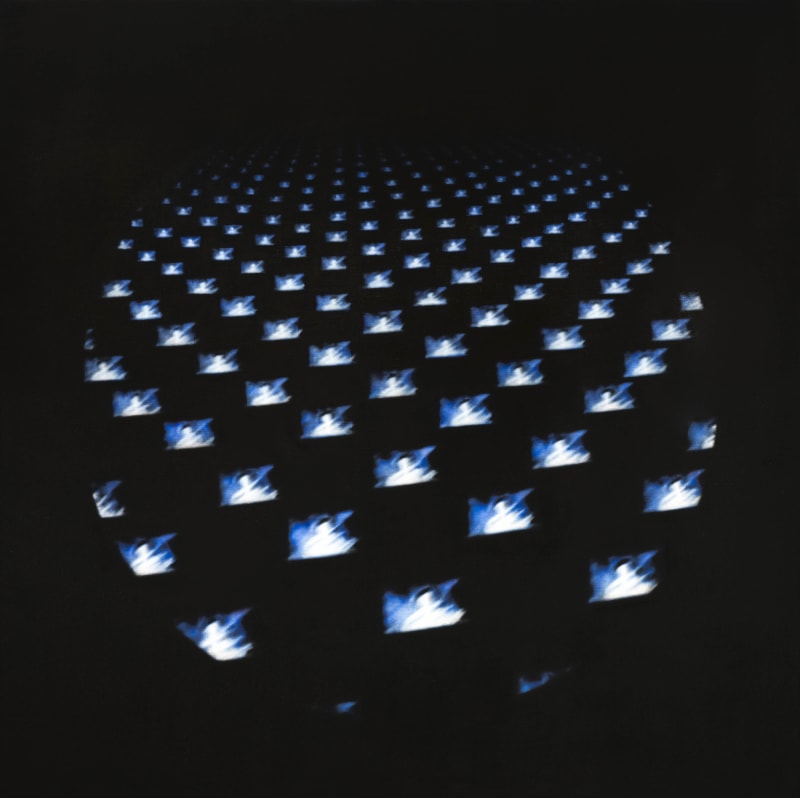 Despocracy I, II, III & IV
The Despocracy paintings conflate images of a number of populist national leaders into a single canvas. Shown together, Keane highlights the links between the harvesting of personal data and the outcome of recent democratic processes across the globe.
"Somewhere between democracy and despotism. The will of the people, or the tyranny of the majority. The democratisation of information, electronically concentrated in the hands of the super wealthy. The best lack all conviction, while the worst are full of passionate intensity. Where now, honesty, decency, integrity, shame? Algorithmic amplification of extreme messaging, employing the use of dog whistles. God is on our side. Their god is a bloodthirsty suicide bomber (but I didn't say that)."



Flat Earth series
"The Earth is round. The Earth is flat. This Earth is round, but also flat - this is a painting. Magritte was right. It wasn't a pipe. It was a representation of a pipe, a flat pipe."


Новичок (Novichok) I & II
Using reactive metallic paint, the Новичок (Novichok) paintings use negative images of the suspects in the Salisbury novichok poisoning in 2018. The revelation of the suspects' identities and resulting information war presented, according to Keane, "a clash of empiricism and denial according to political preference," describing his paintings as metaphors for "seeing only what conveniently fits a belief system, and ignoring that which is inconvenient."
"The identities of the alleged poisoners of the Skripals and Dawn Sturgess in Salisbury in 2018, revealed by investigative journalists Bellingcat becomes an information war of fact and anti-fact, narrative and counter narrative. Negative and positive. A clash of empiricism and denial according to political preference and nationalist allegiance. Another metaphor for seeing only what conveniently fits a world view, ignoring that which is inconvenient. Some of this was filmed, the rest has to be filled in with forensic and detailed detective work. But who is watching the detectives? White Helmets, False Flags. The first casualty of war is the truth."


European Canon
"A Napoleonic cannon captured in the battle of Waterloo, now residing at the Tower of London, and Beethoven's piano, a gift to him from English piano maker Thomas Broadwood. Both objects carry an emotional charge, but each contrasts profoundly with the other. The cannon invokes a history of war in Europe and an insular spirit of British defiance. The piano belonged to the artist who left an unparalleled canon of groundbreaking music, and penned Ode to Joy, from the ninth symphony, a musical masterpiece calling for universal brotherhood, adopted by the European Union for its anthem. RIP."